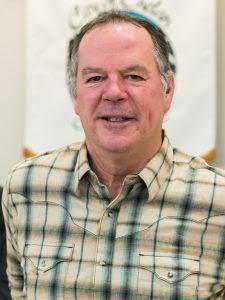 CHELAN — Mayor Mike Cooney initially planned to only serve one term, but now he says he just enjoys the job too much.
He had a couple of other opportunities but decided to continue his current path, feeling he could accomplish more on broader scale by running for re-election this fall.
"Being mayor in Chelan is way different than being mayor of most other cities," he said. "I'm sure there's other cool cities, but Chelan has such a great vibe to it and being mayor is just a really cool honor."
Cooney, 64, previously served two terms on the City Council. He also owns The Vogue coffee shop and bar with his wife, Janice.
Under his watch as mayor, Woodin Avenue Bridge is being restored and converted to a single, one-way lane with wider sidewalks. Highway 97 is being repaved, and bike lanes will be added.
The 3.2-mile Lower Reach 2 trail will be built this year, Cooney said, and the city will also put bike racks downtown this summer. Beautifying the city and making it less reliant on automobiles are among his goals, he said.
At the top of his priority list is preserving the Chelan Butte by buying over 900 acres now privately owned. Finding the millions of dollars needed has been a challenge, but Cooney's still determined to secure funding.
Last year the city introduced curbside recycling, which Cooney said has reduced the amount of waste going to the landfill by about a third. He's trying to figure out an option for recycling glass.
Cooney doesn't take all the credit for those achievements, though, calling them a joint effort between the council, staff and himself.
"We put a premium on getting quality people and training them," he said. "That's almost invisible until people need something done in planning, public works or through the parks department. That's a big thing for us."
Along with Councilman Tim Hollingsworth and Planning Commissioner Rachael Goldie, Cooney led the Affordable Housing Initiative, which paved the way for the Chelan Valley Housing Trust, which is building homes for moderate-income residents.
"If you're mayor of a town and you see 40 families leaving every year to go to another town where they can afford to buy a home, that doesn't sit well with me," he said. "I want to make sure that our middle class stays intact, and I think that's what makes Chelan so cool. While it's a destination area for a lot of the west side of the state, it's also home to 4,000 residents."
Candidate filing is May 13-17. The primary is Aug. 6, and the general election is Nov. 5.