EAST WENATCHEE — In just five hours on Friday, volunteers from the Church of Jesus Christ of Latter-day Saints bagged 50,000 pounds of potatoes. The day before they bagged 70,000 pounds.
It was all leading up to Saturday, when more than 4,100 bags of potatoes and onions were given away for free at a drive-thru in the church parking lot on 10th Street.
As restaurant demand has waned, farmers across the state have pivoted to donating their crops. Nearly 1 billion pounds of potatoes could still be sitting in Washington warehouses as the new harvest begins this summer, The Seattle Times reported.
Monique Lott, the Central Washington director of communications for the LDS church, saw produce giveaways happening in other areas of the state and decided to bring one to the Wenatchee Valley.
She contacted AgriNorthwest, a potato grower out of Kennewick, which said it would be willing to donate to the cause.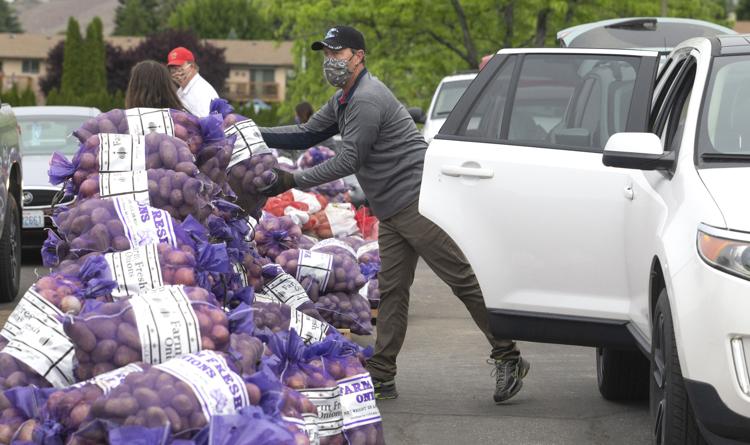 "We said 'How much can we get?' and they said they'd be willing to donate as much as we could take," she said Saturday. "So, it was up to us to make it happen."
Lott and her husband Byron own a construction company, so transportation wasn't an issue. Byron set off for the Tri-Cities Wednesday with a dump truck and trailer and returned with 70,000 pounds of spuds. Another truck was sent to River Point Onions and brought back 20,000 pounds of onions.
On Thursday Lott put out a call for volunteers to help pack the produce into 35-pound bags for distribution. They expected it would take two days, instead they finished in just a few hours Thursday.
"Then we said, 'Either we could call back all the volunteers for Friday and tell them we don't need them, or we could make another trip,'" Lott said. So the dump truck set off again and returned with another 50,000 pounds, which were packed Friday.
Cars began to line up in anticipation at 6:30 a.m. Saturday. The event started at 8:30 a.m. and within two hours more than 75% of the produce gone.
"People are so grateful. They just say 'God bless you, we're so grateful,'" Lott said. "We've had a lot of people ask if they could donate or make a contribution and I say no, this is totally just something good for the community."