WENATCHEE — Arianna Montiel could barely finish her speech Saturday when speaking about her father Francisco Montiel, who died from COVID-19 complications.
Arianna Montiel was participating in a protest at Memorial Park calling for greater protections for farmworkers. Francisco Montiel, a Brewster resident, worked for Gebbers Farms for close to 30 years. He died Aug. 1 from COVID-19 at Central Washington Hospital, according to Erandy Montiel, Arianna's sister.
"I didn't get to see my dad in the morning, I didn't get to enjoy my dad in the evening, because he worked so much, because he wanted to provide for our family," Arianna Montiel said through tears.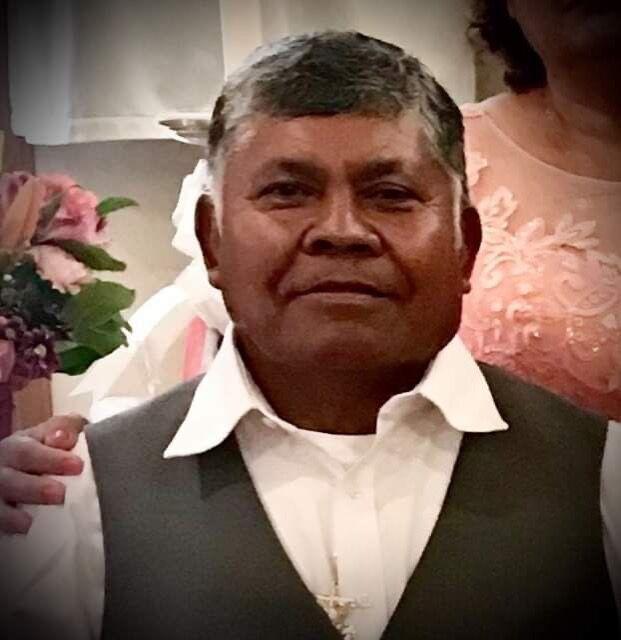 Francisco Montiel quarantined at home after a family member was identified as having COVID-19 by the Okanogan County Public Health department, said Amy Philpott, a Gebbers Farms spokesperson, in a Friday interview. When he left work, Philpott said, he felt well and was disappointed to leave work. She said all his coworkers were notified when the company found out he had contracted the virus.
The family disputes some of the company statement, Erandy Montiel said in an email. Francisco Montiel was coughing and had a sore throat but continued to work for several days because he didn't have a fever, she said. Her sister then tested positive and he quarantined.
Francisco Montiel is the third Gebbers Farms employee to die from COVID-19 or COVID-19 complications within a month. The other two who died were H2A guest workers from other countries.
Almost 200 people participated in Saturday's demonstration protest, which started with speeches in Memorial Park and then continued in a march through downtown Wenatchee.
"Farmworkers are being used as sacrificial lambs and being treated as disposable and expendable for products to go to market," said Eduardo Castañeda-Díaz of Quincy. Castañeda-Díaz is the Democratic candidate for state representative in District 13, which includes Grant and Kittitas counties, and is running against the incumbent Tom Dent, R-Moses Lake.
Castañeda-Díaz was among the event organizers, which also included the Community for the Advancement of Family Education, Chelan-Douglas County Volunteer Attorney Services, North Central Washington Democrats, Immigrant and Latinx Solidarity Group.
Erandy Montiel said she is concerned about how companies like Gebbers are treating farmworkers. The company showed her father and her family a lack of compassion during his sickness and after his death, she said.
"I can't prevent myself from being angry, because all of this could have been prevented with the right protections," Erandy Montiel said.
The company has been doing the bare minimum required of it during the pandemic, she said. The company knew her father had COVID-19 symptoms, she alleged, but had the men he was working with continue working. Even when his test came back positive for the virus, they did not test his coworkers, Erandy Montiel said.
She also lives in Brewster and hears stories that migrant workers who test positive are put into quarantine and their condition is not monitored by the company, Montiel said. Workers are also concerned about retaliation if they complain about conditions.
"They're scared, they need money and they can't speak up because of retaliation," she said. "Even if they don't retaliate by firing them,the way that they do it is they just don't hire them the next season."
The company did pay for half of their father's funeral expenses and the family does appreciate that gesture, she said. But if she's being honest, Erandy Montiel said, she thought they'd cover all of the funeral expenses.
She was also surprised by the company's attitude toward her family when her father was sick. Her mother and sister had to go to the company's office to ask for his sick leave while he was in the hospital.
"And their manager was just like, 'Oh we tried to call him up,' but they knew that my dad was in the Intensive Care Unit," Erandy Montiel said. "So we were like, 'How do you expect my father to answer his phone when he is on life support?'"
She plans to continue to fight for the farmworker families, so others don't have to go through a similar experience, she said.
"My dad passed away by himself, because we weren't allowed to be near him," Erandy Montiel said. "So it makes it very real and (we feel) invalidated, but I'm determined to be the voice for those farmworkers and fight until there is more protection for them."
Gebbers Farms is heartbroken by the passing of Francisco Montiel, who was a long-time employee of the company, Philpott said.
"If the family ever felt that we were anything but respectful, we are genuinely sorry for that," Philpott said.
His coworkers' temperatures were taken every day and they were monitored for symptoms after he departed, she said. Employees can also choose to be tested at any time, although they don't need to inform the company.
A family member asked the company to wait until the next payroll cycle to collect all of his benefits at once, Philpott said.
Employees are all provided masks and shields at no charge, the company requires social distancing whenever possible and provides hand-washing and sanitizing stations, she said.
The state Department of Labor and Industries is looking into Gebbers Farms practices, according to The Seattle Times reporting.