WENATCHEE — Students in Wenatchee Valley College's medical assistant program now carry pool noodles during lab time.
When held out at arm's length, the 5-foot foam noodles offer a visual representation of the social distance students need to maintain — and offer a dose of levity during a world-altering pandemic.
Adapt and overcome is the new normal for the program's class of 2020. Like most other students across the country, they transitioned to remote learning in the spring. Many have kids of their own who are also learning from home.
A few already work in health care and have experienced the pandemic first hand. One who works in a local senior care facility contracted COVID-19 in the spring. Another is a nursing assistant treating ICU patients at Central Washington Hospital.
But interest in the college's medical programs has remained high and enrollment for the fall quarter is as strong as ever.
"It's interesting how in these times, you'd think most people would take off and go the other way," said Jan Kaiser, the medical assistant program director. "But we actually have people swarming to health care."
Kaiser's current students are now in the home stretch of their year-long program and are participating in real-world clinicals in facilities across North Central Washington.
"It really has taken a lot on the students' part," Kaiser said. "And bless their hearts because if they hadn't stuck with us, they could have gotten frustrated and just quit. But they've hung in there and they've made it work — and we've made it work."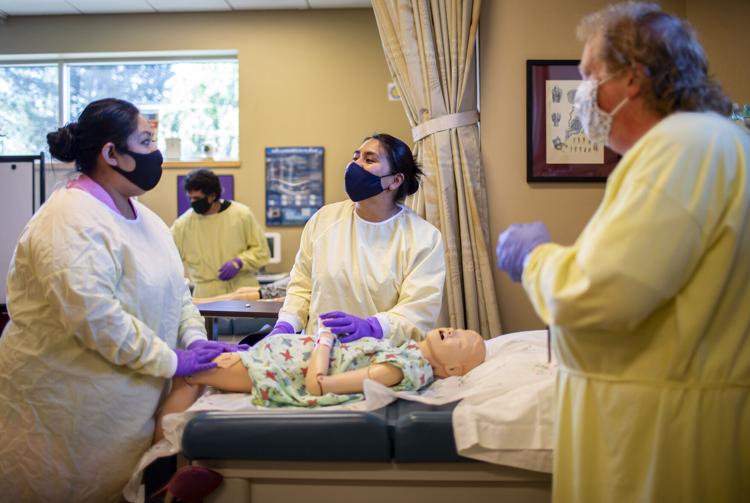 Medical assistants keep doctor's offices and outpatient facilities running. They check blood pressure, take patient history and arrange follow-up care.
"They're basically the right-hand person of the doctor," Kaiser said. "The doctors can't survive without them, to be honest. It's both administrative and clinical."
Kaiser has been running the program at WVC for more than 20 years. In a normal year, students attend in-person classes for three quarters and spend the final quarter out in the field paired with a preceptor for hands-on training.
In April, as the pandemic's first wave was rising, professors across WVC moved instruction to Zoom.
"We're having to rethink our teaching," Kaiser said. "We're having to do more videos, get supplies that we can send homes with students. But then we also have to be safe."
When teaching pharmacology, Kaiser had to get creative to allow students hands-on practice.
"I couldn't send needles home because what if their kids got into them and got hurt? So I had to cut the needles off all the syringes," she said. "Then, we sent the syringes home so they could at least practice the art of drawing up medication and pretend you're giving it. It was crazy but it's what we had to do."
The medical assistant program attracts a wide range of people, from those fresh from high school graduation to adults looking for a career change. The online learning carried extra challenges for parents with school-aged children, Kaiser said.
"Some had only one computer at home, there's also limited internet for some folks," she said. "Four or five people trying to do all their classes, it really became tough. So I admire them for hanging in there."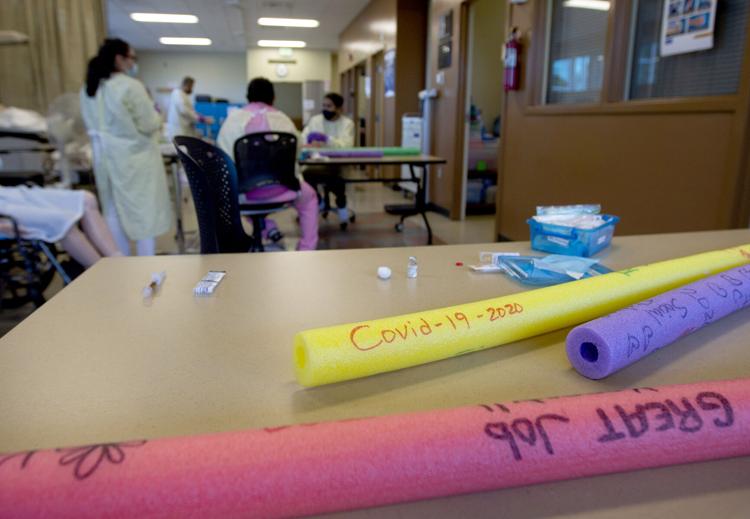 Fourth quarter came in early July and the students were finally able to get extended hands-on experience. Each was paired with a working preceptor for 160 hours of work in the Wenatchee Valley, Chelan or Leavenworth.
"That first week, we started with 21 students ready to go," Kaiser said. "Then, two couldn't go because they had family members test positive." Each quarantined for two weeks before they were able to get out in the field.
Three days into her clinical experience, Aryn Baldwin's preceptor found out she was exposed to a COVID-positive coworker, began showing symptoms and had to get tested.
"She felt so bad she almost started crying," Baldwin said. "But I was like 'It's not your fault. You didn't plan to have symptoms or anything.'"
Baldwin was also tested — both her and her preceptor's tests came back negative and she was able to continue learning.
The pandemic has created similar delays for many students, Kaiser said. One had two of her children test positive. While her test was negative, she still had to quarantine for two weeks.
Normally the goal is for students to complete their clinical experience by Aug. 15.
"We could be doing this until October or November, we just don't know," she said. "So, that's the hard part."
Students have been able to attend a few in-person lab times this summer on the WVC campus. It's a chance for them to ask questions and practice everything from drawing blood to giving vaccines on synthetic cadavers.
Each person is temperature checked and screened for respiratory infection symptoms before the lab time. They're also required to wear full personal protective equipment, including masks, gowns and gloves.
"We come in and do this and it's hot and it's miserable, but it's part of life," Kaiser said. "Like I tell them, this is part of health care and they're getting thrust into it. If they can handle this, they can handle just about everything out there."
The pandemic, and the extra precautions that come with it, have given some students pause, Kaiser said.
"They're nervous about it because it's been such a big deal," she said. "In Wenatchee, I think they know there's a lot of sick people. We haven't had as many deaths as some other cities and they haven't lost loved ones as much yet. But it's going to happen and that's when, unfortunately, it's going to really scare some people away. And I get that."
It's hit home for Kaiser too, she said.
"I'm 60 and I get nervous about it because I'm at the age now where I could potentially be at risk," Kaiser said. "You do the best you can, you wear your mask, you wash your hands, you wear gloves if you need to and that's all you can do."
But enrollment in the college's medical assistant and nursing programs for the fall quarter is strong, Kaiser said. As of Monday, Kaiser had 25 students enrolled for the fall, which is near her capacity of 30. The college's nursing program had a record 120 applicants for 45 spots in the class.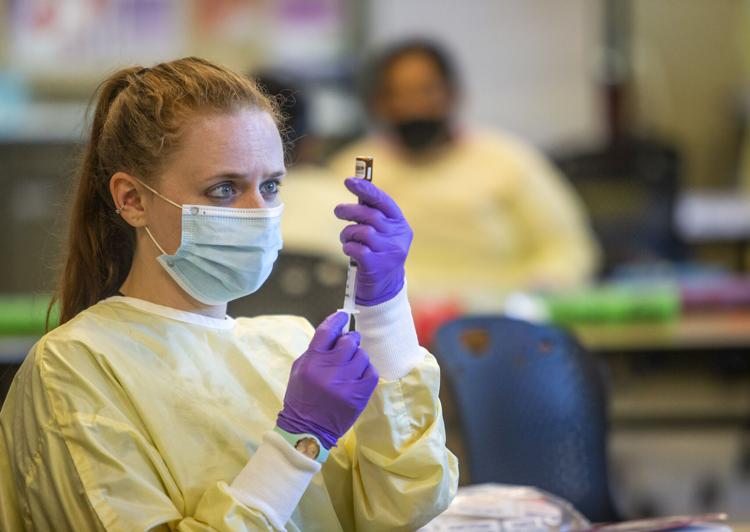 Some students said the intense global focus on health care has hammered home their desire to help.
"If anything, it's kind of given me a little umph of 'Let's see if we can go out and see what we can do to make it better,'" Baldwin said.
Another student, Lady Oropeza, is already a certified nursing assistant and has been working in Central Washington Hospital for three years.
"I love what I do, being a CNA. I just wanted to try something different but still be able to have that close contact with people," she said. "I'm a people person so I love to be around people and give five minutes of my time to patients."
Oropeza, 36, often works in the hospital's ICU, assisting nurses or helping prone patients, a labor-intensive process that requires rolling ventilated patients onto their stomachs to ease the stress on their lungs.
She's continued to work nearly full time while taking her medical assistant classes. Her husband, who works in a local agriculture warehouse, and her two children have grown accustomed to the busy schedule.
"Sometimes they're like 'Where are you at today?'" she said. "It's a little hard because you don't spend a lot of time with your family but at the end of the day, they know I'm growing as a professional and as an independent woman."
The family has a system for making sure Oropeza can immediately wash off to reduce the risk of spread after ending a shift at the hospital.
"When I'm leaving work I give them a call and say 'It's go time.' They start getting doors open as soon as I get there so I don't touch anything," she said. "One opens one door, the other opens the other door. My daughter is in charge of opening the upstairs door so I can go straight into the shower. … I try to stay away from my kids as much as I can. I just say 'No hugs and kisses for now.'"
Oropeza is OK with personal sacrifice — wearing full personal protective equipment week after week, working full time and furthering her education through the medical assistant program — if it means she can continue to help.
"You just push through it," she said. "It's my job and at the end of the day, I know I'm doing something good for the community and for my patients. And that's my main goal."