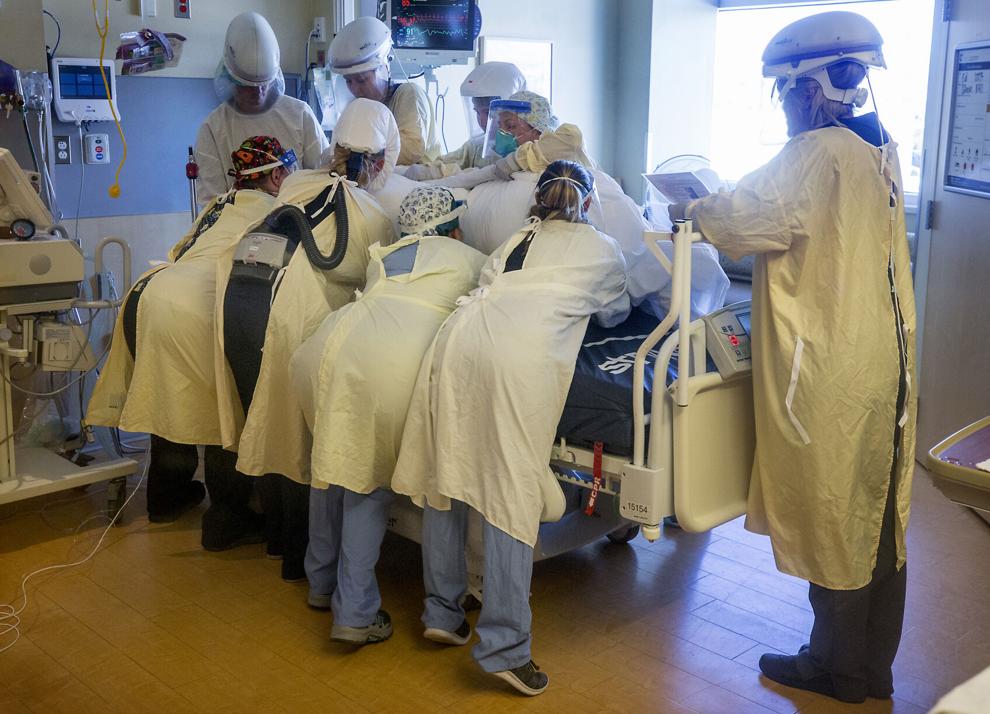 WENATCHEE — "It started off just as a little tickle in my throat," said Alyssa Escalante in a wheelchair and hospital gown at Central Washington Hospital.
Escalante and her mother both tested positive for COVID-19 on Aug. 2. Six days later, both of their symptoms worsened and they were admitted into Central Washington's intensive care unit.
More than six weeks later, both mother and daughter made it through the worst of COVID-19 with their lives and out of the intensive care unit. As of Thursday, they are still in the hospital recovering.
"We're at the end of this very long journey on our way to recovery," Escalante said. "That is gonna take a long time for us to regain our strength, but we're good. It's just gonna take a while."
The medical staff that cared for Escalante and hundreds of other COVID-19 patients — ICU nurses, respiratory therapists, nursing assistants, and countless more — is 18 months into the pandemic. They are exhausted, physically and emotionally.
Short-staffed and worn down
Passing through the hospital's third floor where the ICU is currently located, a passerby would just see staff walking down the hall talking with each other in calm tones or at most walking at a brisk pace as they check IV pumps outside each patient's door.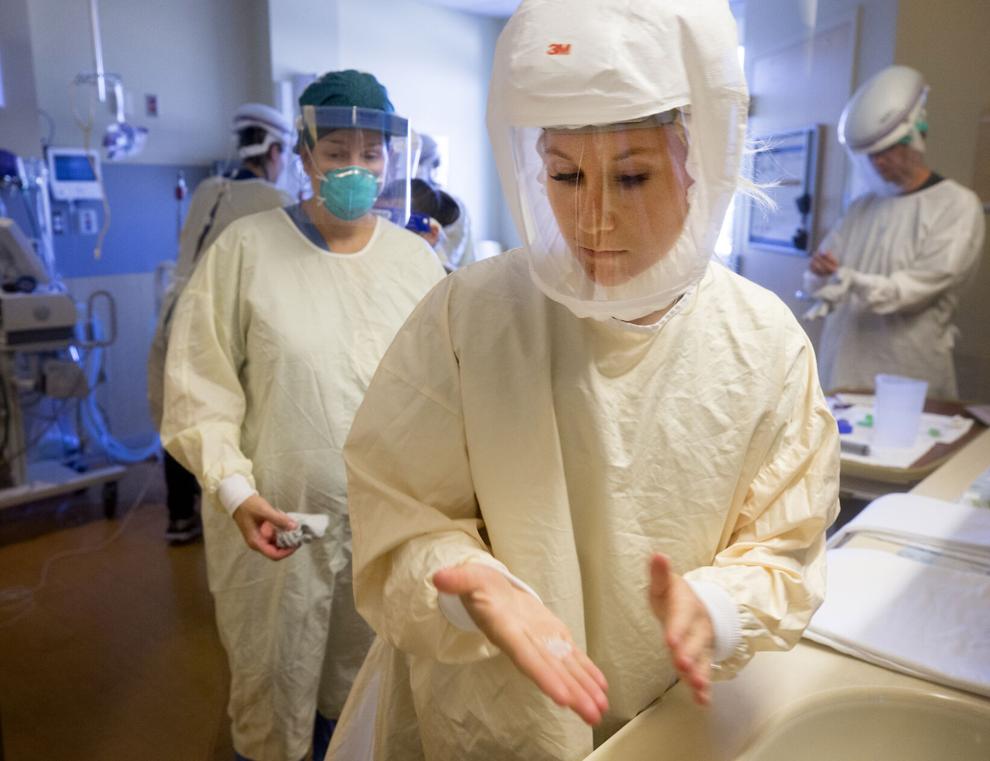 "They're calm, confident and competent people," said Jackie Whited, Confluence Health director of the ICU and progressive care unit. "You won't see that nervousness or frantic pace of things. To the person that doesn't realize it, they really might be that way, but they're not going to show that."
The ICU staff has been short-staffed since the beginning of the pandemic in March of 2020 which means that ICU nurses during that time have to care for up to three or four patients at a time. Pre-pandemic they might do one or two, Whited said.
The hospital is under "contingency staffing" which means staff is stretched with some of them working 16 hours to cover gaps that might appear throughout the day.
"They are tired, they're burned out and a lot of them are choosing to leave," said Julie McAllister, Confluence Health vice president of nursing.
A year ago, Confluence Health had 50 registered nurse open positions which was already pretty high, McAllister said. As of Thursday, that number had risen to 86. And McAllister said she expects to lose another 70 nurses and nursing assistants to the state's vaccine mandate on healthcare workers.
The ICU alone has 20 openings for nurses, Whited said. And about 90% of the ICU staff are fully vaccinated.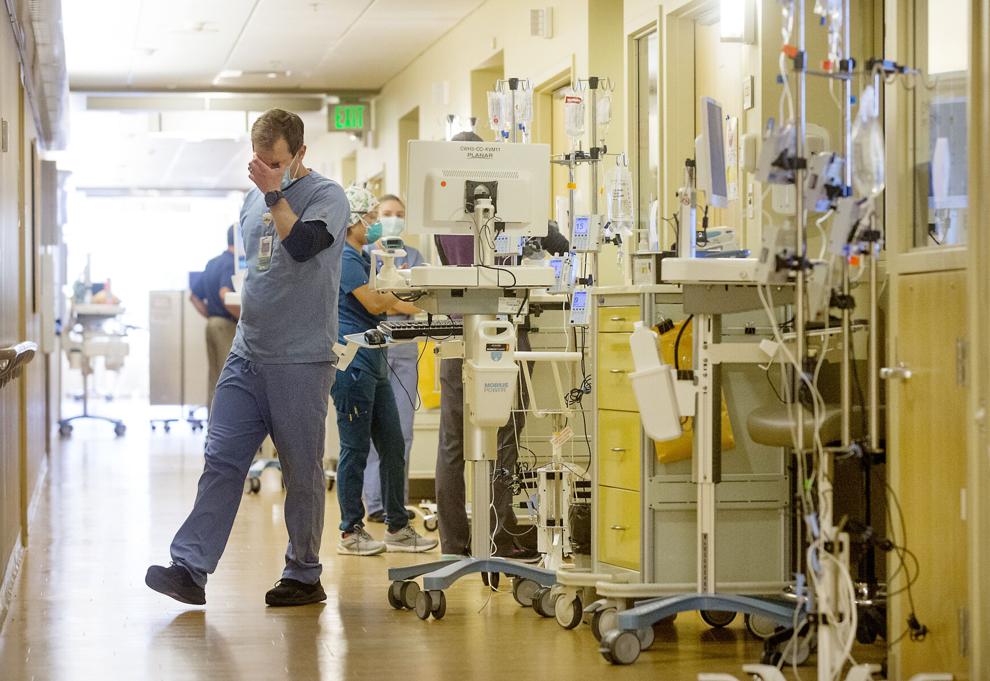 Some COVID-19 patients who come into the emergency room are stuck there for hours unable to get treated in the ICU because of limited space. One patient earlier this week waited about 11 hours in the emergency room before being admitted into the ICU because no ICU bed was available, McAllister said.
One COVID-19 patient from Grant County died on Thursday in the emergency room before being admitted into the ICU, according to Andrew Canning, Confluence Health spokesperson.
Another patient died on Thursday while recovering from COVID in the hospital but not in the ICU.
To adapt to limited ICU staff, other registered nurses sometimes have to come in as "runners" who can help get medications or other supplies while an ICU nurse is inside the patient's room.
And when patients need to be proned — turned onto their stomach to help them get oxygen into their lungs when on a ventilator — it takes about eight staff members to safely do so.
An anesthesiologist stands at the head of the patient's bed to ensure that IV lines aren't disturbed, someone at the foot of the bed reads step-by-step instructions, and another six physically turn the patient.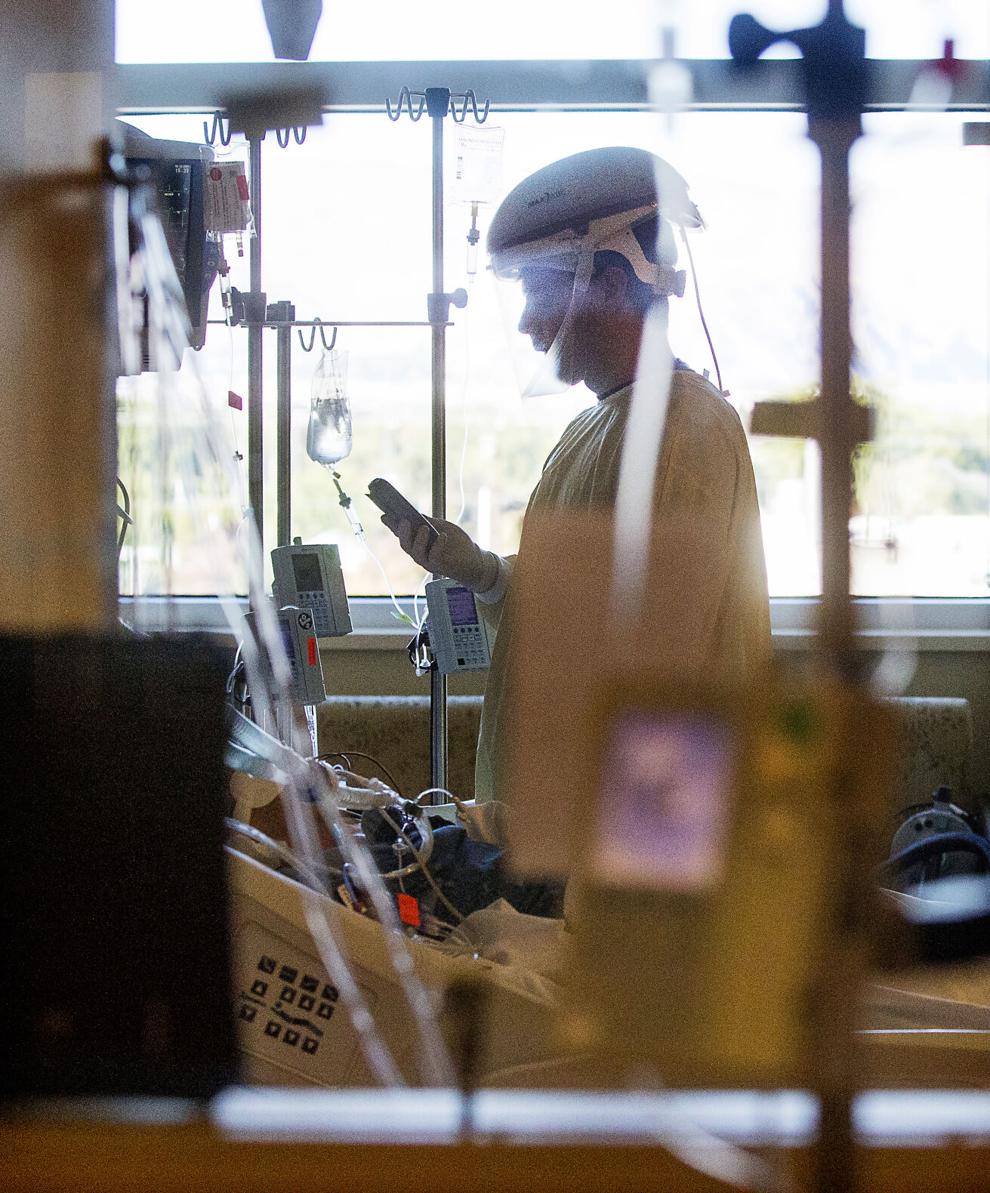 The six that will turn the patient sometimes include dieticians, maintenance staff, or even from the information technology department, McAllister said. On Thursday, a nurse from the Wenatchee Valley Hospital's rehabilitation services came to assist with proning two patients.
"Every single day if we're flipping somebody, which is most days, we're kind of scrambling trying to find who can help turn these patients," said Rochelle Long, Confluence Health ICU nurse. "We have to be pulled away from our own patient to cover other people's patients so that they can flip because the patient needs it. It's just hard. It's just a daily occurrence."
Understaffed and working long hours, the staff in the ICU have witnessed and helped treat the most severe COVID-19 illnesses.
On Thursday, 13 ICU nurses were available for the 21 patients on third floor which includes the ICU and the progressive care unit, according to Toni Holder, Confluence Health clinical manager. They needed 16.
Reckoning with COVID-19
Patients on ventilators are often intentionally paralyzed with medications to ensure that they are not using any extra oxygen as the ventilator works to get oxygen into their lungs, McAllister said.
But if their oxygen levels continue to drop, threatening to harm their other organs, then the final choice is to intubate, which means inserting a tube down the patient's trachea and into their lungs.
Once patients need be to intubated, their oxygen levels are so low they are near death, according to Phoebe Nyaga, a respiratory therapist.
Escalante said that at several points while in the ICU doctors told her she would need to be intubated.
"It was very scary," she said. "I just remember fighting them, 'I'm not going to be intubated,' every chance I could."
She was proned and avoided having to be intubated, she said. "The doctor was like, 'wow, you're lucky you're young because a lot of people can't do that.'"
Besides making adjustments to the ventilator, keeping the patient sedated as well as medicated, the staff cannot do much more beyond that, Whited said.
"They have to get better," she said. "You can't turn this around. And what we hope to do is decrease the number of organs that are affected so they don't go into kidney, liver or cardiac failure."
But many don't make it, even after intubation. The Chelan-Douglas Health District reported that 101 Chelan-Douglas County residents have died due to COVID-19 since March 2020 through Wednesday.
The health district's total does not include the most recent deaths at Central Washington Hospital and will not update its count until the cause of death is confirmed on the death certificate which can take about three weeks.
Rochelle Long has been working as a nurse for 10 years with six of those years in the ICU. And in all of her time as a nurse, working through the COVID-19 pandemic has been unlike anything she has ever experienced, she said.
"We've probably lost more people than have survived out of ICU," Long said. "I've never had so many deaths in my 10 years of nursing. You can combine all the years I've had, and I've had more deaths in the last year and a half with COVID than my 10 years."
Steve Williams, an ICU nurse who has been working at Confluence Health for about two-and-half years, said that for him the stress of it all falls off when he gets home to his 1-year-old son.
On Thursday, Williams had just wrapped up a phone call he was facilitating on behalf of a family whose loved one was in the ICU and intubated.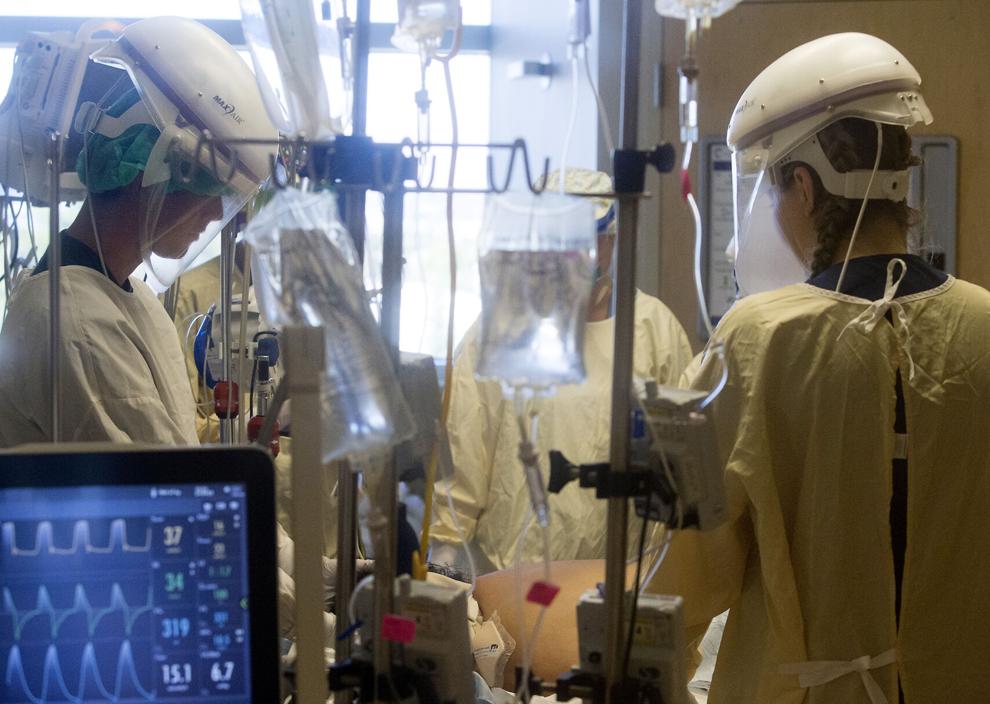 "When the waves (of patients) start coming, then I have trouble sleeping," he said. "And, you know, you have all the nightmares, like the last four people that died in front of you and stuff like that. But once you're here you kind of settle in and do what you need to do."
He works out, he has tried journaling his experiences, but he can never shake off the feeling that whatever he tries to do it won't be enough, Williams said.
"There's no end of thinking through the problem and then reaching a point where you realize what you could have done differently," he said. "It's just you think through the problem, there is no solution and everything just kind of sucks."
The majority of COVID-19 deaths are among the unvaccinated, according to McAllister.
No end in sight?
When COVID-19 vaccines became available, Long said she thought that people would scramble to get vaccinated like the public did 50 years ago with polio. But now into the largest wave of COVID-19 hospitalizations, which has topped at 58 total patients at the hospital, it wasn't the case, she said.
"That's even more disheartening as a nurse to see that to know that there's a solution to the problem," Long said.
Some of Long's own family are not taking the pandemic seriously. "It's frustrating," she said.
Whited also said that occasionally she gets angry over the public's response to the pandemic.
"As a health care worker who has worked in health care for 33 years, we're the people that you trust to come to when you are sick when you are dying, when you need help," Whited said. "And suddenly, we feel like we're kind of the enemy. But as a health care worker, you're the one that's actually following what's the science and everything has proven to be effective. So it's angering sometimes it doesn't have to be that way."
Escalante said she and her mother are both unvaccinated. Back in August, she was considering it but said she had an appointment with a rheumatologist on the 12th about an autoimmune disease she might have.
She was admitted into the hospital on Aug. 8. "That's just the way the universe works, I guess," Escalante said.
"You don't want to end up in this situation because I think when it comes down to it you either put in that fight or you give up and that's it," she said. "And I know a lot of people don't have that fight in them. So don't ever end up in this situation unless you're really prepared to fight for your life."