WENATCHEE — A protest aimed at keeping pressure on the governor and Washington Department of Fish and Wildlife to open fishing is planned for Saturday in Wenatchee. Fishing has been closed in Washington due to the COVID-19 pandemic
The Wenatchee protest is one of several around the state including Moses Lake, Spokane, and Lake Washington, said Ben Hanes, who founded the #letusfish group, a collection people interested opening fishing in Washington. 
"We also have a statewide rally where we are urging every fisherman to get out there everywhere. Bring a fishing pole. #letusfish does not promote breaking the law," said Ben Hanes. "Just bring a pole and your protest signs and go out to your favorite hole. If you get approached by a game warden, just say I'm practicing my First Amendment rights."
A #letusfish protest was held last weekend in the Tri-Cities. Hanes said that event went way beyond his expectations, drawing over 100 boats and 1,000 people. He said the Facebook Live video had "millions" of views.
Hanes said he is expecting 100 people and 30-to-50 boats in Wenatchee.
On Tuesday, Gov. Jay Inslee announced as part of his weekly press conference, that fishing restrictions could be lifted in the near future.
"We feel like Gov. Inslee heard us. I'm fairly certain he did," Hanes said. "We are very pleased. This is governor Inslee. Our main beef is against WDFW. That's how we feel. We want to remain non-partisan. We feel WDFW is the main problem."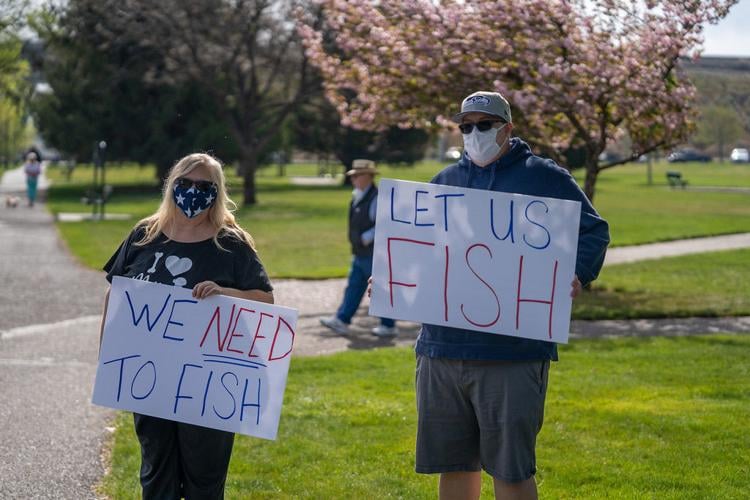 Hanes said they are also backing off calling the events, "protests." He wants to refer to the gathering as "rallies" to promote a more positive tone. However, he said if the governor does not lift the restrictions on fishing by May 4, the rallies will turn into protests, which will be louder and more widespread.
On Saturday, the protest in Wenatchee is planned from 9 a.m. to noon near the George Sellar Bridge. The protesters will be in boats on the Columbia River and staged on land along the grass southwest of the bridge.
Hanes said they are encouraging boaters to launch on different parts of the river to avoid any overcrowding.
"We have had guidelines on the protests. We want folks to launch from different boat launches and motor up to the base. Bring hand sanitizer before and after you launch. We are very much into social distancing. We support it 1,000 percent. We're all about respect," Hanes said.