WENATCHEE — Now that recreation opportunities have opened up around the state, more and more mountain bikers are hitting the trails. Recreation expanded in recent weeks as the governor has lifted some of the restrictions due to COVID-19.
Travis Hornby, president of the Central Washington chapter of the Evergreen Mountain Bike Alliance, said the weekends have been busy locally.
"The times I went out, people were careful about social distancing. It looked like everyone was having a good time," Hornby said. "It was about the same as it has been. In some areas, it was reduced because there are more opportunities to go to different places."
Most of the trails have not been packed, Hornby believes, because there are more trails open now and many people are also spending time on the water.
Evergreen Mountain Bike Alliance and other recreation groups put out a video recently cautioning people about social distancing and staying safe while recreating. Hornby said he feels people have definitely received the message.
"My experience on the trail — that is 100% true. Everyone steps aside and gives you space. There has been a little bit congeniality on the trail. People asking, 'how are you doing?'" he said. "People are not just rushing by. They are stopping to say hi. That has been missing."
One of the key areas to open up has been at Squilchuck State Park, with nine miles of single- and double-track trails.
In Leavenworth, mountain bikers have been hitting the popular Ski Hill trails, even though the parking lot is still closed, as of last weekend.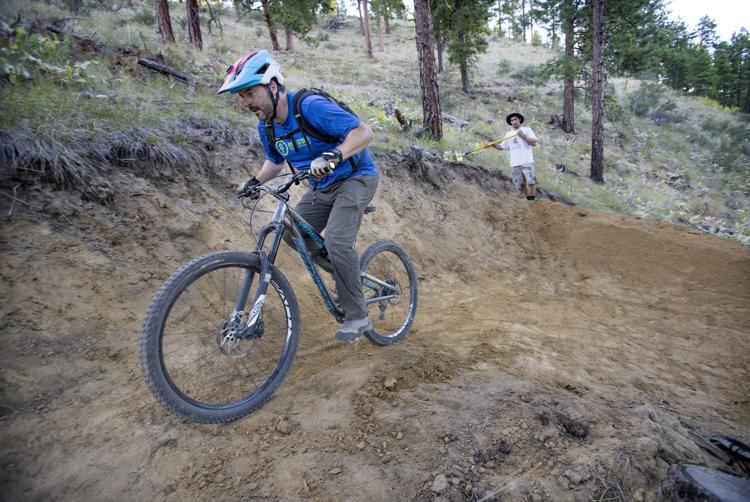 "It was great to see so many people out recreating. People were doing a better job of social distancing. It's really neat to see the responsibility," said James Munly, Leavenworth Winter Sports Club general manager and Evergreen Mountain Bike Alliance board member.
Munly said signs are posted on the trails about social distancing, including on the popular trails at Freund Canyon. People have been doing well spacing themselves at the tight trails at Freund Canyon, Munly said.
One concerning report, Munly said, came in about people hunting on the Ski Hill trails.
"I haven't heard any more about that and I have not found out who that was. I know at least two parties up there doing that. I don't know if that was out-of-town guests or people that have second homes here that don't quite understand this is a popular recreational facility and not the best place to be," Munly said. "You would think they would notice they were hiking on a major part of the trail."