WENATCHEE — Snow flurried down at the Town Toyota Center on Tuesday as National Guard members in camo fatigues directed vehicles full of people about to get their first COVID-19 vaccinations.
It was the opening day for the mass vaccination site at and people were full of emotions and anxiety, said Cole Massey, a chaplin with the Southeast Washington Incident Management Team. Massey was helping to de-escalate conflicts and he had already intervened in several situations, he said.
Some of the people waiting for vaccinations haven't seen another human in a long time, he said. "We are here to be approachable and to help with their next step in their vaccination journey," he said.
People receiving vaccinations Tuesday included many people from the Wenatchee Valley and North Central Washington.
T.J. Elston, 51, drove from Shoreline, near Seattle, to get vaccinated. Elston said he signed up online two days ago. It was a pretty straightforward process, but he was unable to find anywhere closer to home.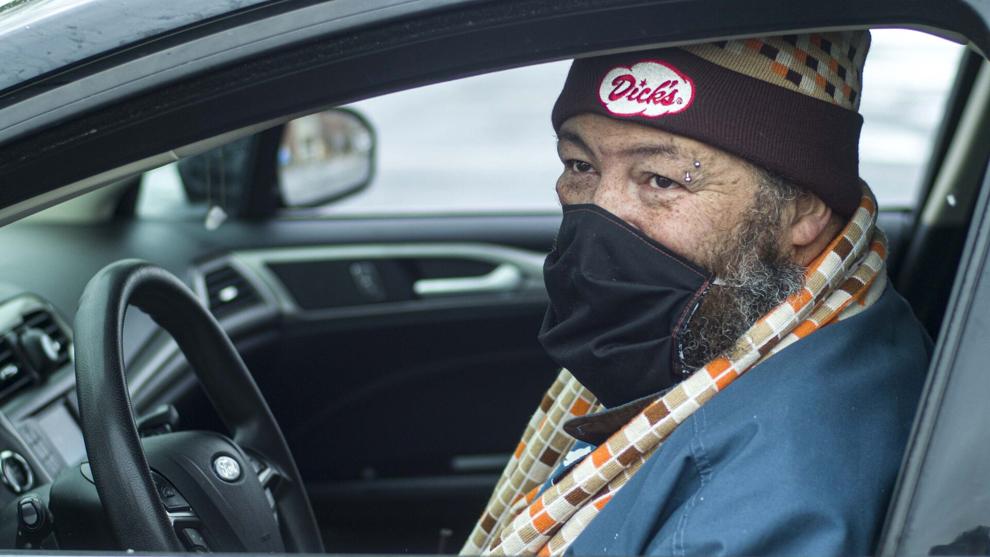 Elston waited in a section of the parking set apart by cones and tape. Behind him stood three white tents where medical personnel were vaccinating people who had already registered.
Elston has pre-existing conditions, heart disease and diabetes, and his partner works in health care. They've been isolating from each other in the same house since March and Elston has also been on furlough from his job as a lawyer since March.
"It's been tiring," Elston said. "It's been a big drain on my social life and my home life. My husband works at a health care facility so he's working every day, so he works every day, he's never stopped, and I'm at home, every day."
Elston, because of his pre-existing conditions, waited for 30 minutes after he got his vaccine to make sure he had no negative reactions. Most people have to wait for just 15 minutes.
Chelan-Douglas Health Administrator Luke Davies said the health district is focusing its vaccination sign-up efforts on people in their 80s or older because of the limited number of vaccine doses.
As more doses become available, the health district will loosen those limits, he said at a Tuesday news conference at the Town Toyota Center vaccination site.
People can go to prepmod.doh.wa.gov or call 1-800-525-0127 or 1-888-856-5816 at noon on Sunday to sign up for that week's vaccines.
But the Town Toyota vaccination site will only receive so many doses from the state each week. Once all time slots for vaccinations that week are filled, the site will be closed and people will have to wait until next week to try again.
The health district is taking a hybrid approach for vaccination by working with clinics, such as Confluence Health and Columbia Valley Community Health, he said.
If people are mobile and capable, they should get vaccinated at the Town Toyota Center. But if people will have trouble getting to the Town Toyota Center, they should contact their doctor.
Eventually pharmacies at Safeway, Albertson and Costco will also start vaccinating people, Davies said.
The Town Toyota Center is also exclusively using the Pfizer vaccine to reduce confusion, he said.
World photo editor Don Seabrook contributed to this report.
Correction: This story incorrectly reported the number to contact for a vaccination appointment, due to an error in a Chelan-Douglas Health District report.