Last updated 10:47 a.m. Monday:
NCW — National, state and local agencies are coordinating one of the largest vaccination campaigns in history. This page will be updated with the latest information for North Central Washington as it becomes available. 
The local vaccination plans and information are changing rapidly so please check back for updates. Scroll to the bottom of this page for more resources and frequently asked questions. 
- The Town Toyota Center mass vaccination site's last day of operation was July 1. The Chelan-Douglas Health District asks that people looking to get vaccinated with a first or second shot after July 1 are encouraged to contact their local healthcare provider. 
- The state Department of Health released a new web tool that helps people find a COVID-19 vaccine appointment. See it here.
- The state Department of Health has expanded eligibility for the Pfizer vaccine to everyone 12 and older. The Pfizer vaccine is the only COVID-19 vaccine currently authorized for ages 12 to 17. 
- Gov. Jay Inslee announced that everyone 16 and older across the state will become eligible for COVID-19 vaccinations on April 15.
A varying number of first-dose appointments are expected to be posted to the state's registration site, prepmod.doh.wa.gov/clinic/search, every Sunday at noon. Once new appointments are posted, people can also call the state's hotline to book a time: 1-888-856-5816 or 1-800-525-0127.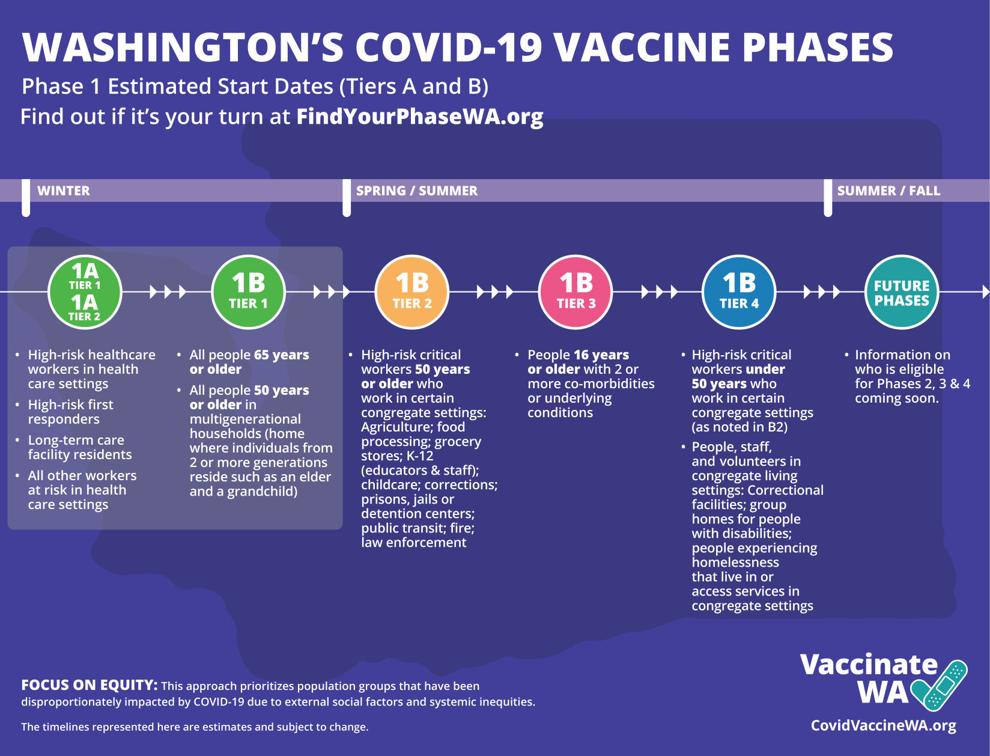 - With vaccine doses still limited, thousands of NCW residents have been unable to book appointments or have been added to a waitlist over the past couple weeks. Read more here.
- The COVID-19 community testing that was previously at the Town Toyota Center has been moved to the former state Department of Transportation building, 1551 N. Wenatchee Ave.
---
- The two vaccines used widely in the area are developed by the companies Pfizer and Moderna. Read the difference between the two in this article by Stat News.
- How are COVID-19 vaccines made so quickly? The state Department of Health has a one-minute video explaining the process. See it here. 
- The New York Times is tracking the development of dozens of vaccines across the world. See it here.
- The Centers for Disease Control and Prevention maintains a frequently asked questions page for vaccinations. See it here.
- ¿Quiere estar informado con las noticias en Español importantes del Valle Wenatchee por WhatsApp? Todas las semanas enviamos un resumen de las noticias de la semana. Más informacion.