WENATCHEE — Jim and Linda Stewart have been making a trip to Wenatchee from Chelan about every two weeks, visiting stores like Fred Meyer and Home Depot for what they needed.
On Friday they were able to add lunch at Café Columbia in Pybus Public Market to the list. Local restaurants are now reopening for dine-in services, as Chelan and Douglas counties have moved to a modified Phase 1 of the state restart plan.
"I'm happy for them," Linda Stewart said. "We all need something to do as long as it's safe. (We've been) mostly just staying home. We've done some takeout up there in Chelan, but not even a lot of that."
Before the shutdown, she said, they used to go out for lunch a couple of times a week.
The announcement came Wednesday evening that the state Department of Health had approved the Chelan-Douglas Health District's application for Phase 1.5.
Dining can resume outdoors at 50% capacity and indoors at 25%. In both cases tables must be at least 6 feet apart and table size is limited to five people.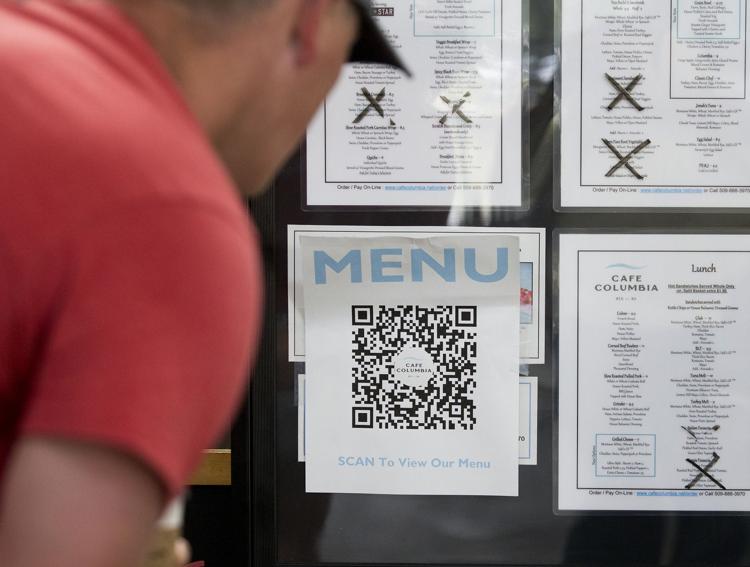 Jim Stewart said he was glad to see Café Columbia following those guidelines.
"I hope it works so we don't go backward," Linda Stewart added. "We spend our winters in Arizona, and we came home early because of the COVID. The (Arizona) governor opened everything up and it's going backward."
Customers at the nearby Fire were spread out between the indoor and outdoor dining areas. Pybus has allowed the restaurant to expand its space to seat more people.
Tyler Straight, operations manager for Visconti's Hospitality Group, which owns Fire, said the restaurant has had a lot of community support with to-go orders over the last few months. They were always preparing to reopen for dine-in, though, and were ready to go Thursday.
"For weeks, we have been letting our staff know that they might get a phone call to be ready the next day, and they responded great," Straight said. "We were able to keep most of our staff employed minimally through doing to-gos and deliveries. At this point, we have most of our staff back full time. There are a few that have to make arrangements prior to coming back, but we anticipate having most of our staff, if not all of them, back full time within the next week or so."
Servers keep cards with QR codes in their pockets so customers can scan them to view the menu on their smartphones, and the restaurant also offers single-use to-go menus.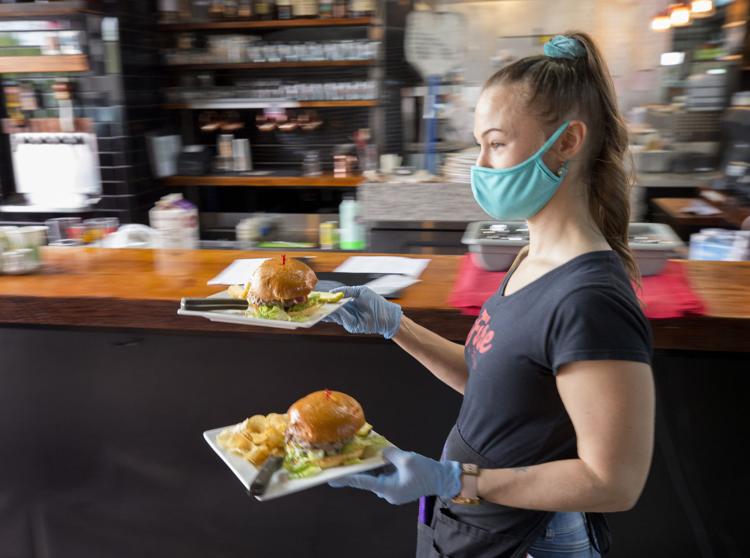 Straight said everything is sanitized between customers, and silverware and glassware are brought out to tables rather than being left there.
"(Thursday) was very busy. I think the valley's ready to get out, have a cocktail and have a pizza and sit down somewhere other than their house," he said. "We've had a good start today, as well, so we're hoping it keeps going."
Bill Wattling, of East Wenatchee, and Mike Fortman, of Wenatchee, had lunch on Fire's back patio.
Wattling said he was excited both to see the restaurant reopen and to see the safety precautions in place. He wanted to support a local business now that the county has moved forward in the phased reopening.
Fortman said he and his wife rarely dine out and he's only had takeout a few times during the shutdown.
"Once in a while, we just get tired of our own stuff at home, so we do get something," he said. "This is a treat because I haven't sat at a restaurant since probably December."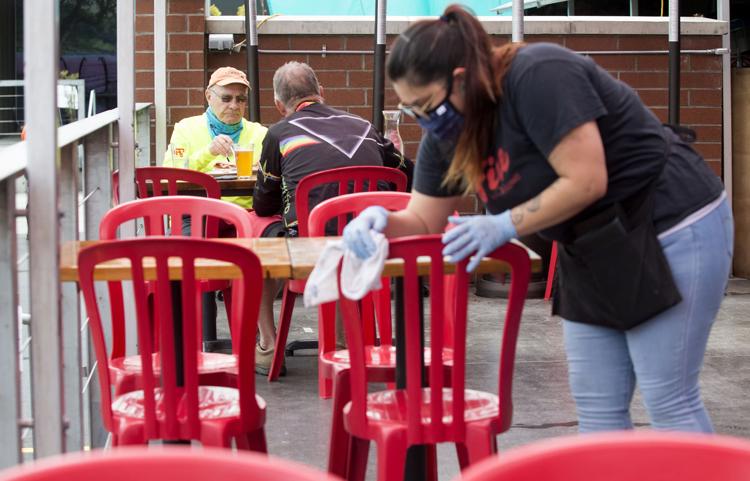 Like Fire, Café Columbia reopened Thursday. The market has added extra tables in the concourse, and café owners Dan and Cathy Rodriguez plan to expand seating into the back parking lot eventually.
"We were already open for takeout and the customers would want to come in," Dan Rodriguez said. "We've gotten busier. We've gotten a good response. We expect (Saturday) to be kind of crazy here, so we're trying to finish our deck and get some more seating."
The menu was already posted above the counter and online, and there's now a printed out QR code that takes customers to the website. There will be fewer tables on the back deck, and shade sails instead of umbrellas.
Cathy Rodriguez said they didn't experience layoffs, though three employees left in the month that they were closed before reopening for takeout. They're now back to where they were staffing-wise and looking to make two more hires.
"Nobody has to open the next day — you open when you're ready," she said. "However, we knew there were going to be customers who wanted to do it as soon as possible. ... We're grateful that we can open back up for sit-in for customers and we're going to do everything we can to keep our employees and our customers safe."