WENATCHEE — The private schools in Wenatchee are right where the public schools want to be — teaching students in-person full time.
St. Joseph Catholic School moved to full-time instruction two weeks ago, while Cascade Christian Academy has been in full-time instruction since mid-October. St. Paul's Lutheran School has been full-time since the beginning of the school year.
The schools, each with an enrollment of just over 100, have used the same strategies to move forward more swiftly than public schools.
St. Joseph Catholic School, 600 St. Joseph Place in Wenatchee, is a kindergarten to fifth-grade school with an enrollment of 120 students. According to Principal Deacon Robert Turner, 30 students dropped out since last March at the start of the pandemic.
When the pandemic started last spring, the school moved to remote instruction. This fall, the school year started remotely, but switched to hybrid learning on Oct. 1, with students split between the morning and afternoon.
The school remained on the hybrid schedule until two weeks ago when they got word they could go to full time.
"During COVID, we were a little bit frustrated, our Catholic schools were allowed to open in Ephrata, Yakima and Tri-Cities and only Chelan-Douglas was not permitting those things, talking about opening full time," Turner said. "At that point, our pastor actually had our school director write a letter of appeal" to the Chelan-Douglas Health District.
They presented the case as to why they should be able to open full time, Turner said.
Although students are back, Turner said all the health and safety protocols remain. Students eat in their classrooms and stay in their cohort groups. Now it is double the number of cars in the morning, but each must do the temperature check.
It's been great for morale to have the students back full-time. He said the excitement of the kids coming back is like the first day of school.
"They were so excited. In our school, fifth grade is the end of the line, so they have only seen half their group," Turner said. "Now they are all together. It's very joyful. We are a blessed group and we know it. We're just celebrating being back together."
The St. Paul's Lutheran School and Childcare Center, 10 N. Buchanan Ave., in Wenatchee, is a preschool to fifth-grade school, with an enrollment of 104. Administrator Tara Breidert said some students left at the start of the pandemic but others enrolled.
St. Paul's has been open for full-time school since the beginning of the school year, mainly because it had the extra space allowing 6 feet of social distancing space.
"We've been open as usual. We had to wait for a couple of our classes because we had to limit size in order to have the right spacing in the classroom, but we were able to still serve our returning students. We then had a few more enroll," Breidert said.
Breidert said they have adopted everything in the health and safety plan, including handwashing, social distancing, masks. Students get their temperature checked every day along with daily attestation from the parent and students.
She said in the fall they worked more outside, but could not do that in winter. After spring break, Breidert said they plan to go back outside.
Moving forward, Breidert said they hope to open up more activities for students.
"We usually have P.E. once a week at the YMCA. We haven't done that. We haven't gone on our usual field trips or had a lot of our actives with parents involved. We would hope that stuff could start happening more," she said.
Cascade Christian Academy, 600 N. Western Ave. in Wenatchee, is a kindergarten to 12th-grade school with an enrollment of 145 students. According to Principal Stephanie Gates, enrollment dipped at the start of the pandemic, but bounced back within a few weeks.
Gates said the school has been successful managing all the challenges of the pandemic.
"We've been able to continue to offer a very quality education and experience from the very beginning clear back from March," Gates said. "Our students were still meeting standards. We didn't compromise anything with our curriculum and just kept on moving through. We didn't want to just survive things, we wanted to continue to thrive and have an education that is excellent."
At the start of the pandemic last spring, Gates said students were issued Chromebooks as all students were remote at that time. She said they were able to run a student care camp, not with teachers overseeing but with volunteers and assistants for kindergarten through seventh-graders whose parents were working.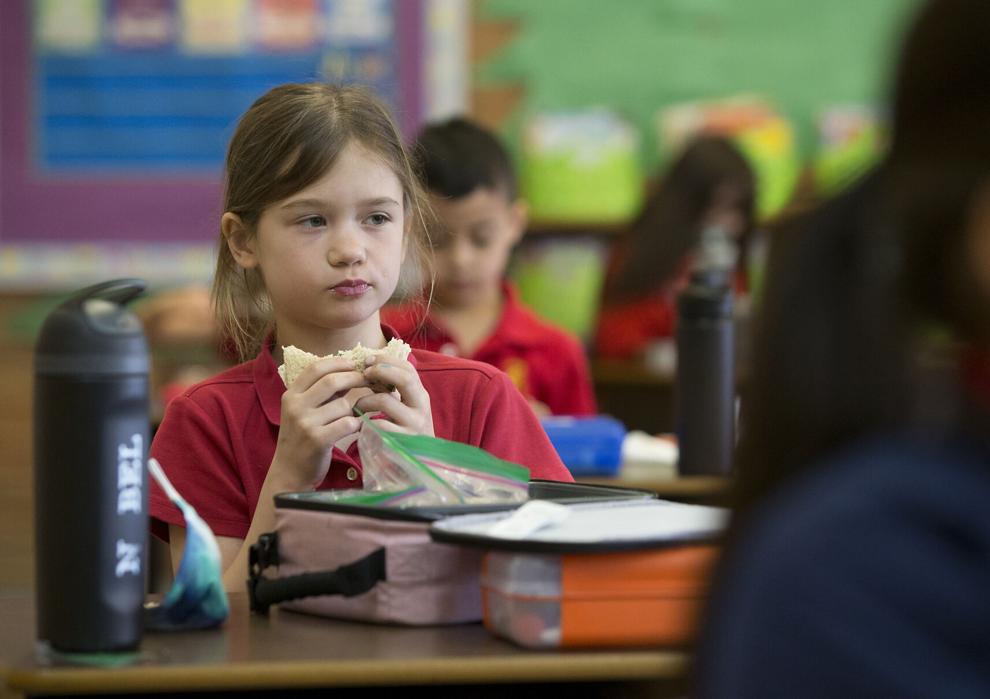 "We opened it up to those that needed it first. Then, we opened it up to K-7 families who would like to have their students on campus," Gates said.
Starting about mid-October, Gates said they started bringing all students back to class for full-time instruction.
The decision to bring all the students full-time came after conversations with Dr. Malcolm Butler, health officer for the Chelan-Douglas Health District, who Gates meets with on a weekly basis.
"All year long, we've been able to meet all mitigation strategies from screening, hand washing, social distancing, masks, cleaning, disinfecting, and ventilation," Gates said. "When I shared with Dr. Butler we were able to do all these things and keep every single strategy strong, he gave us the go-ahead to move forward."
Gates said they've had no transmission of COVID on campus. She said they clean and disinfect the whole school every day after school.
Enrollment for next year is already up by 30 students, Gates said.
"We're just continuing to have those conversations with Dr. Butler to make sure we're continuing to follow the protocols and still increase our enrollment to meet the needs of our community for those that want a private school education," she said.