WENATCHEE — The Wenatchee School District announced this week all district athletic facilities will be closed for the foreseeable future. That means no groups or clubs can use the facilities until Chelan County moves further ahead with the state's phased reopening plan. 
At that time, the district will reevaluate the use of the facilities for students and district staff. The primary groups using school athletic facilities over the summer are soccer, fastpitch softball, lacrosse and volleyball.
"There are so many unknowns at this point in time. What is it going to look like? What phase are we in? Are we ever going to get out of Phase 1?" said Wenatchee High School Athletic Director Jim Beeson. "If you look at those phases, for Phase 2 for football, you can go out, but you can't hand the ball off or throw it to anybody else. We just put it out there, until further notice, the facilities are closed."
The governor's order keeping school athletic facilities closed ends on June 19. Eastmont Athletic Director Russ Waterman said as they approach June 19, they will be looking for guidance from the district's Risk Management group.
"It doesn't look like with the current phasing we wouldn't be opening our facilities much, just because of the factors at play with sanitation and things like that," Waterman said.
The main users at Eastmont during the summer are soccer, youth baseball, basketball and volleyball.
Beeson said they are allowing coaches to hold individual workouts without encouraging the kids to get together and do things. There can be Zoom meetings. Importantly, they cannot go off campus, due to insurance issues regarding liability.
Beeson said schools across the state are all in the same boat because they are all insured by the same company.
Once the country progresses and more information comes in from the Washington Interscholastic Activities Association (WIAA) and state Office of the Superintendent of Public Instruction (OSPI), Beeson said they will adjust and move forward.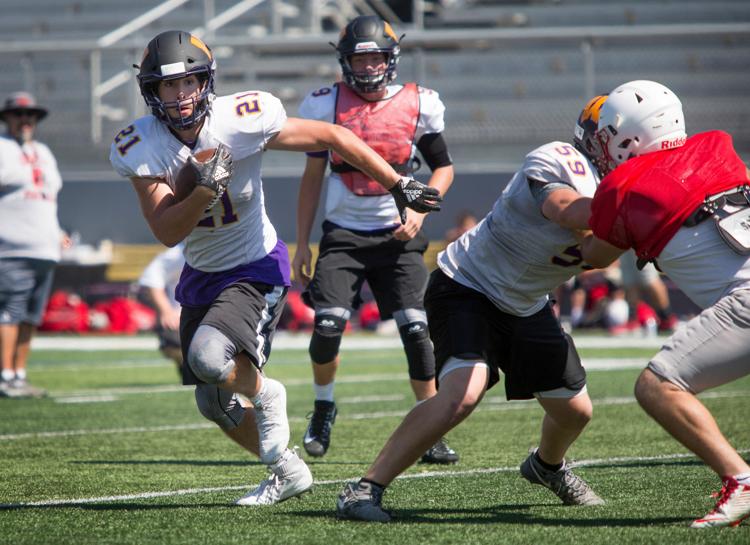 "We're just trying to keep everybody informed to the best of our ability moving forward," he said.
Although some counties are Phase 2 or Phase 3, Chelan and Douglas counties remain in Phase 1, which could put area schools at a competitive disadvantage.
"We just have to deal with it. That's all we can do. We have to stay positive. We can't control what we can't control. Let's just focus on what we can control," Beeson said. "The district philosophy has been to start first by trying to get our kids back into things. As we progress, if we get further, the outside user groups can come in. There are just so many unknowns. How do you disinfect? Do they need temperature checks?"
There is a concern, Beeson said, about making a big plan only to have something change, pushing them back to square one. He said they are going to approach it with a basic plan and just wait for more information.
Beeson said they are waiting for the WIAA to put out some standards, which likely be based on the standards coming from the National Federation of High Schools.
"Each district will look at it and move forward the best we can. First and foremost, we need to get out of Phase 1. We're stuck in Phase 1 and that may not get better with cherry harvest going on," Beeson said.
Waterman participated in a WIAA conference call Wednesday morning. He said the WIAA is still in a holding pattern, waiting for its school athletic reopening plan to be approved by the state Department of Health.
Once the WIAA plan is approved, Waterman said it will be shared with all member schools, which can follow their guidance on reopening.