WENATCHEE — The Wenatchee Racquet & Athletic Club has reopened to offer supervised outdoor tennis and pickleball. WRAC Manager Evy Gillin said once the governor made the announcement to allow outdoor tennis and similar sports under phase one, the fitness facility moved quickly to offer that service.
"We have been working with the health department to make sure the guidelines we had in mind were in agreement with them," Gillin said. "When we got the go-ahead, we had a soft opening. We have outdoor tennis and pickleball but the Phase 1 limitation is that it has to be singles only. If you go to any park in town, everyone is playing doubles."
Even though Gov. Jay Inslee announced last week that counties like Chelan, with a high infection rate, can move to a phase 1.5, the WRAC Board of Directors decided they could not charge dues in June because of the continuing uncertainty.
"This decision is a difficult one, as our fixed costs of operation continue, and without revenues, we are losing money every month. We are very thankful for the generosity of many of our member-owners who continue to pay monthly dues on a voluntary basis. Because of you, our losses are less than they would be without your assistance," said the May 29 letter from the WRAC board to its members.
Club members have been slow to come out, Gillin said, because most people play doubles and they have been away for a while. Not many people are eager to play singles, she said.
The pros at the club are offering private lessons. There is a club ambassador there to supervise play, per Inslee's order.
The WRAC is open 8 a.m. to 8:30 p.m. Monday through Friday and 8 a.m. to 6 p.m. on weekends.
"We are limited but at least we can do something. Our grounds look great because nobody has been using it all spring," Gillin said. "We have procedures in place. Everyone has to be a member, unfortunately. They have to reserve a court so we can control the number of people on the courts at one time."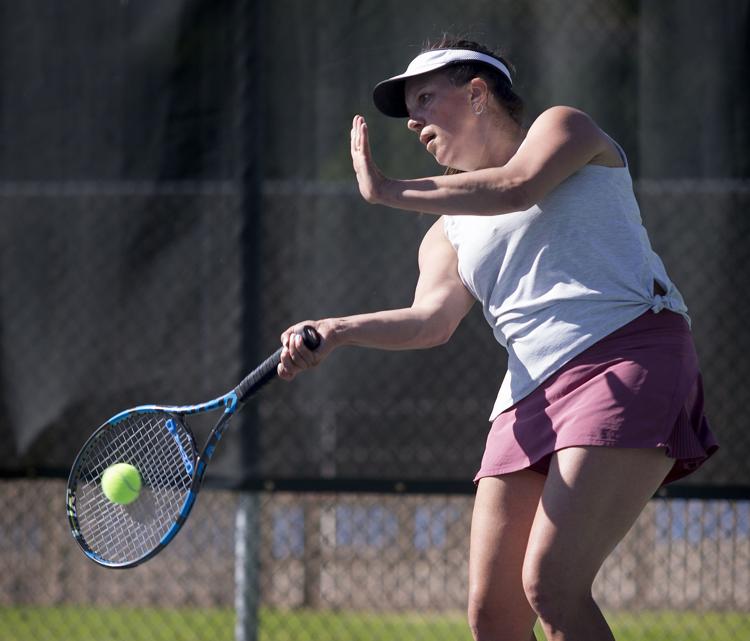 The supervisors are mainly there to greet people and educate them on the WRAC guidelines. There are sanitation stations available. People are not required to wear a mask, Gillin said, noting that it is very difficult to do any type of physical activity with a mask on.
Gillin said they are asking people not gather after their match and instead just go home. 
"It's a strange world because this is completely contrary to everything we do on a normal daily basis. We want to encourage people to have guests and make it warm and friendly and not ask people to go home after their match," she said. "We're trying to do our best to provide a service under the conditions we are faced with."
The WRAC is preparing for the time when it can expand its offerings. In Phase 2, Gillin said they can have personal training with five participants and one instructor. After each session, all the exercise equipment would have to be cleaned.
"We're trying to figure out how to offer those services. We can't open the whole club until Phase 3," she said. "We're going into a month without many services, so we can't justify charging our members. We can only do that for so long."