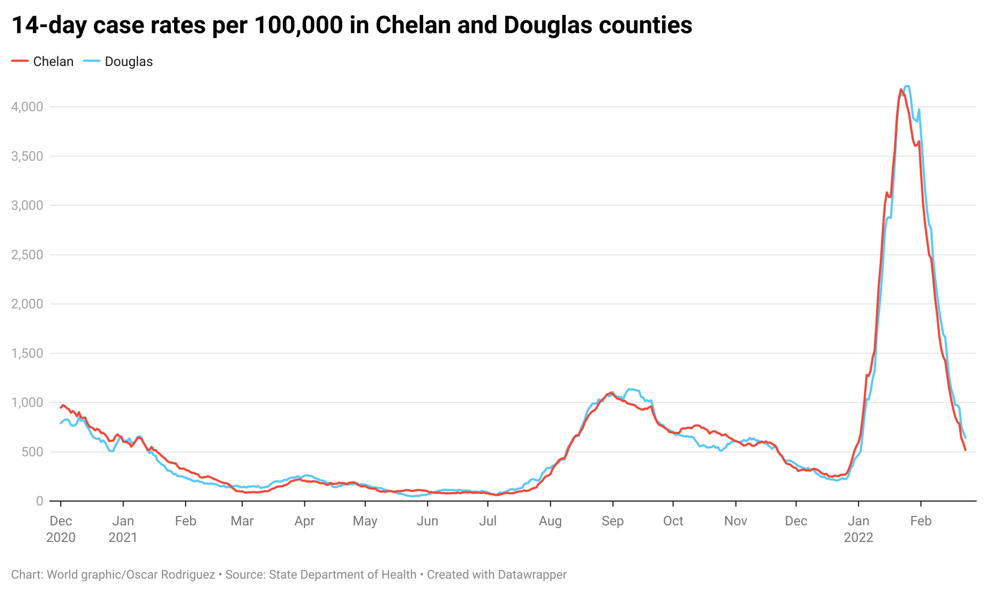 WENATCHEE — COVID-19 cases have steadily been declining since late January in Chelan and Douglas counties as the state readies to get rid of masks for the second time since the pandemic began.
The 14-day COVID-19 rate in the two-county area was 562.4 per 100,000 people as of Feb. 23, according to data from the state Department of Health. A month ago, the rate was 4,160.1 in Chelan and Douglas counties, the all-time highest rate for the area.
With declining rates, masks will no longer be required by state mandate in most indoor public places like restaurants, theaters and schools starting March 12. Masks will still be required in health care and long-term care facilities.
COVID-19 hospitalizations have plateaued at around 10 patients since Feb. 23, according to the Confluence Health COVID-19 webpage.
Twelve people were hospitalized due to COVID-19 as of March 4, another eight were in the hospital for a non-COVID reason but had tested positive. Two of the 12 patients hospitalized were in the intensive care unit, according to Confluence Health.