WENATCHEE — Surrounded by a CPR mannequin and a half dozen tiny ambulances, Hannah Christen taught short CPR classes Saturday to interested passersby at Pybus Public Market.
Christen, a disaster program manager with the American Red Cross, hosted an info booth where she taught "community-based CPR," specifically chest compressions, for Make a Difference Day.
"The compressions are really easy to remember, and the locations of them," Christen said. "And the idea is anyone can learn hands-only."
She explained that about 70% of cardiac arrests occur at home.
"So having someone in your household who's able to do hands-only CPR or full-blown CPR is critical to being able to save the life of someone that has a cardiac event," Christen said.
By 11:30 a.m., Christen taught chest compressions to 32 people. She started at 9.
"It's good to get out in the community and teach people, and especially kids, how to do it," Christen said. She noted the micro-sized ambulances were used by students to practice chest compressions.
Pybus played host to a drive-thru donation drop-off point and information booths at the 31st annual Make a Difference Day.
The drive-thru model is a carryover from 2020 when organizers modified their original plan of receiving donations inside the market to comply with COVID-19 restrictions, said Jessica Mayo, Pybus' artisan and foundation development manager.
"We definitely always want to provide space for them and if we can be helpful in any way that's awesome," Mayo said of the volunteer groups.
Donations were accepted from 9 to 1 p.m. and in some instances bolstered by the bustling Wenatchee Valley Farmers Market outside Pybus and the indoor Pybus Artisan Market.
"It's going really well," Mayo said. "We've had a pretty steady stream of donations and people who were here for the farmers market came over and checked it out and a couple of people went home and got donations and brought them back."
Jen Thomason with the state Department of Children, Youth and Families volunteered along with Carissa Stone to help recruit foster parents and accept donations.
"We're in great need of diverse foster families," Thomason said.
She added Stone was specifically recruiting for LGBTQ+ children and kids with disabilities. Finding foster parents for them can be a challenge.
"It's really hard, especially for certain populations," Thomason said, like LGBTQ+. "Some families won't accept those kids, so we need to find homes that are accepting of these kids."
Sometimes children are removed from their parents' care because of a safety issue and then placed into foster care, she said, but the goal is to ultimately reunite the family.
"So if the issue is addiction or mental health, the department works really hard to try to help the parents rectify their parental deficiencies so the kids can go home," Thomason said.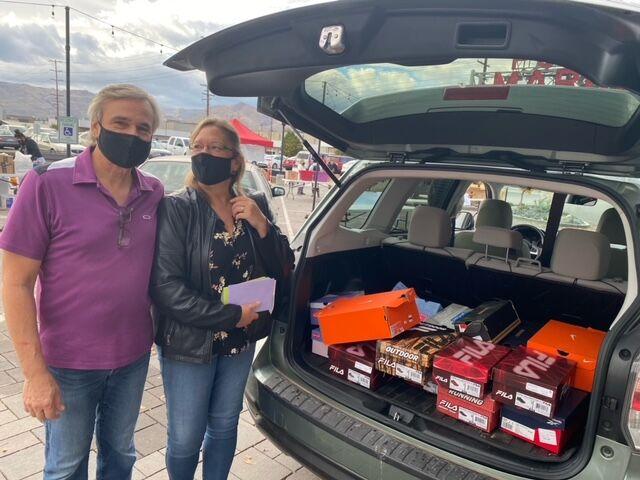 Thomason manages also The Hope Chest, a local clothing closet operated by volunteers, that benefits kids in foster care. On Saturday, they asked for the donation of new shoes.
"What we've noticed is that the kids shoes that people bring in are usually pretty worn because kids are hard on shoes so we decided this year our project would be to collect new shoes for kids in foster care," Thomason said.
At an adjacent table, members of Wenatchee Pride collected winter clothing for SAGE, a non-profit that provides services to victims of domestic violence, sexual assault, general crime, and child victims of violence.
"Oftentimes, shelters, that's kind of the thing they need the most when it comes to snow time is snow-specific gear," said Ashley Peterson, Wenatchee Pride's volunteer coordinator.
In addition to clothes, Wenatchee Pride accepted monetary donations for SAGE via cash or PayPal.
"We're matching that up to $1,000 with the goal to get $2,000 to SAGE," Peterson said.