EAST WENATCHEE — A little over 1,300 Douglas County residents could become a part of the city of East Wenatchee before the end of the summer.
The East Wenatchee City Council voted 6-1 to approve an agreement with Douglas County to annex four unincorporated county areas. Council member John Sterk was the lone nay vote.
"I have voted no every time the people are eliminated from the process," Sterk said. "Why don't we put it on a ballot? That, my friends, is the American way."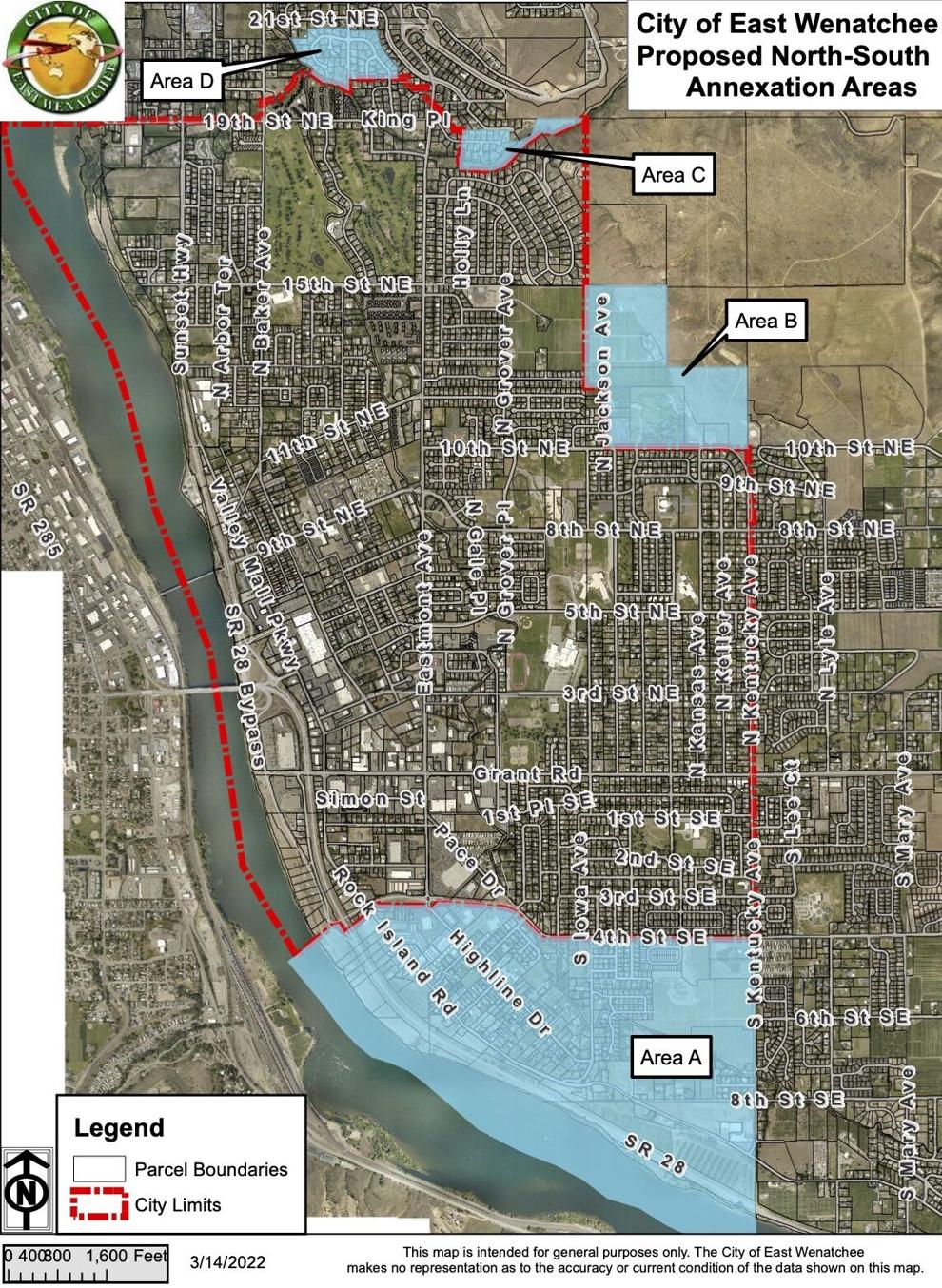 Under recently approved state legislation, governments can annex through an agreement between both parties rather than a vote or petition. Mayor Jerrilea Crawford said the agreement was the city's attempt to work with the county. 
"This is also an opportunity to allow a revenue sharing so that the county doesn't instantly lose the $700,000 possible sales tax revenue that they get through their car dealerships," she said, referring to the fact that the agreement states the city will make an annual payment to the county of $375,000 for four years. "It's a way to be a good neighbor."
Sleiman added that the annexation had been a long and thoughtful process and that she disagreed with Sterk that the decision to annex through agreement rather than a vote was cutting people out of the process.
"I believe that we were elected to represent people so I don't believe people were left out of the process," Sleiman said. "I know change is difficult and growth is difficult, but all of these areas are within the urban growth boundary and it is expected that cities do grow — that's kind of the purpose of cities."
The annexation now moves to the Douglas County commissioners, who are expected to vote on the matter Tuesday.
Prior to the council's vote, a number of residents gave public comments on the annexation, most of it negative. During the public hearing, both commissioners and council members expressed surprise that the majority of individuals giving comment were against the annexation.
Some residents expressed worry that becoming a part of the city would mean losing some of what they called perks of living in the county, such as shooting pellet guns or owning chickens.
City Community Development Director Lori Barnett clarified that wouldn't be the case since the city and county have the same zoning code.
"If you currently have animals, you would continue to have animals," she said. "Anything that you're doing on your property that is considered to be non-conforming (is) basically grandfathered in."
Other constants between the city and county include services for fire, parks, animal control, sewer, electricity and water. Changes between the municipalities include
A 6% utility tax on electricity, gas and telephone services in the city
A $20 license fee to register vehicles in the city
Slightly lower property taxes in the city
Free recycling in the city but slightly higher garbage rates
Tamarra Hardie, who lives on Julia Court in unincorporated Douglas County, said her biggest concern was that there was no benefit to residents.
"For me as a resident I'm paying more and I don't feel like I'm getting the value (back)," Hardie, expressing concern about the city's increased revenue from the annexed residents. "What are you using the funds for and how would it benefit us?"
County resident Scott Holman, who lives on 8th Street South East and owns about 8 acres there, said he favored the annexation because he believed it would give him more opportunities to develop his land. A few residents said they had not yet made up their minds about whether they favored the annexation.
The proposed annexation areas include about 622 housing units, some orchards as well as car dealerships like Town Toyota, Town Ford Lincoln and Apple Valley Honda, which would be a significant sales tax revenue increase for the city.
"One of the questions that always comes up is 'Why would you annex," Barnett said. "Basically, cities are the logical providers of services. In general, cities are the units of local government most appropriate to provide urban governmental services."
She added that East Wenatchee does not follow the state and county-wide trend of having more individuals living within city limits than in an unincorporated urban growth area. East Wenatchee only occupies 30% of its urban growth area. Meanwhile Mansfield, Bridgeport, Waterville and Rock Island occupy 43%, 56%, 71% and 90% of their respective urban growth areas.