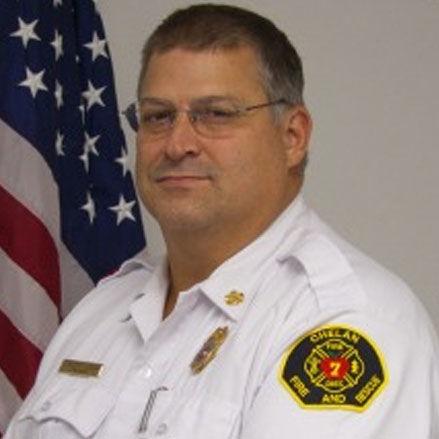 BELLINGHAM — Former Chelan Fire & Rescue Chief Tim Lemon died Tuesday night of pancreatic cancer.
Lemon was diagnosed with Stage 4 pancreatic cancer earlier this month, said Chief Mark Donnell.
"They found it was untreatable and he actually died a lot sooner than we thought he would," Donnell said. "We're all heartbroken right now."
Lemon left Chelan Fire & Rescue in July after 10 years and took over as chief of North Whidbey Island Fire and Rescue in mid-August.
He died at St. Joseph's Hospital in Bellingham with his wife Cathy by his side, North Whidbey Fire and Rescue said in a Facebook post. Lemon was 57.
Faye Barker, Lemon's longtime assistant, said he was diagnosed two weeks ago.
"It's a huge shock," Barker said. "And it's a huge loss."
Barker worked with Lemon as an assistant for 24 years and came out of retirement to help him at North Whidbey. She described him as an honest man who was well-respected in the fire community and had a good sense of humor.
He is survived by his wife, children and grandchildren.
North Whidbey is planning memorial services.
Lemon spent his entire adult life fighting fires.
He began as a 17-year-old volunteer with Pierce County Fire District 16 while still in high school. He attained the rank of assistant chief and then left the department for Maple Valley Fire and Life Safety.
Lemon was appointed Maple Valley's chief in 2001, making him the youngest fire chief in the state at the time, Barker said.
In 2009, he took the helm of Chelan Fire & Rescue.
"He did an awful lot for this organization," Donnell said. "He came into an organization that was basically a brand new combination department and basically had to build the department from the ground up to make it what it is today."
Chelan Mayor Mike Cooney called Lemon a "straight shooter" who was good to do business with.
"I really respected him as a leader, as somebody that made our town better, and we're better because we had Chief Lemon there for 10 years," Cooney said. "He did an incredible job of bringing in good people around him."
Lemon reflected on his career to The World in March when he announced his impending departure from Chelan.
"I've loved every step of it," Lemon said.