WENATCHEE — It was a beautiful night in the Wenatchee Valley Friday as both Eastmont and Wenatchee high schools celebrated their class of 2021 graduation ceremonies, Wenatchee in the Apple Bowl and Eastmont at Wildcat Stadium.
Eastmont graduates entered Wildcat Stadium from the east and west gates with the girls dressed in red and the boys in blue. Wenatchee graduates entered the Apple Bowl from the west end zone dressed in purple. Both schools entered with traditional graduation music playing.
What a difference a year makes.
In 2020, the COVID-19 pandemic forced both schools to hold virtual graduation ceremonies. This year, the ceremonies were in-person — albeit with many precautions for the ongoing pandemic.
"Obviously, social distancing and some of the COVID regulations are still in play," said Diana Haglund, a Wenatchee School District spokesperson. "We did have to limit the number of people who came to the Apple Bowl, so that is a little bit different."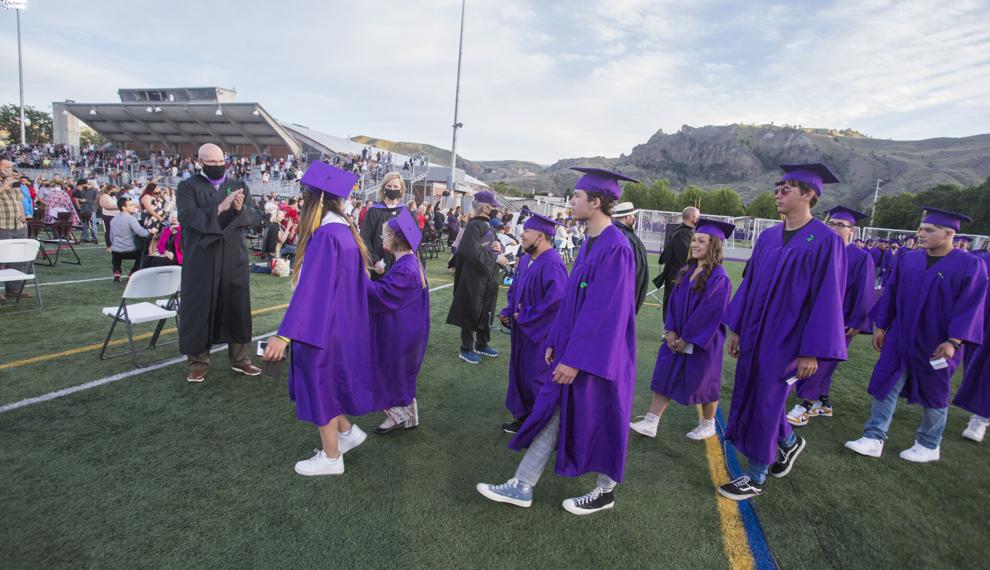 Masking was required at both graduation ceremonies. Graduates for each school were afforded four tickets each. There were 450 graduates for Wenatchee and 460 graduates for Eastmont.
Those in attendance were seated in pods of four in both locations, on the field and in the stands.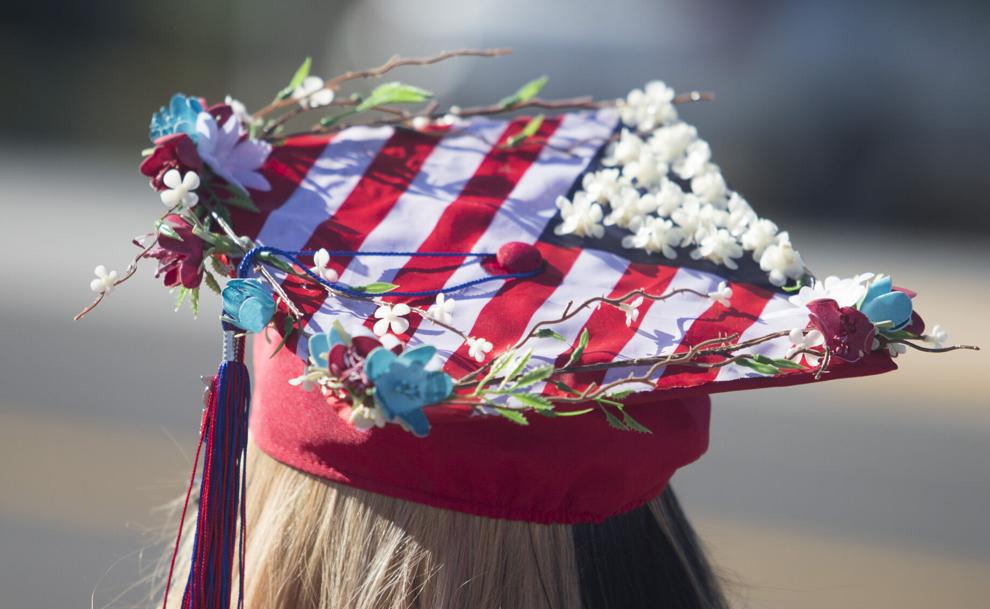 "In our bleachers and on the field, we have pods of four seats where families can sit with six feet of distance between them. That was quite a chore mapping all that out," said Eastmont High School Assistant Principal Stacia Hardie, "That way a family unit can get together."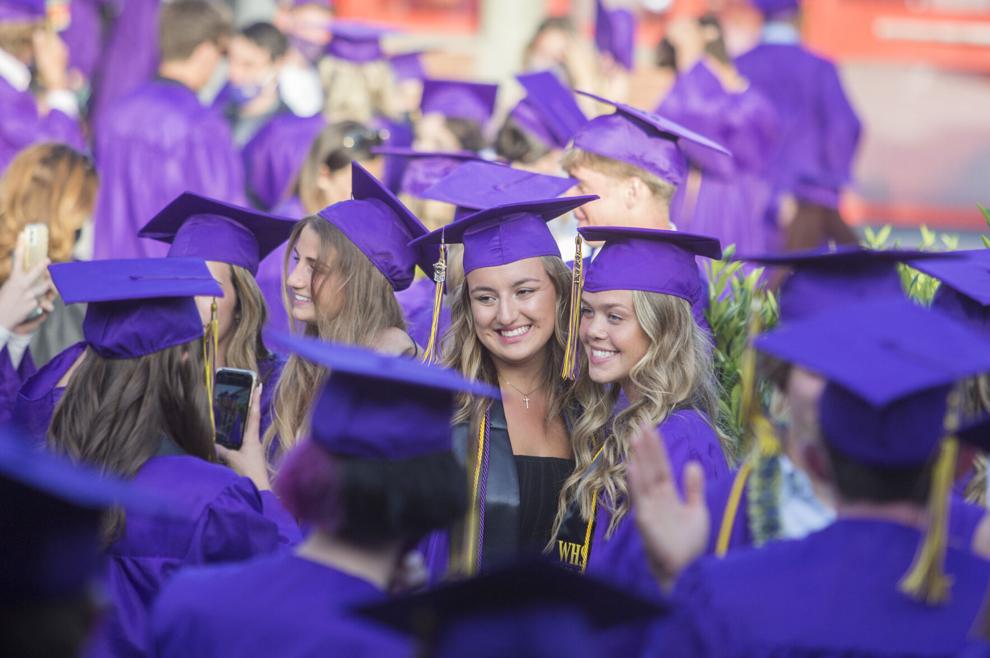 Both schools also had large screens at each location to allow those distant to see the speakers better but also display the prerecorded parts of the program. Wenatchee presented a pre-recorded speech by Alumni of the Year Heidi Schreck. And all of the musical performances, which would normally be presented live, were pre-recorded for the big screen.
Normally, Eastmont graduation is held at Town Toyota Center but due to COVID-19 restrictions, Hardie said they decided to hold the ceremony at the Wildcat Stadium.
For Wenatchee, having the ceremony at the Apple Bowl was all about maintaining a longtime tradition.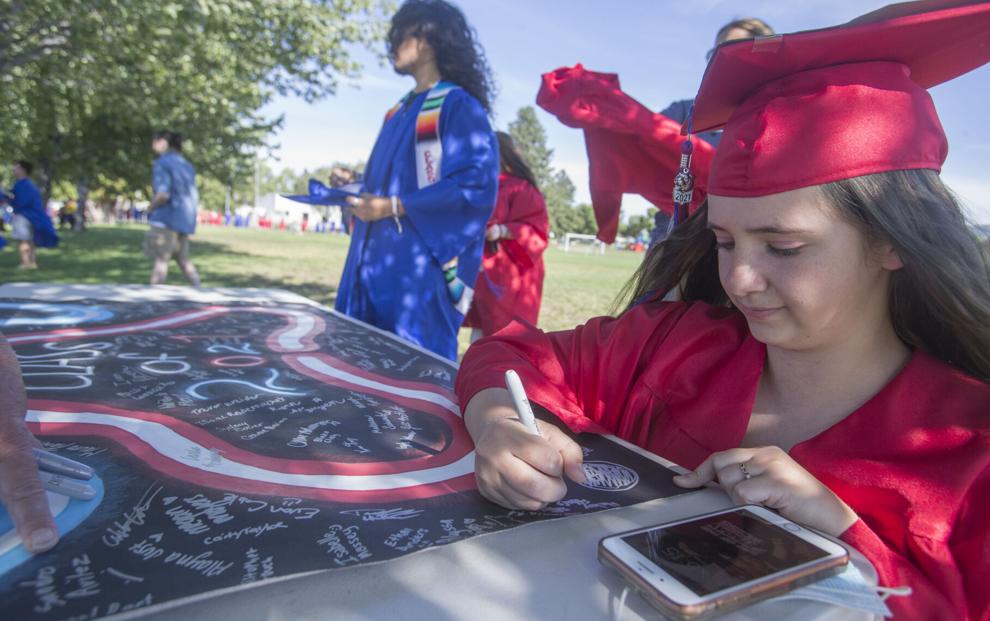 "It feels more normal and that feels really good just to have the students be able to enjoy the traditions we have enjoyed for so many years. The fact of being on the field at the Apple Bowl really is a moment in our graduates' lives that they look forward to. It's just a location but it is more than that," Haglund said.
While both ceremonies were different because of the many COVID regulations, the seniors were able to enjoy the typical activities leading up to graduations.
Many Wenatchee seniors arrived at school graduation morning in traditional style — on roller skates, roller blades, scooters, skateboards and bicycles. They also brought back their senior walk through Wenatchee High School surrounded by their peers and staff. After that, the seniors enjoyed a parent celebration before graduation rehearsal.
Eastmont seniors had their senior scooter ride down Eastmont. Then, they had their senior celebration with parents before the graduation rehearsal on Thursday morning. On Wednesday, there was an awards ceremony for seniors in Wildcat Stadium and that night was prom.
On graduation night, Eastmont announced their boy and girl of the year. Max Prazer was the Boy of the Year and Makenna Schwab (who is featured on Page A9), was the Girl of the Year.