WENATCHEE — "Like lava coming out of a volcano."
That's how Sunnyslope resident Brian Voth described the Red Apple Fire spreading along a crest early Wednesday morning.
"It was kind of surreal," Voth said. Most years in July, Voth and his wife are out of the valley on vacation but this year they stayed home.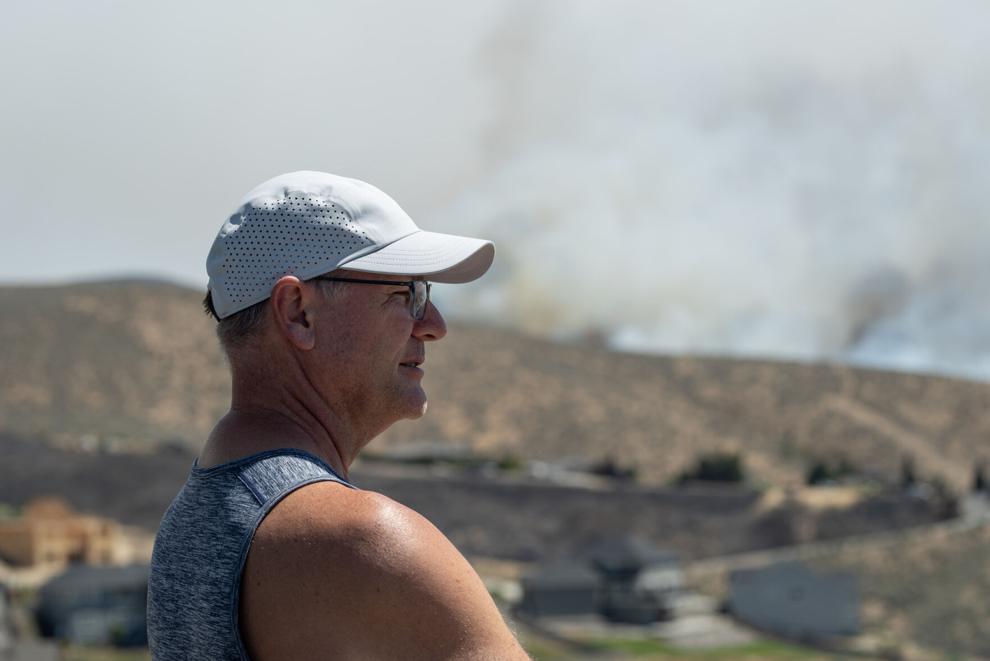 It was around 7 p.m. when Voth first noticed smoke, and through the evening and night, they decided to pack their belongings like photo albums, things that couldn't be replaced, he said.
"It looked like (the fire) was dying at the time," Voth said. "We went ahead and went to bed, but the phone kept shining every hour, two hours saying level one, level two, and then it was level three."
Voth said that he got a Level 3 evacuation notice — get out now — on his phone at around 1:50 a.m. "(When) it was level three, we went outside and it just looked very surreal. It was all red, super smoky, and hard to breathe."
Like many of his neighbors, they evacuated to the Sunnyslope Elementary School parking lot where Voth said he and some neighbors watched the fire unfold through the early morning.
The Voths eventually came back home in the morning, grateful to see that their home and their neighbors' homes had not been seriously impacted by the fire.
Penny Los and her husband woke up in their Sunnyslope home to the smell of smoke and the sound of a warning notification. It was about 11:30 p.m. Tuesday.
"We went out the back door and you could look at the hillside and see all the deputies going up and down the roads," Los said. "So we just started packing things."
Along with their two children, Los said they evacuated to the Sunnyslope Elementary School with their two dogs, some baby chicks, and a rabbit.
Los, a seven-year resident of Sunnyslope, had seen other wildfires in the area in previous years, but seeing the fire coming down the hill, it became very clear that the fire could reach them. "This one was a little scarier," she said.
Los and her family returned home around 10 a.m. Wednesday, their homes unscathed.
Kevin Ohme, a retired property assessor, was sitting in a pickup with Ohme Gardens behind him as he watched the fire directly in front of him Wednesday morning.
By 11 a.m., the fire had already moved past his home in Sunnyslope and the gardens towards Highway 97/A, so he was no longer stressed about the situation.
Ohme said he remembers 30 years ago when a wildfire actually made it to the gardens and killed some of the trees. But so far, there hasn't been a need to run.
"I've seen a lot of fires come down through here," Ohme said. "I know when to run, I think. So far, so good."
Some of the residents of McMullan Road near Ohme Gardens had not evacuated around noon Wednesday when the area received Level 3 evacuation notices.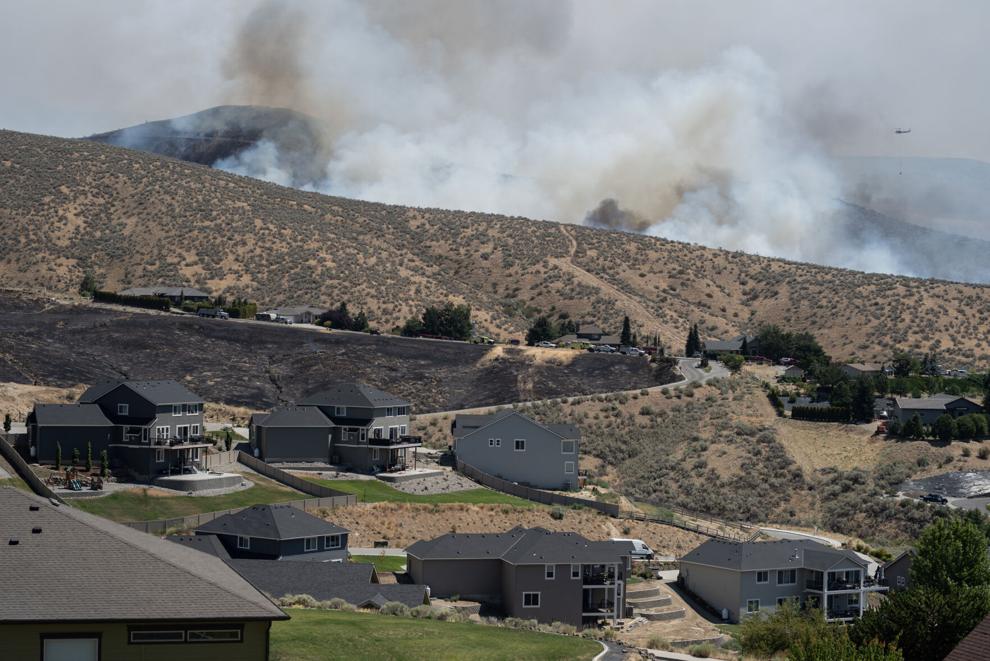 Patti Jones, a resident in the area and retired forest aviation officer for the U.S. Forest Service, said she would be evacuating once her daughter headed off to Chelan with friends for a 20th-year birthday celebration.
Jones' husband, Chief Phil Mosher of Chelan County Fire District 6, got word of the fire early when her husband left a bit before 7 p.m. Tuesday to respond, she said.
Jones said that she began to worry for her friends and family that live in the area. "I actually called my husband a couple times (Tuesday night) just to make sure that everybody's homes were OK," she said.
With experience responding to fires herself, Jones said that with how dry and windy it is, it would be difficult to stop this fire.
"I was a little bit worried (Wednesday) morning when I was able to see flames across Burch Mountain Road, but they were able to get a dozer line around that."
And there haven't been any structure lost so far, Jones noted. "All in all, I think we've been very lucky."