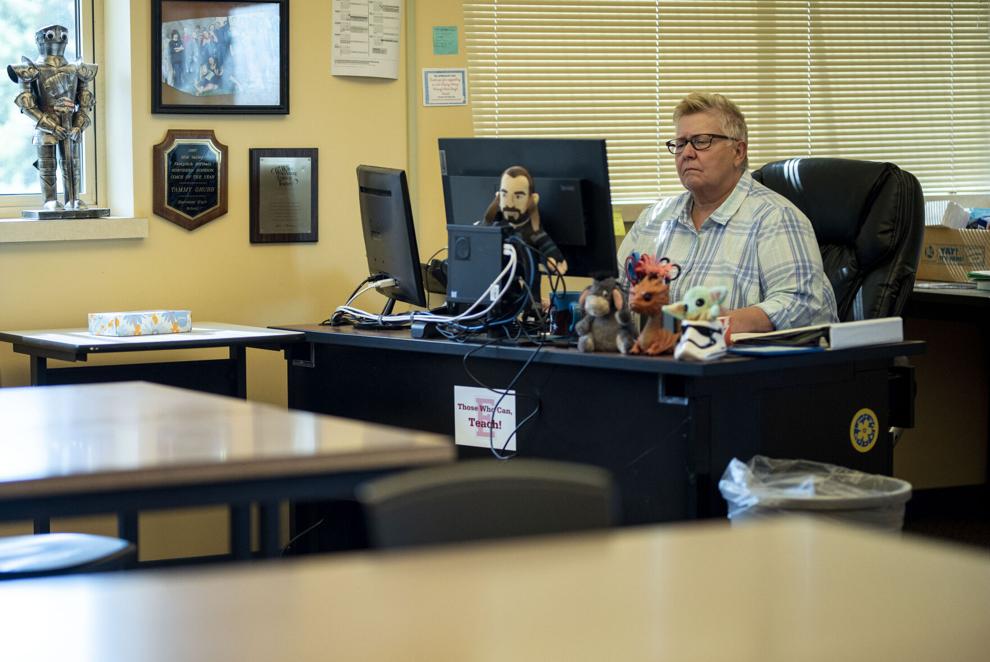 EAST WENATCHEE— After two planes destroyed The World Trade Center on Sept. 11, 2001, killing nearly 3,000 people, New York Times Editor Serge Schmemann and Eastmont Junior High Teacher Tammy Grubb tried to explain the inexplicable to vastly different audiences.
Schmemann sat down in his New York City office to write an article on the biggest non-natural disaster mass casualty event in America's history. Meanwhile, Grubb walked into her East Wenatchee classroom to talk to students between the ages of 13 and 15 about how something so evil could happen, while not knowing herself.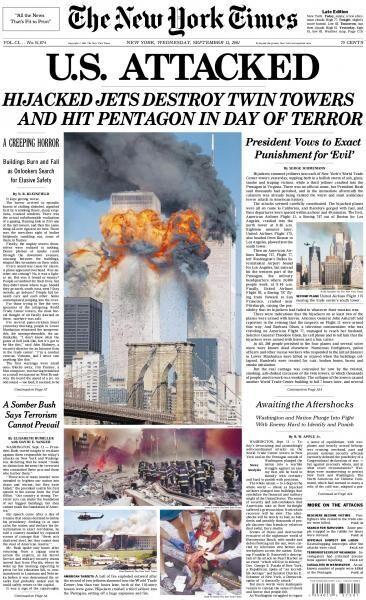 The article Schmemann wrote "U.S. ATTACKED; President Vows to Exact Punishment for Evil'" ran on the front page of The Times on Sept. 12 with photos of the burning twin towers. Schmemann wrote through the chaos as reporters from the Times fed him information.
The day the article came out, Grubb was still trying to process the attack. She compiled several articles, including Schmemann's, handed them out to her students and instructed her students to write something called found poetry. The students read the articles, made notes of the words and phrases that resonated and arranged them to form poetry.
Once they were written, Grubb hung them on a board outside of her classroom for other students and teachers to read. Soon after, students outside Grubb's class began to write their own found poetry. To allow students to feel comfortable, they were able to submit their work anonymously.
The poems were taken down in late October. Grubb compiled them, wrote a letter and sent the package to Schmemann. Grubb received a letter the following month from Schmemann saying the newsroom staff was very appreciative.
Both Grubb and the students believed the response would be the story's conclusion.
Like many others, the students, Grubb and Schmemann have reflected on that time period as we near the attack's 20th anniversary. In late July of this year, Grubb and The Wenatchee World received emails from Schmemann saying he would like to contact the students to discuss what they remember for an article he planned in The Times for the 20-year anniversary. From a list of 61 students, The Wenatchee World found contact info for 23 and worked with Schmemann on this article's premise.
In the weeks leading up to the 20th anniversary, The World spoke with Schmemann, Grubb and six students about what they remember about the poems and the time. Both The New York Times and The Wenatchee World are publishing articles on what the students remember from this time.
Read more: Schmemann's companion piece
Shortly after the attacks of Sept. 11, an English teacher in central Washington State assigned her eighth and ninth graders to write poems bas…
---
The morning of Sept. 11 Tammy Grubb went to pick up her mail from the front office. There, her principal and another staff member had the news on the TV, and they watched as a second plane hit the towers.
"We just immediately said 'this is going to be a tough day," she said. "It's going to be a tough day for everyone, adults and students."
Grubb hurried to her room and students began to enter soon after. They were shocked but talkative.
"It was just an incredible amount of cognitive input. The kids had seen an awful lot and they had heard an awful lot. They had conversations with their parents," Grubb said. "Some kids arrived at school like me who didn't know that anything had happened."
The students were subdued, but eager to understand the day's events. Staff spent the day trying to answer questions from students that they themselves had. Grubb said it was mentally exhausting to process the events while also helping the students process them too. Only months earlier, she had visited the top of the World Trade Centers for dinner.
Grubb brought in several New York Times articles for her students. But the students were drawn to Schmemann's words…..
Found poetry isn't unusual for Grubb's classes; she had assigned them several times before. Since her students were inundated with media about the attack, Grubb said the poetry allowed students the opportunity to slow and reflect on what happened.
"It really is kind of, in its entirety, is a wide-open way to find poetics in prose," Grubb said. "So that's what they did. They first skimmed through the article and just made a running list as they went."
While Grubb expected a response to her letter and poems from Schmemann, she didn't think he would reach out again.
"[Serge] did send a really nice letter back, and really told the kids that everyone who read them and everyone who saw them was grateful for the chance to reprocess and look at their work as a way to debrief and decompress," Grubb said. "I wasn't figuring that 20 years later he would call on us again to get some type of perspective."
---
Carcasses of the twin towers.
Tens of thousands of people.
The United States was on a war footing.
Military is on highest alert in extraordinary planning.
"These acts of mass murder were intending to frighten our nation into
chaos and retreat, but they have failed."— President George W. Bush
Communications creaked under the load of emergency.
Achieved levels of horror:
Shock, grief, solidarity spread rapidly.
Schools have prepared to let students stay the night if they couldn't get
home if they don't have anyone to go home to.
110-floor unadorned blocks that dominated any approach to Manhattan;
South tower suddenly vanish in swirling blows,
"The scream was horrendous."
People were jumping from the tower.
Palestinians praise God for the attacks.
From a cell phone "We are being hijacked! We are being hijacked!"
Calamities of American history...Pearl Harbor.
Twins in the sky for 25 years.
12 million square feet — of rentable office space.
Reflecting 20 years later
 For Sasha Sleiman, the period following 9/11 is murky.
"It was a really stressful day," Sleiman said. "I've been thinking about it since Mrs. Grubb reached out, and I don't remember so much of the days after, which is bizarre."
What made the day more difficult is that she visited New York City in the spring of 2001. She had ventured to the top of the south tower mere months before the attack.
"As a child, I had been there. So for me, experiencing watching what was happening, it was way more personal than I ever would have imagined it," Sleiman said. "It became more about the people there and the buildings because I had been there, I had seen them."
Sleiman's family heritage made the following days challenging as well. Her dad is Lebanese, and she has family members who live there, so she remembers the ignorance following the attacks.
"We're Christian, there was some backlash. Not crazy, but every Arab American felt some backlash," Sleiman said. "And people just not understanding who Al-Qaeda was, is. Who Osama Bin Laden was, is."
A desire to understand more about the dynamics of the Middle East led to Sleiman obtaining a master's degree in international policy. Following school, Sleiman lived in New York for six years, worked at the United Nations and eventually summoned the strength to visit One World Trade Center.
"The impact of that day on me, it guided the whole rest of my career," Sleiman said.
Living in New York was a humbling experience since Sleiman met friends who lost loved ones in the attacks.
Sleiman doesn't remember the assignment itself. But when she rereads her poem she instantly is taken back to that mindset.
"I've read the poem that I wrote, and when I read it I know exactly what I was thinking and feeling in a way," Sleiman said. "Because the words that I drew out were very specific."
---
Horrendous number of lives lost
Evil, despicable acts of terror
Shock, grief, and solidarity
Disney theme parks and Golden Gate Bridge evacuated
Offered dainty Chinese sandals
Reflecting 20 years later
Jordan Brodley's life has been defined by a series of national tragedies that have shaped who he is.
"It's one of the tent posts of huge national, international things that affected my life," Brodley said. "I was in elementary school when Columbine happened, then obviously high school at 9/11, and then I was in college when Virginia Tech happened. And I was sitting in a gay bar when PULSE happened. These are like these big 'Oh my God, what just happened? Something just broke.'"
The morning of 9/11, his mother burst into his room while Brodley was in bed, turned on his TV and told him the country was under attack.
He remembers a sense of confusion in his classes that day. His social studies teacher tried to put the attacks in a global context One teacher tried to continue with their lesson without acknowledging the attacks.
He partially remembers the poetry assignment, though he has not reread the poem he wrote.
"I think if you would have asked me about that class and the things we did, I might have remembered that," Brodley said. "Once I was reminded of it, I do remember it vaguely as a concept."
Before the attacks, Broadley had never been to New York City. A few years later, he traveled to Ground Zero as part of a high school field trip. Twenty years later, Brodley did not expect he would be talking about a class assignment he hadn't thought about in several years.
"I would have never expected this to happen. Wenatchee is a small town across the country," Brodley said. "Yesterday I spoke with a reporter from the New York Times."
---
Hijackers rammed,                    Weeping people
Hit.                                          Wandered.
266 people:                              Search for safety.
Perished.                                  Pure Horror.
Hellish storm:                           Sky scrapers,
Leaping victims.                        Theme parks,
Terror attack.                            Golden Gate Bridge:
Calamity.                                   Closed.
Clear sky.                                   Air traffic:
Uneasing serenade                   Halted.
Of sirens.                                  International flights:
Buildings collapsed.                   Borders:
Broken bones.                          Closed.
Bodies.                                    White House,
Makeshift morgue:                   Capitol:
Thousands of bodies.               Evacuated.
Horrendous.                            Mass Murder.
Purses,                                   Retreat,
Umbrellas,                              Fright:
Shoes,                                    They FAILED.
Reflecting 20 years later
When Michelle Crapo thought about 9/11, it was usually in terms of the event itself, not with how she felt at the time.
"But my poem that I read, it was a lot more raw and the phrases I picked out were just more horror," Crapo said.
Crapo remembers a day full of confusion and conflicting reports. Through word of mouth, she heard there was a car bombing similar to the Oklahoma City bombing or an accidental plane crash. Her math teacher turned the television and the news on, which allowed her to see what happened.
She had a minimal recollection of the poem.
"If someone had asked me 'did you write a poem about September 11', I would have had no idea," Crapo said. "But after seeing the poems, I do remember the assignment because it was very different. It wasn't writing a poem from our own words, it was using somebody else's words and making them our own."
Through re-reading her poem, Crapo began to remember the feelings she felt that day.
"When I think back on it now, I don't often remember how… horrified and in shock I felt," Crapo said. "My poem was a lot of short and intense phrases."
---
Reflecting 20 years later
"There's only so much a 14-year-old can really grasp and feel. But to be able to do the assignment based on the words of people who were right there, that really did feel it and see it, I think as a 14-year-old it just allows you to process it a little bit slower," Zach Banning said.
9/11 was a realization for Banning there could be attacks on American soil. His classes that day focused on the attacks and were an introduction to the Taliban, Osama Bin Laden and terrorism.
He found out about the attacks while riding with his mom on the way to school, though he initially thought a small plane had unintentionally flown into the towers. As more information came out, he understood the severity of the events.
"You could see how serious it was on the face of the adults at the school, and then kind of just school stopped for the rest of the day," Banning said. "We were still there, but I just remember all we did was talk about it and see it on the news. And that was kind of just the day."
The poetry assignment allowed him to see the gravity of the situation.
"I remember thinking we're trying to pull the words out of those New York Times articles of what did I see in regards to the words displaying what I saw in people," Banning said. "So just thinking of? the reactions my parents had, the reactions that Mrs. Grubb had because I remember watching the news with her and my classmates. Trying to find the words that depicted what I saw."
While writing the poem, he tried to comprehend a terrorist attack in a city he had never been to. Through Schmemann's article, he processed what had occurred.
"To be able to pull the words from the people that were in New York, that experienced it firsthand, that really felt the severity and how big of an impact that was to be picking the words that they had chosen to express in the article," Banning said.
---
Kelsey Bendtsen's dad frantically woke her up that day, which was unusual since he's typically calm and collected. At first, he told her that the World Trade Center was bombed. Born and raised in Wenatchee, Bendtsen didn't even know what the World Trade Center was.
On her way to school, she tried to tell her friend's parents what had happened. They hadn't watched the news yet and didn't believe her initially.
Bendtsen said when she got to school that day, she does not remember doing anything school-related.
"We were in the old junior high building and technology was probably not at its best, but they wheeled in TVs on carts and we just spent the day watching the news," she said.
In there, there was a somber atmosphere for the people who died in the attacks and a fear that they could be the next target. Along with the fear, Bendtsen said there was also unity and solidarity following the attacks she wished would return.
Since she was 13 at the time of the attacks, Bendtsen and her classmates relied on context clues from the adults around them.
"I think again for a lot of us kids, we didn't really know the full impact of it, and we were really feeding off of the adults around us. And I think it was just a lot of fear," Bendtsen said. "I remember hearing conversations about 'What are they going to do next? Are they going to attack our dams here, since they supply power to the entire West Coast? Are they going to be a target?'"
Bendtsen said she has vague memories of doing the assignment and recently reread Schmemann's article to get a better understanding.
"I remember doing it, I don't remember what I wrote exactly. I was trying to think about what I would have wrote, and I'm guessing it was pretty dark and pretty like fear-based," Bendtsen said.
---
"I remember waking up to the sound of my dad running on the treadmill," Haley said. "I remember coming out into the living room and my parents had the TV on."
The day is slightly foggy for Haley, so he isn't sure if his timeline is accurate. But the first plane hitting already dominated the news. Haley had a zero-hour class, and the second plane hit as he was getting ready for school that day.
"I seem to remember my parents saying, or at least my dad saying 'we're under attack,'" Haley said. "After the second plane hit, it was the sudden realization that this was intentional."
Haley said after watching two planes intentionally hit the World Trade Center, it was a "bizarre" feeling going to school.
He then left for school, where Haley said there was a somber mood.
"There was a serious tone that just kind of set over everybody, and I believe it was Mrs. Grubb's class that was my homeroom class, so that was my first period that day," Haley said. "And you could just kind of feel it. It just felt thick in the air, like it was very present and on everybody's minds."
Haley said he remembers the odd feeling of interacting with jovial people that day.
"It felt weird that anybody was doing anything but thinking about what was going on," Haley said. "And we still didn't know anything. We didn't know what was really happening, and everybody just wanted to know what was going on. We wanted all of the updates."