LEAVENWORTH — Armed with paintbrushes and dancing to music, a group of Leavenworth residents and visitors set to work Saturday evening, decorating recycled cardboard with pleas for peace.
The guidelines at the bipartisan event were simple: any painted message was welcome, as long as it promotes unity and hope.
The group has gathered in Leavenworth's Front Street Park every evening since Monday — through Election Day, through days of anxious vote counting and through the announcement Saturday that Joe Biden was projected to win the presidency.
Co-organizer Erin Nash of Leavenworth said the event was designed to bring the community together.
"A couple of us activists in town just started talking about how things are really divided right now and no matter what the results are, there's a lot of healing that needs to happen and bridge-building and conversations," she said.
The event's final day happened to fall on Saturday, as some greater Wenatchee Valley residents took to local parks to react to the presidential election results. Local public demonstrations were mild compared to the large-scale celebrations in cities including Washington, D.C., and protests in cities like Phoenix.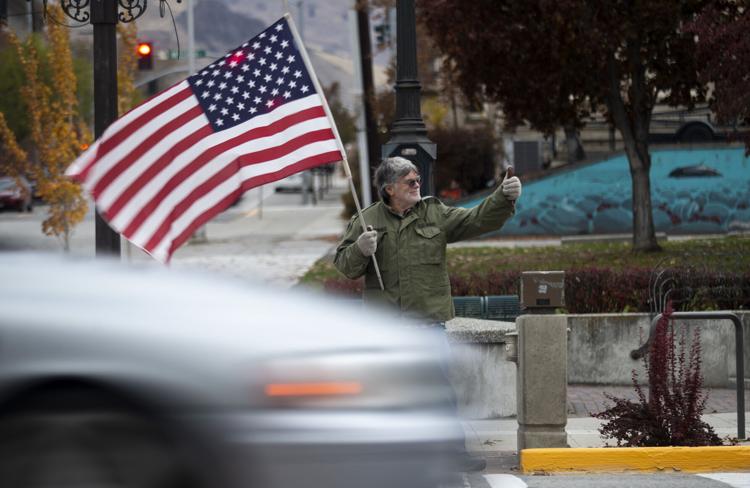 Wenatchee resident James Goodwin, who voted for Biden, saw the news right as it was announced by major TV networks Saturday morning.
"I was overjoyed, just overjoyed," he said.
He took to Centennial Park that afternoon, expecting to participate in a celebratory gathering that didn't materialize, he said. Instead he stood alone on the park corner with a flag and giving a thumbs up to every car that passed. He was eventually joined on the sidewalk by a couple others.
"I've just been struggling with what our country has been going through for the last four years," he said. "So I was hoping for a change and oh, thank goodness — for all of us, no matter which side you're on."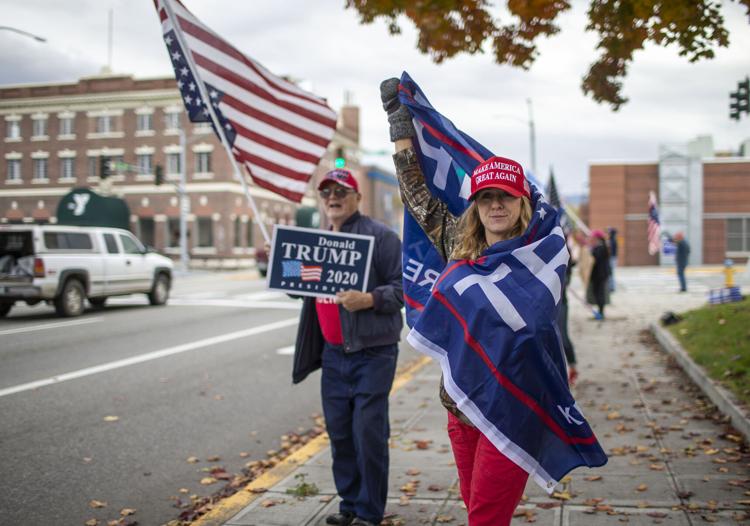 Earlier that afternoon a group of around 15 people gathered in Wenatchee's Memorial Park to participate in a "Stop the Steal" protest, a reference to the unfounded claim that the election's results were manipulated. Similar events have been held across the country.
Lacy Watson, of Wenatchee, attended to demonstrate her belief that results were tampered with, she said.
"Trump is a positive force; he's about America. Biden's against Trump, but Trump's for America and for the people and that's why I'm here," she said. "I think the election was not fair. I was crunching the numbers."
Watson voted for Trump this year but had previously supported Democrats, she said. Trump's response to the pandemic drew her support. She said she's found greater kinship with Republicans than Democrats.
"I voted for Hilary in the last election and I voted for Trump in this election. I voted for Obama; I was a big Obama fan," she said. "Since then, my eyes have just been opened."
Attendee Rick Lee, of Malaga, described himself as a "pure constitutionalist" and said his constitutional rights — namely the First and Second Amendments — are at risk of being lost.
"The far left now isn't like the old Democrats. The old Democrats were more working-class people. Now they've been taken over by real radicals that are actually socialists," he said. "If they get in office, it will spit on the grave of every American that died fighting for the freedoms we enjoyed in this country."
Chelan County residents were significantly more active in this presidential election than the last. According to the most recent election data released Friday, 27% more county residents voted in this race compared to 2016. Douglas County's turnout for the presidential race increased 33%.
Trump carried both counties this November, Chelan County with 52.7% of the vote and Douglas with 61%.
At the art installation in Leavenworth, Nash said they've seen people from all sides of the political spectrum — and some travelers just passing through — who have stopped by to participate.
Each night the number of participants ranged from 10-30, Nash said. Dozens of passersby stopped to watch Saturday as around a dozen people painted.
"They've just been like, 'Thanks for being here, we really needed something like this tonight,'" she said.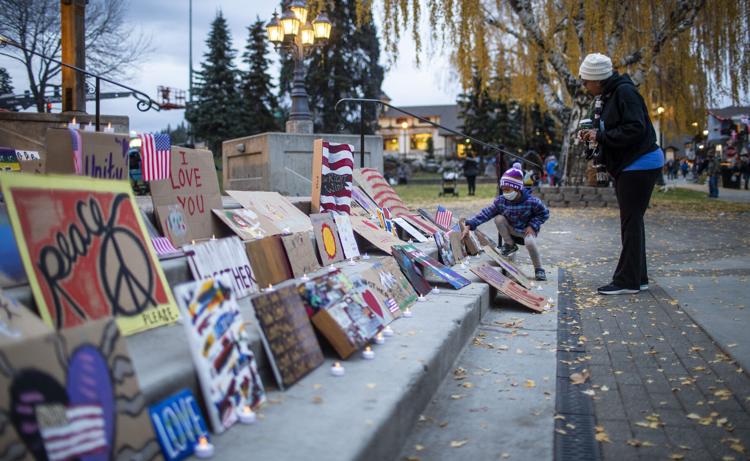 Nash recalls Election Day as a high point for the project.
"Election night was really cool," she said. "It was really sleepy here in town and we were out here, this was just a great way to spend our energy during such an anxious time. Just being forced to create something artistic in a space together."