WENATCHEE — It might have the shortest parade in recent Apple Blossom history with around 92 mostly local entries, but no one seemed to care. After more than a year of dealing with the COVID-19 pandemic, people were just happy to be outside with good weather enjoying a parade on Saturday.
There was no 2020 Apple Blossom parade so this 2021 Stemilt and Keyes Fibre Community Parade was a welcome sight indeed as community members lined the route along Orondo Avenue.
Because there was no parade in 2020, the 2020 Apple Blossom royalty was included in the parade this year.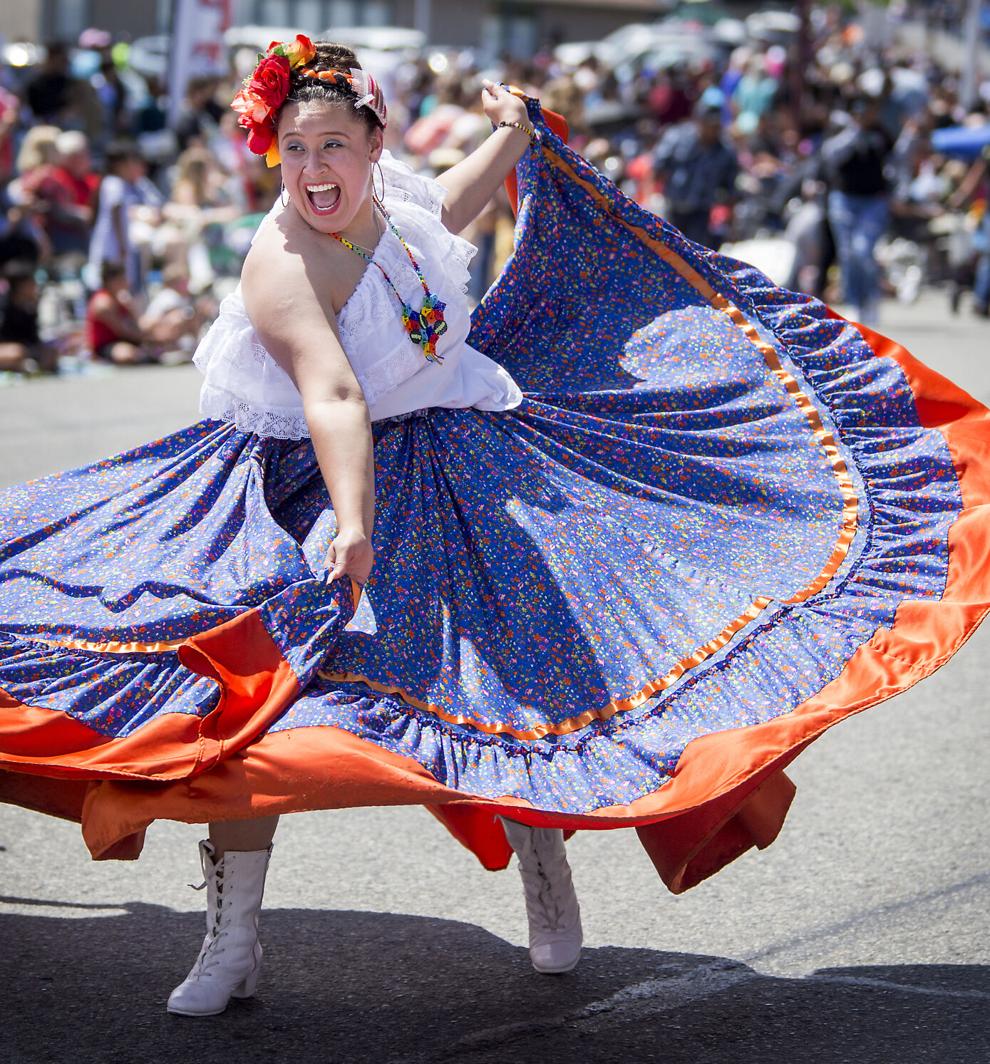 "I'm excited we have been able to be included in the parade today because we didn't get to last year. I'm really excited everyone is being inclusive in allowing us to tag along on their year. I'm happy to be here this year," said 2020 Apple Blossom Queen Tess Sparks, who just finished her first year at CWU, where she played soccer.
The 2021 Apple Blossom Queen Brooke Perez said she loves including the 2020 royalty in this year's parade.
"They have just been so fun. Queen Tess has made this so awesome to get to know. She's such a beautiful person. I'm glad that we can share this experience together," Perez said, noting she can't believe the parade is actually happening this year.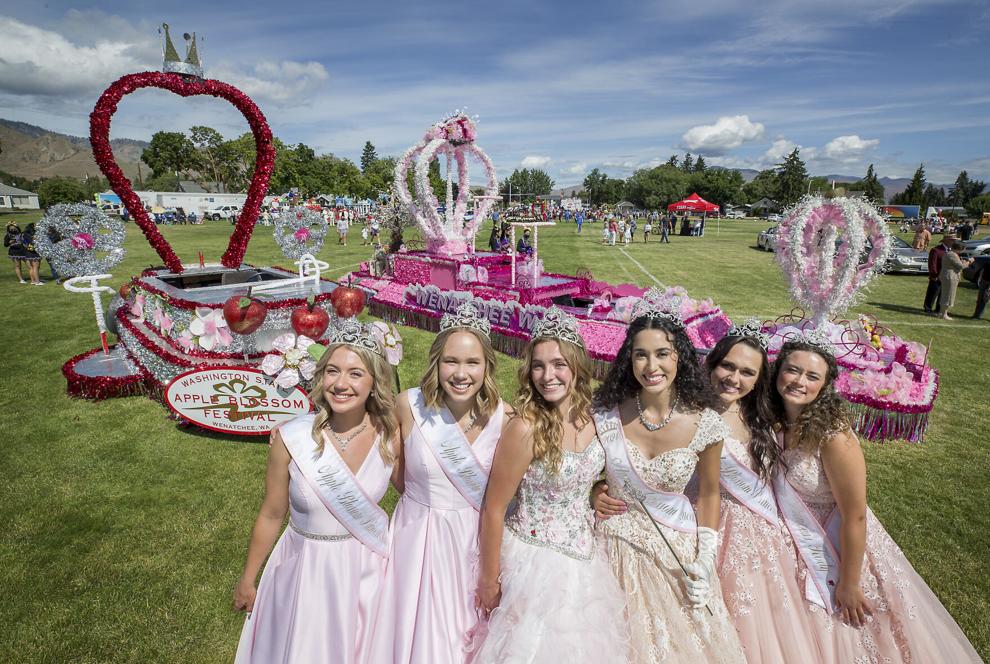 For many of the parade participants, this is their first parade of the year. Wenatchee Mayor Frank Kuntz thinks this might be one of the first festivals in the Northwest, which he said is "pretty cool."
He said it was a close call to make this year's festival happen.
"Are we going to be able to do this in a way that makes sense? Our timing was perfect. Congratulations to Darci (Christoferson) and the board of the Apple Blossom Festival. Thanks to the Health District for giving us the approval to do it this way. So far, it's been a great week and I'm looking forward to the weekend," Kuntz said
This is the first parade for the Portland Rose Festival and Royal Rosarians. The 2021 Royal Rosarian Prime Minister Korrie Hockendorf said they were very excited to be in Wenatchee.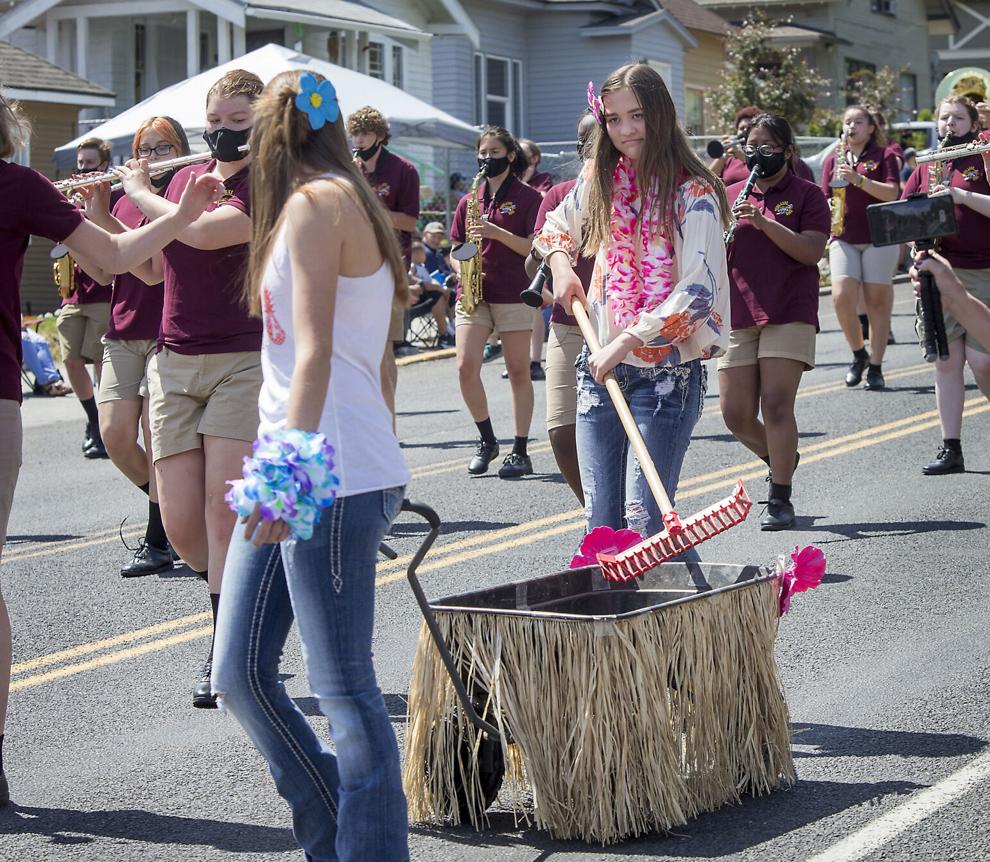 She said they are always happy to bring their float and have a wonderful time, but last year was hard due to the pandemic.
"We have a small contingent of about 20 Rosarians that are here today. We're just really happy to participate in the parade. We wish the best for the Wenatchee Apple Blossom Festival this year," Hockendorf said.
Another annual participant is the Leavenworth Float, which this year featured the familiar Gustav onion dome and Alpenhorn players. Scott Bradshaw, the 2019 Royal Bavarian Kanzler, said this is their first parade and they are excited about it.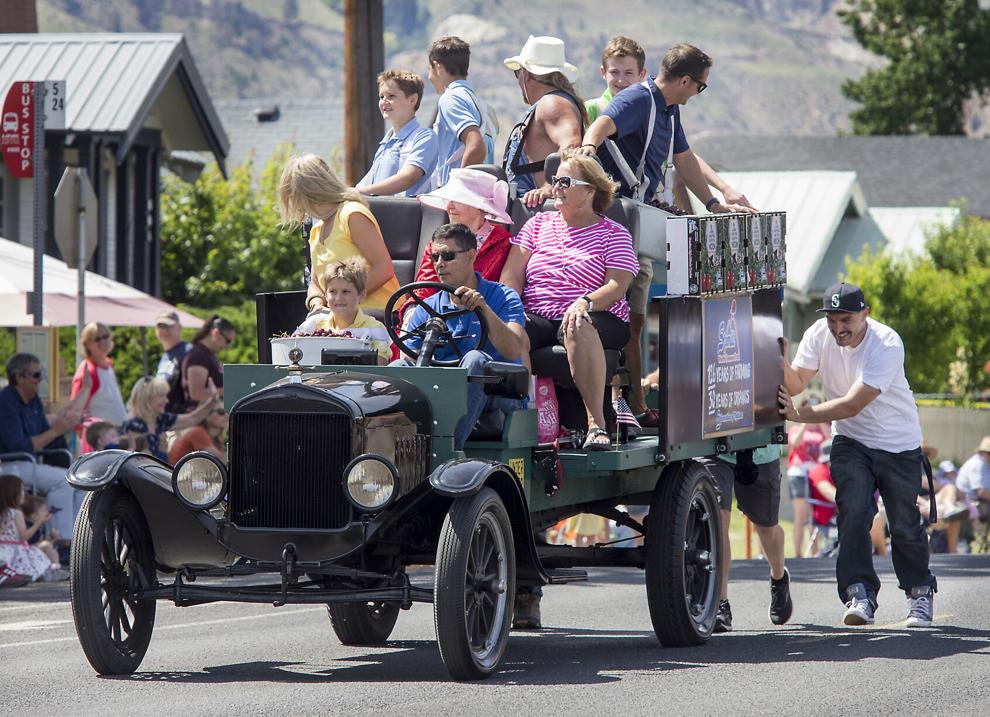 Bradshaw said they are hoping to go to five or six parades this year.
Nita Paine and Arlene Jones represented 2020 Grand Marshals from the Music Theater of Wenatchee. Riding behind them was the cast of the new show, "MaMa Mia," directed by Paul and Kelly Atwood.
"Those guys (the Atwoods) deserve a huge medal for everything they've gone through to get this musical together. It's Sept. 15-25 at the PAC," Paine said of the "Mama Mia" show.
Alison Syria of Wenatchee said she's been coming to the parade every year since she's been a little girl. She especially likes watching the marching bands since she is a former member of the Wenatchee Golden Apple Band.
"I thought it was fun especially after not having Apple Blossom for a year. It was a nice community event with everybody coming out to enjoy the festival," Syria said. "The community aspect was neat."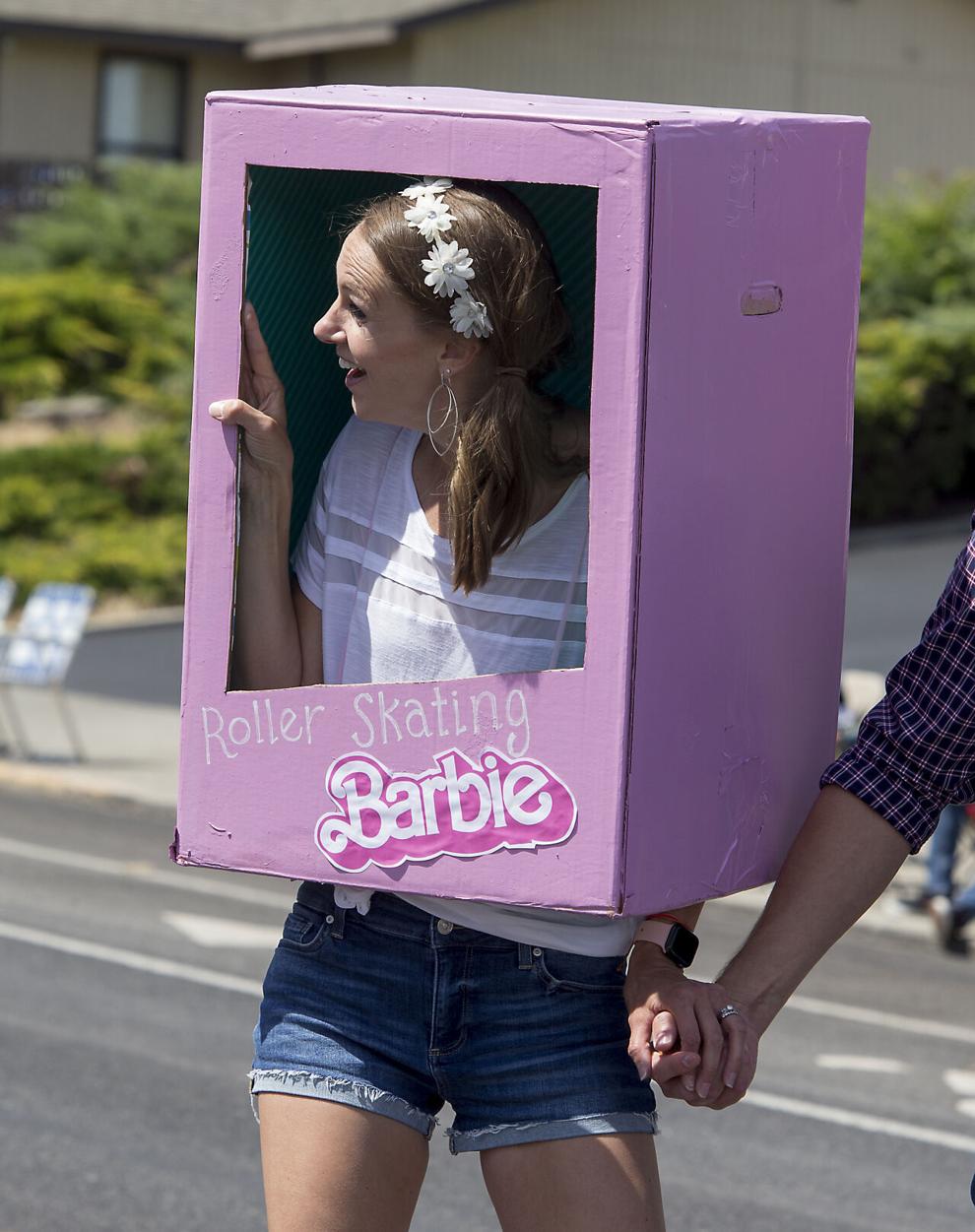 The Spokane Lilac Festival was well represented at the Apple Blossom Festival. It was their first parade of the year. Dan Verheul, the 2021-22 president of the Lilac Festival, said it has been a challenging year.
The Lilac Festival is a scholarship program, he said, so they were still able to have a court last year and scholarships, but they were not able to get out into the community to do the things they wanted to do. Still, they are excited about this year.
"We have about six parades we are planning on going to. We're looking forward to each and every one of them. This is the first time this float has been out. It's been in the making for two year since we've been doing nothing but working," Verheul said. "We are excited to get this out and excited to be here in Wenatchee at the Apple Blossom Festival."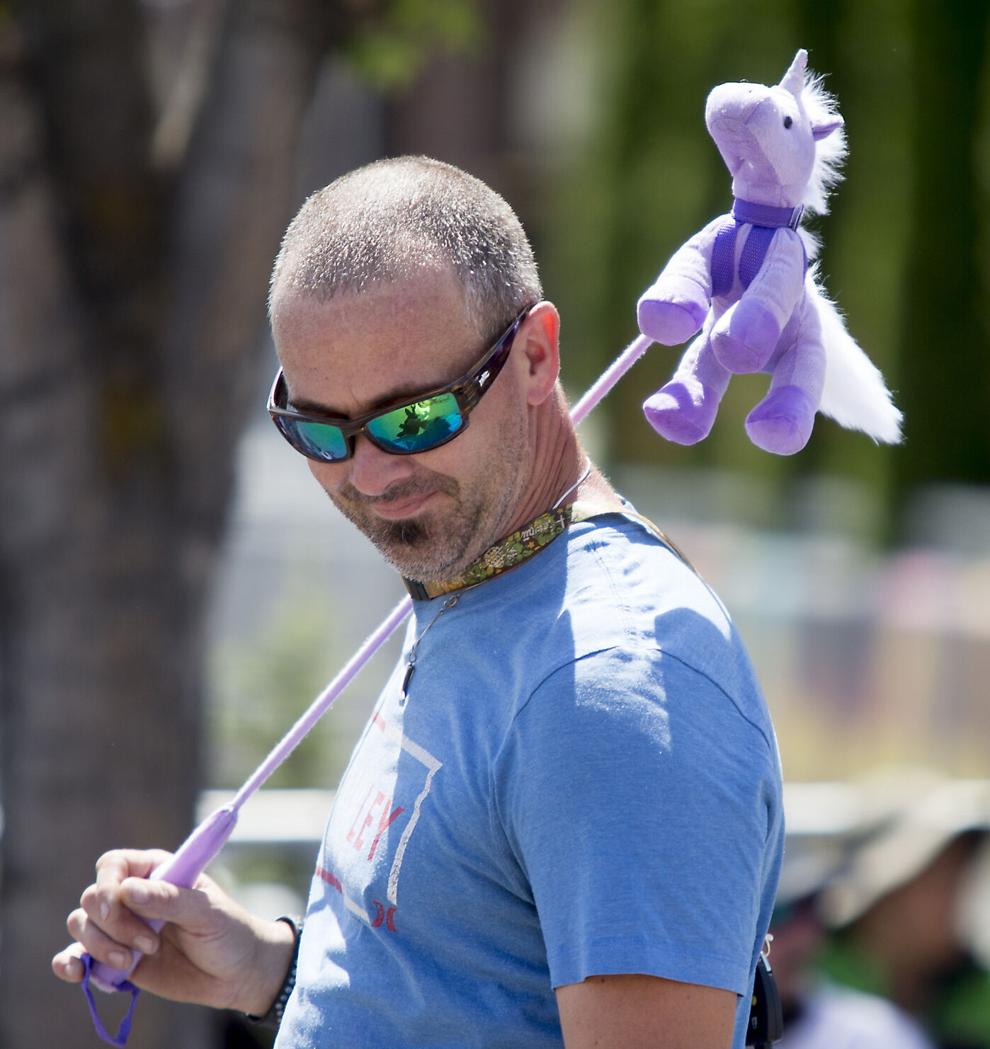 Lilac Festival Queen Julia said she is happy to get out.
"All of our court members are so excited to be able to go out and be part of the community especially after all the last year has brought," Queen Julia said. "This is our first parade so it is the trail run for it all but we're so excited and thrilled to be out here and thankful."
Charlotte Allen has been in Wenatchee for 41 years and never missed a parade until last year. Or rather, the parade missed her, Allen said, with a chuckle.
Allen thought the parade was good, though not as good as some years.
"It was really nice and nice to see so many people turned out for it. That's what makes a parade, the people that watch it. You have to hand it to Darci to pull this off. They do it every year, except last year. They are a great group," Allen said.
Photo gallery: Apple Blossom Festival Parade