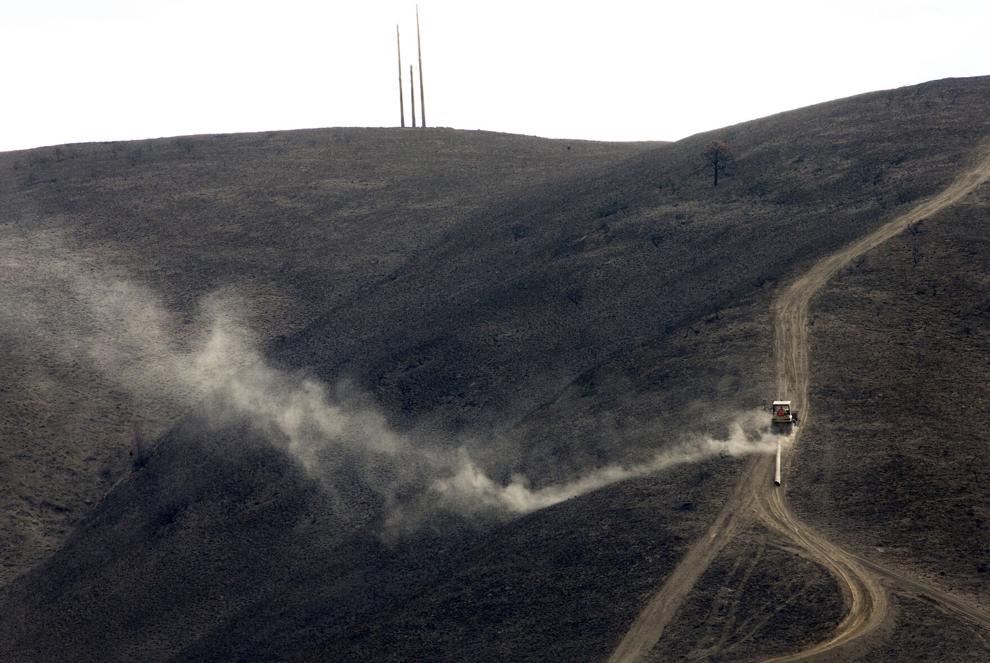 CASHMERE — The Chelan County PUD will finish repair work next week on a handful of structures damaged near Cashmere during July's Red Apple Fire.
The fire burned over 12,000 acres, threatened hundreds of homes and consumed a few outbuildings. Some of the PUD's transmission lines and wood structures — which transmit high voltage to substations and switchyards, including to Western Washington — were also damaged.
Repair work took months to get to because of the time needed to order repair materials as well as the location of the damaged equipment, said John Stoll, the PUD's managing director of customer utilities.
"It's pretty tough to get to," Stoll said. "It's pretty steep terrain and takes some specialized equipment."
A four-person line crew has been dedicated to the project, which will cost the PUD about $500,000. Stoll said the fire's impact could have been much worse. Outages were virtually non-existent. Only a handful of customers experienced an outage for about 24 hours.
Stoll credited this to the PUD's fire mitigation efforts, including removing vegetation from around structures' bases and painting them with fire retardant paint, as well as the district's redundancy in its systems.
"There's multiple transmission lines, so having one down didn't create any service interruption, although it did take away some flexibility if we needed it, so it's important to get it back up," Stoll said. "For the most part, we came through that fairly unscathed."
Chelan County Fire Marshal Bob Plumb said the cause of the Red Apple Fire is still undetermined and not being actively investigated. He added that possible causes include an electrical short or vehicle exhaust spark.
"We do not believe the fire was intentionally set, but this cannot be ruled out" Plumb said. "We know the fire did not originate in the burn pile near the area of origin."
Pete O'Cain contributed to this report.