WENATCHEE — It was a sunny August morning and Drew Schick was doing yard work. Headphones on, he adjusted his sprinklers and mowed the grass in front of his home on River Park Avenue in North Wenatchee.
Across the street, a construction crew was working in a dirt field where his neighbors' houses used to be. Down the street, a separate crew was building a row of townhomes.
Schick's neighborhood has changed a lot in the three years he's lived there. His quiet street dead-ends at Walla Walla Point Park, which has become a beacon for developers looking for land and waterfront access.
A rock-climbing gym was built next to the park three years ago. Shortly after, Draggoo Financial Group built a mixed-use office building and plans to expand soon.
The largest project is a five-story hotel that broke ground last month. The developer, Stream Real Estate of Seattle, also has plans for an adjacent 75-unit apartment building. Both will sit directly in front of the park with views of the Columbia River.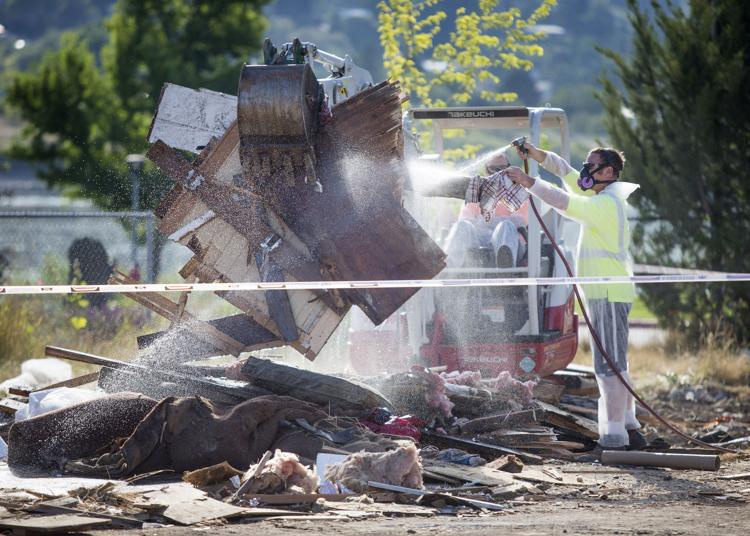 The buzz of construction is happening now, but the development in this area was first forecast more than 15 years ago when Wenatchee developed its Waterfront Sub-Area Plan, Mayor Frank Kuntz said.
The plan broke the city's waterfront into three "nodes" and laid out the publicly funded infrastructure improvements and private investments that would be necessary for each area to successfully develop.
"I think the concepts were great and the execution was slowed by the recession, but you're starting to see what you planned 15 years ago," Kuntz said. "You can't make a plan and expect it to happen in two days. These things take time."
In the years since, two of those nodes have seen substantial private growth. The southern node — at the base of Orondo Street — is now home to Pybus Public Market and the newly finished Hilton Garden Inn.
The Riverside 9 and Riverside 600 apartment complexes were built squarely in the central node, which runs along Riverside Drive.
Now it's no surprise that the northern node is seeing a big uptick in private development, said city Executive Services Director Allison Williams.
"What happened first was that concentration with Pybus and the Hilton, then everything builds from there," she said.
The area's growth opportunity was a big reason Braden Draggoo built his financial management company's new office there, he said.
"This is a jewel. You get to the park and this is the end of the stretch that can be really, really nice," he said.
Draggoo's office is right on Walla Walla Avenue, close to the park, the river and several biking paths.
"For me, it was a lifestyle choice. I've got my bike that I can take down to the Loop Trail. We have a shower in the office and locker rooms and everything," he said. "It's about just being healthy. We're younger, so it's not just about business, business, business."
His office building is mixed use — one floor of commercial space and two floors of apartments upstairs. It's a model all residential developers should follow, he said.
"If we just put multi-family apartment units here but there aren't any amenities or services, then it just becomes 'Where do these people go?'" he said. "People want to be down here because it's close to the river, but people won't really be able to create that community atmosphere because they have to get in their car and drive somewhere else to get something."
Draggoo owns more land near the park and is now planning phase two of his development.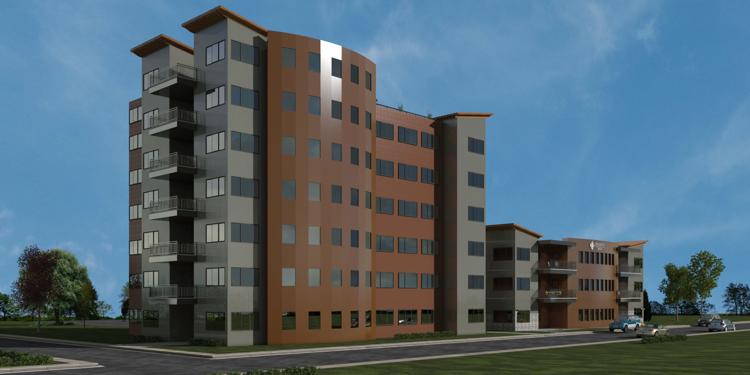 His second building, which will be next door to his office, will have three levels of commercial space below four floors of apartments. There are also plans for a rooftop event space.
"I want maybe a restaurant on level one. Something where people can come here before they walk to the Town Toyota Center or they can go to the park, or teams that are doing the softball league can walk up here," he said.
Balance is key, Draggoo said, not only for keeping a healthy lifestyle but also for creating a healthy community. In a few years he'd like to see this area grow into a place with plenty of retail, restaurants and places to live.
But it's not just the park and recreation that make this area important, Draggoo said. It's one of the last places with available land to develop along the river.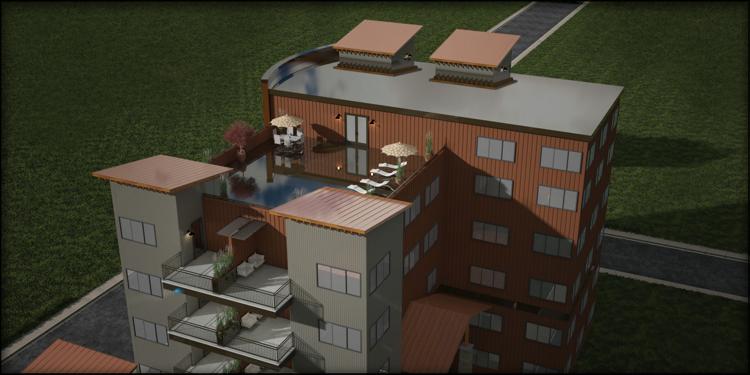 And developers have already begun to notice that, Mayor Kuntz said. Now commercial space on the northern corridor is turning hands.
Goodfellow Bros. Construction, for example, moved out their office next to the park and into a new space downtown. Then they removed an orchard next door to clear the two-acre space for potential development.
Pacific Rim Land, the company's property management arm, is still looking at its possibilities for development, said Project Coordinator Chris Martin. They could build themselves or sell the land to someone else, he said.
There are big commercial development opportunities on both sides of the park, Mayor Kuntz said, with the for-sale Lineage buildings down near Fifth Street and the Diamond Foundry property to the north on East Hawley Street.
"Lineage is going to change hands and that will make things a little bit different. Up where Stemilt and the Diamond Foundry is, I keep hearing that there's some people kicking tires out there," he said. "So I think you'll keep seeing that as the spot where people want to be."
The city is also pursuing the Confluence Parkway project, which proposes to add a second bridge for cars and trucks over the Wenatchee River and just east of the BNSF Railway tracks. If completed, not only would it ease traffic on North Wenatchee Avenue, it would push more people toward the waterfront.
As this last available land is developed, the key is making it work for everyone, Draggoo said.
"We have to work together as a community — as a city, as a community and as developers — to say 'What do we really want?'" he said. "Do we want people to be able to bike the Loop Trail, then swing up to a brewery and keep biking? If we really want that all the way along the riverfront then we have to work together."
A version of this report was first published in the Sept. 1 Wenatchee Valley Business World.