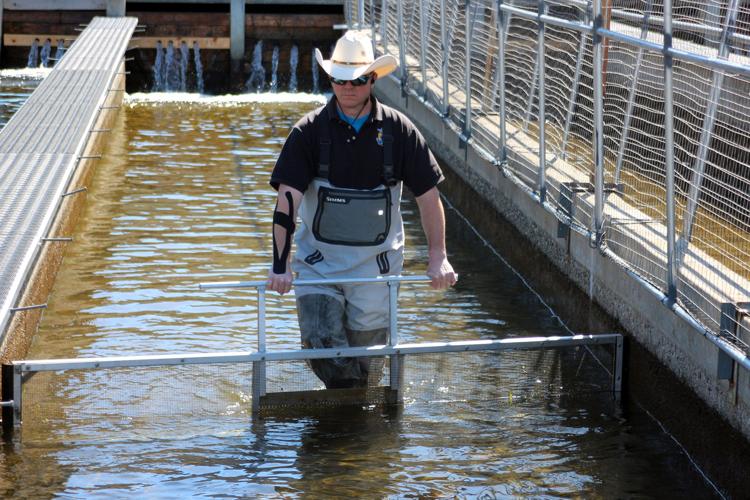 After nearly two years of nurturing, salmon and steelhead from our three hatcheries are on the loose, swimming downstream towards the open ocean. Only half will make it there.
On a sunny April afternoon, I lay on the warm pavement with my head propped on my arm, watching spring Chinook smolts zing through a translucent pipe. Leavenworth National Fish Hatchery's 1.2 million youngsters were on the move. Release takes place over the course of three days. Gently sucked from their outdoor raceways by a specially-designed pump, the fish slide with the flow down hundreds of feet of pipe, finally popping out into Icicle Creek. I went down to the riverbank, too, to watch them dropping into the current and milling around together.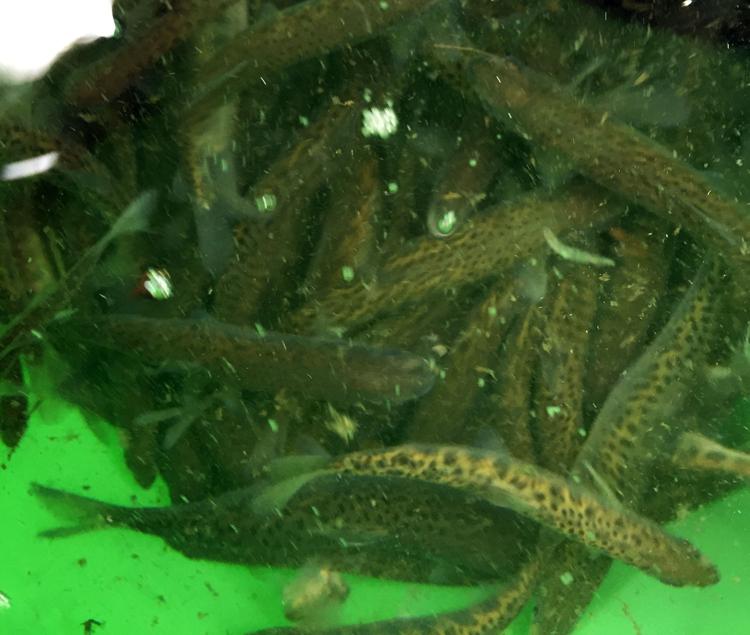 While the smolts try to get their bearings, they school with their classmates, making them vulnerable to predators. That's why the fish are released into the current, encouraging them to move along more quickly. While I crouched on the rocks, focused on peering through the water, I heard a noisy disturbance in the local birdlife. Looking up, I spotted a Cooper's hawk, making repeated grabs at loitering fish-eating birds. I cheered him on silently — his efforts were protecting our fish!
Entiat National Fish Hatchery released its 450,000 summer Chinook smolts a few days earlier than Leavenworth's. Their fish also are lifted from the raceways and propelled across the field in pipes, emerging into Entiat River. The crew were cleaning the fish ponds when I stopped by, preparing them for the next generation of fish, waiting their turn to go outside. The nursery was filled with tanks of chilled water teeming with young fry.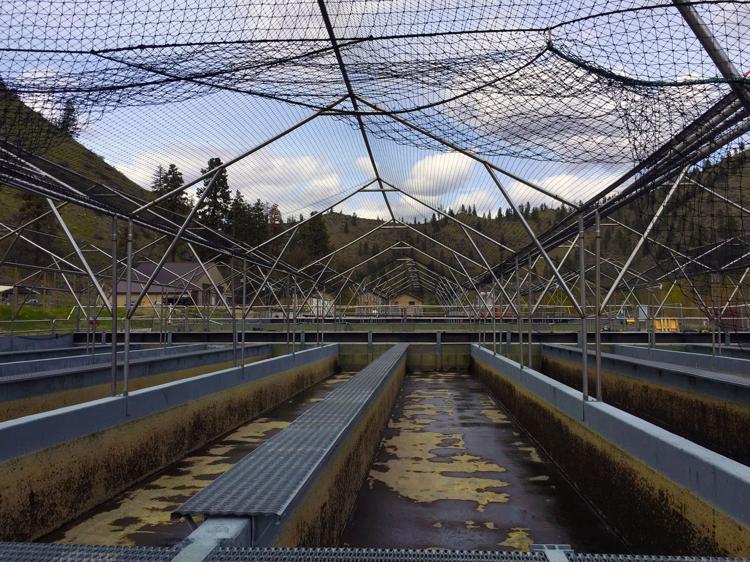 I visited Winthrop National Fish Hatchery the same week. Unlike Entiat NFH, Winthrop doesn't release all of their steelhead at once. Some are taken to other locations, transported in special tanker trucks. Others are given the opportunity to leave in a volitional release program, entering the Methow River. The steelhead juveniles that choose to stay — a small percentage called non-migrants or residuals — are transported to local lakes and some are stocked in the hatchery's kids fishing pond.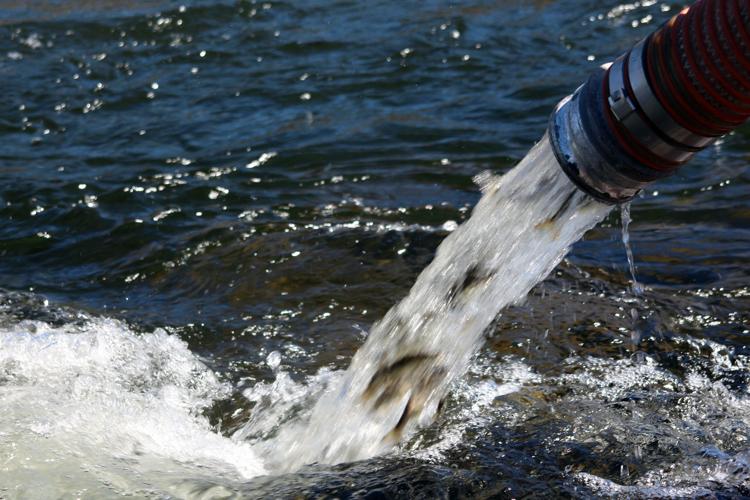 All our fish face tremendous obstacles on their way downstream. Winthrop's fish have to pass nine dams to reach the ocean. Finding ways to safely pass young fish through and around dams is a challenge that involves many partners.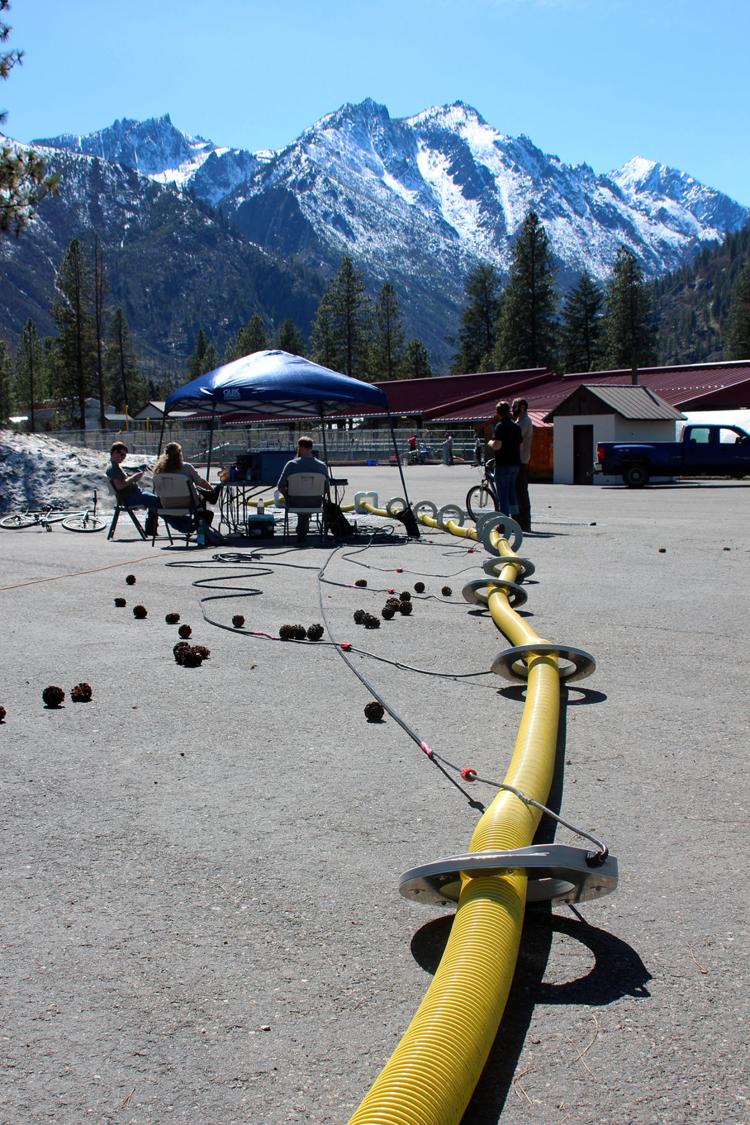 In the waters above and below the dams, predators await the migrating fish — a floating feast. Those fish that reach the ocean then spend one to four years seeking food and cold currents, gaining weight and size, preparing for the primary goal of their lives: returning home to spawn.
It won't be long now before spring Chinook return to Winthrop and Leavenworth. While we send off this year's smolts, we look forward to the return of another generation, the results of the hard work of previous years. The product of a hatchery's work is tangible, measured in fish that come back home. Yet we can only control the first part of their lives; the rest is up to the fish themselves, influenced by climate, fishing pressures and predation. Fare well, little fish, I think as I stand by the river. You have a long way to go.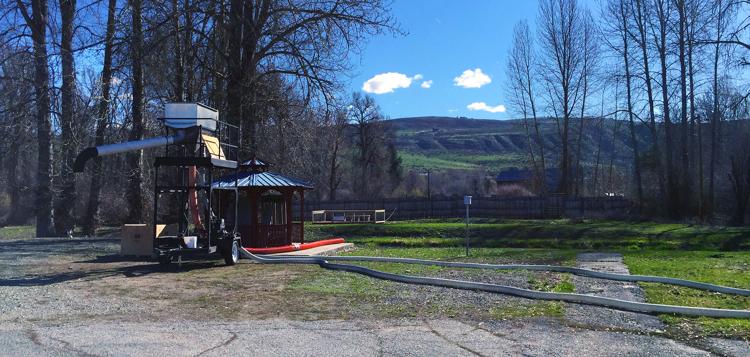 The mission of the U.S. Fish and Wildlife Service is working with others to conserve, protect and enhance fish, wildlife, plants and their habitats for the continuing benefit of the American people. We are both a leader and trusted partner in fish and wildlife conservation, known for our scientific excellence, stewardship of lands and natural resources, dedicated professionals and commitment to public service. For more information on our work and the people who make it happen, visit fws.gov.
Julia Pinnix is visitor services manager for Leavenworth Fisheries Complex.