EAST WENATCHEE — It's freezing outside with a foot of snow covering Highlander Golf Course but inside a heated room next to the pro shop, eight men are enjoying a round of golf in Las Vegas.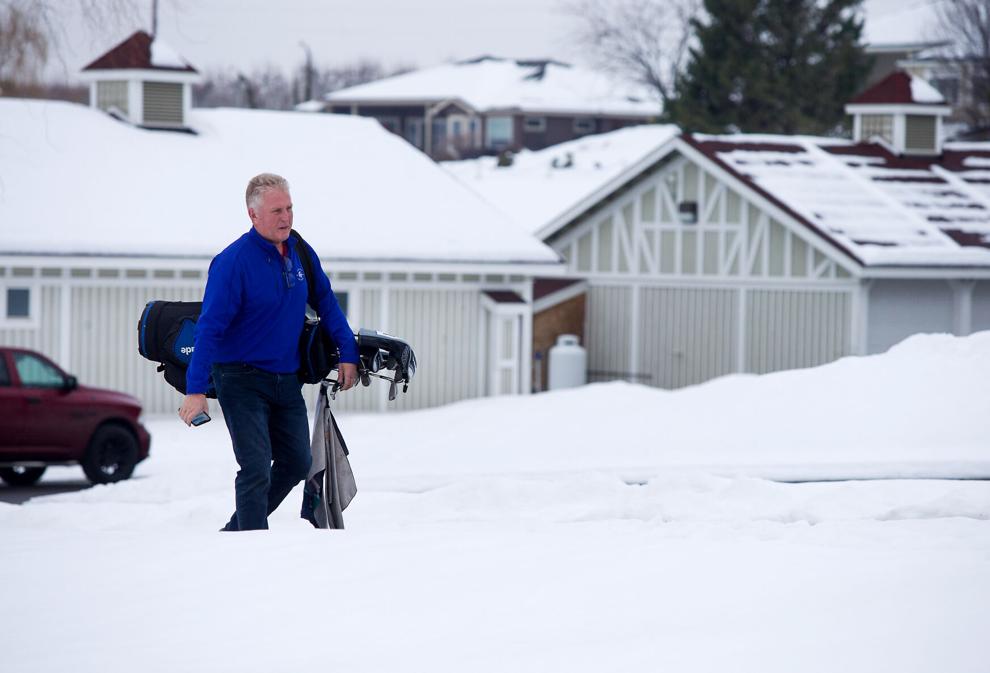 Welcome to the wonderful world of technology where with a click of a mouse you can transport yourself and your golf clubs to golf courses around the world.
Golf is a year-round sport at local courses that have installed simulators projecting views of sunny golf holes. At Highlander Golf Course, head pro Mark Babst installed two simulators. Golfers tee up in a room with comfortable leather couches, dimmed lighting and bar service.
This is the fourth year of operating the devices, but the first year Babst has run a men's league competition where partners compete weekly for cash. There are a dozen, two-man teams in the league.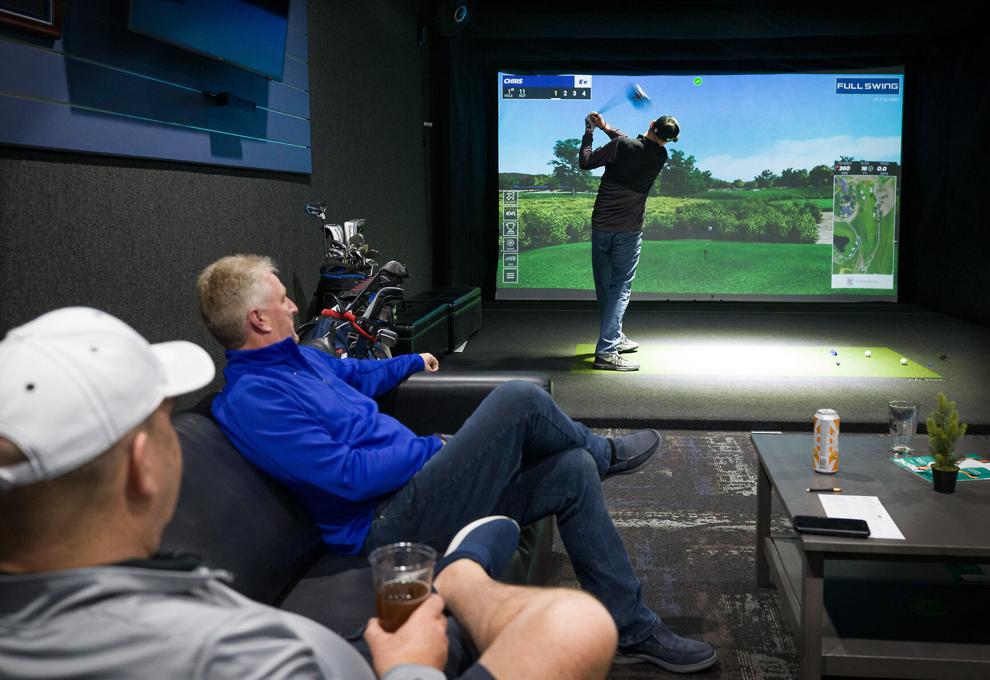 Three Lakes Golf Course also operates simulators and has a league format.
"It's completely weather dependent," Babst said of the popularity of the simulators. He said if the course is open, players prefer going outside. Once snow hits or it gets below freezing, they move inside to the machines.
He said it also helps bring revenue to the attached restaurant, offering food and spirits sales. Along with a player looking for a round of golf, he rents the simulators out for parties and you can also use them for target shooting or other sporting events.
In league play, the golfers play one of 80 courses each week. Babst asked the salesman about putting his own Highlander Golf Course on the simulator but was quoted a price of $10,000, cutting the idea short.
On Jan. 19, the teams were hitting balls at TPC Summerlin, a private course 14 miles west of the Las Vegas Strip. It's a course you'd need to be invited to by another member to play in person. At Highlander, you can play it for $60 an hour, $48 for members. Groups can split the cost.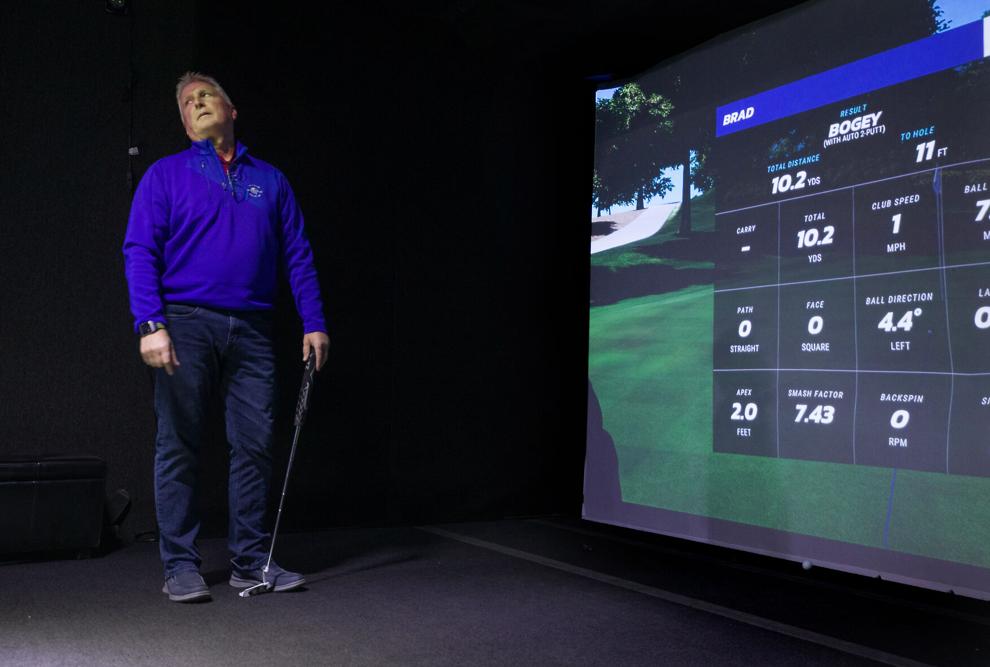 The simulator's computer gives information on distances and elevation gains or losses. A player uses a plastic cone to tee up their ball or hit it off a mat. They hit it into the projection screen using their own clubs. The screen deadens the ball and it bounces softly to the carpet while on the screen the shot is shown from the ball's perspective as it flies through the air landing on grass, sand, dirt or … water.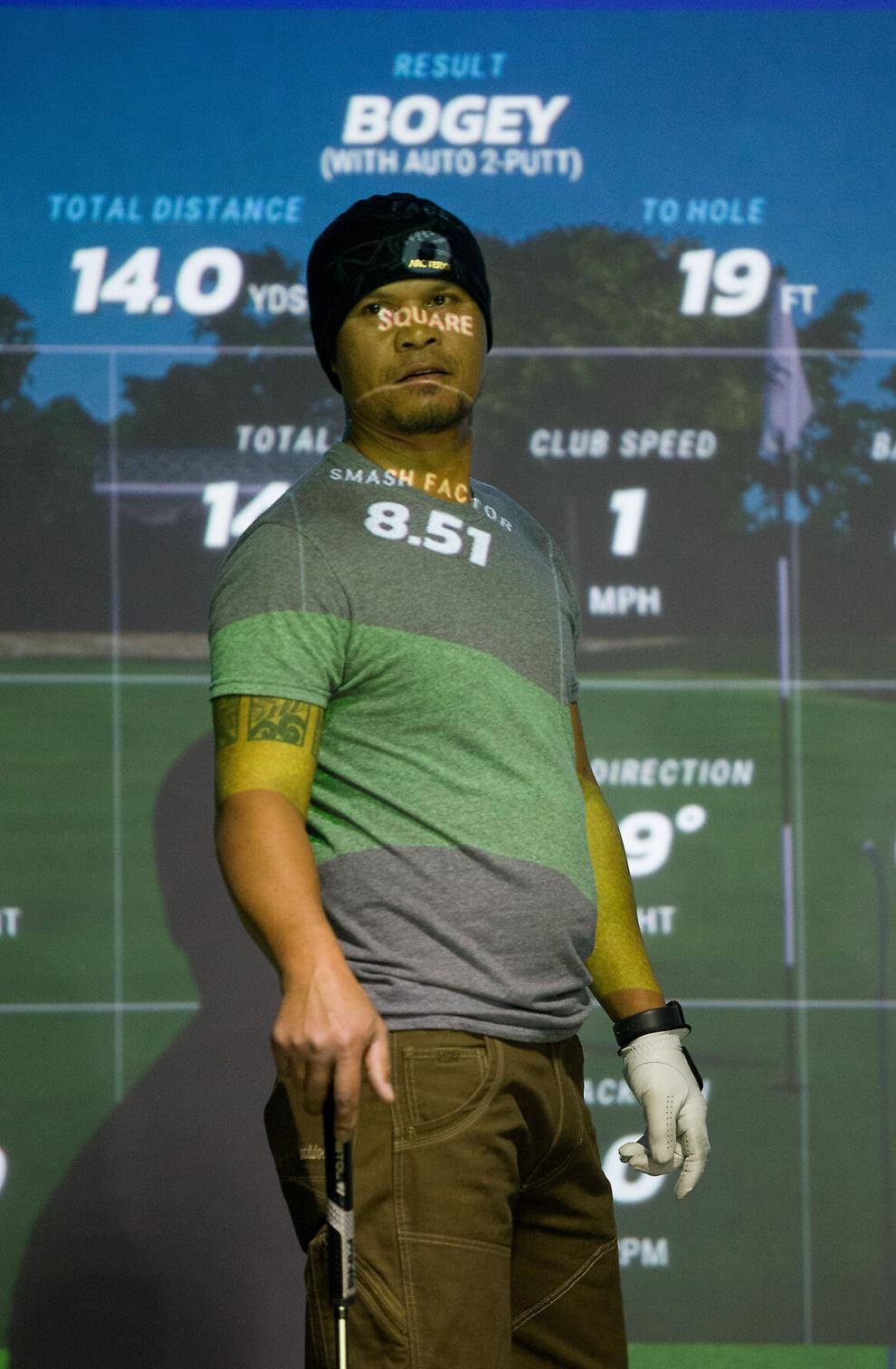 There are some notable differences playing on a simulator instead of the real thing. Distance perception is difficult and that makes chipping and putting more difficult.
During men's league, they play 12 holes in two hours without any putting. If they leave their approach shot on the green more than 40 feet out it counts as a three-putt. Inside 10 feet is a one-putt and everything else counts as two strokes.
Players keep a close eye as the ball nears or goes past the flag to see how far it ends up from the hole. Without any putting, the hole is over when a golfer reaches the green and the distance away from the flag determines their final score.
What's the same in playing on the course or using a simulator is the elation and frustration that every golfer feels during their round.