This is the second of a three-part series on local elections.
---
WENATCHEE — The races for Wenatchee School Board positions are the most crowded they've been in at least 10 years, with a pair of three-candidate races and one four-candidate race in the primaries.
It is the first time in a decade that there have been enough candidates for school board positions in Chelan County to appear on primary ballots, aside from two positions in the Cascade School District in 2015.
The story is much the same for local elections in general. An analysis of Chelan County elections data by The Wenatchee World found, on average, about 34% of local elected seats have been contested in the past 10 years. The analysis included positions like school board seats and fire, water, cemetery, hospital, port, sewer and PUD commissioners, but excluded precinct committee officers.
To get an idea of what goes into running for local office, The World spoke with four candidates running for one seat in the primaries this year — Wenatchee School Board Position No. 4. Candidates said heightened attention around school board policy over the past year contributed to their decisions to run.
"We haven't seen that level of involvement in a long time," Chelan County Auditor Skip Moore told The World. "I think that's based upon what primarily is a national discussion concerning how our kids are going to be educated, that has resulted in folks deciding, you know what, this is my local school board, I can run for office, I'm going to get involved and try to have my voice heard."
Voting for the primaries began July 16 and primary election day is Aug. 3. The general election is Nov. 2 and voting begins Oct. 15. The following candidate profiles are organized alphabetically by last name.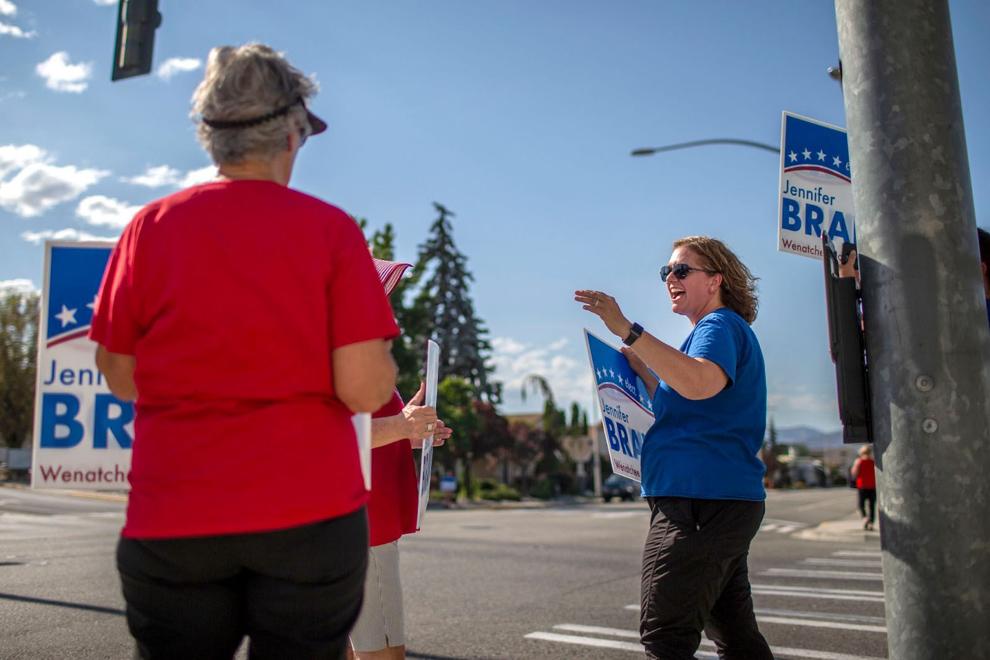 Jennifer Brandt
Jennifer Brandt decided to run after the current school board voted to bring elementary schoolers back to school full time, but not middle or high schoolers. She'd been watching school board meetings throughout the last year and was disappointed with some of what she saw.
"I decided that, you know, instead of complaining, that it was time for me to step up and do something," she said.
Filing to run was free, and Brandt said she had to report information about her debt and places she'd worked to the Public Disclosure Commission, as well as submit financial filings with the PDC, reporting campaign contributions and expenditures. Learning the reporting software was "a bit of a learning curve," but is pretty intuitive now that she's used it, she said. Brandt said overall, it was surprisingly easy to file to run.
For her campaign, Brandt purchased yard signs, car stickers, rack cards with information in English and Spanish, and is going door to door talking to people. She estimated she'd visited over 1,000 houses in the last five weeks. Other efforts include meet-and-greets with other candidates to answer voters' questions, interviews and fielding questions on her social media accounts.
"Pretty much anything I get invited to I'm trying to attend and, you know, answer the questions the best that I can," she said.
Brandt said she didn't know what to expect when she began the process of running for the position, but she's been surprised by the level of support she's received.
"I've never been in any kind of public office or anything like that. I didn't know what to expect but people have been really, really encouraging and for the most part really positive and so that's been great."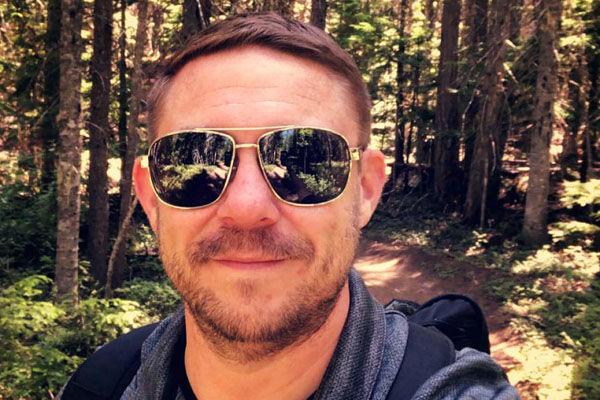 Joel Martin
Martin decided to run for school board because he felt the current board wasn't doing a good job of seeking out the input of the "silent majority," and running for public office had been a longtime dream of his.
He said he filed for the primary the day before the deadline in May, then submitted his declaration of candidacy with the secretary of state and filled out his information for the voter information guide.
"The last thing that I would want to be on the campaign trail is making a lot of empty promises that I know I have no ability to to work through or to work on," he said. "And I feel that it's important when you are running for public office that you can be held with integrity as far as what you're telling the voters that you're going to do."
He met with district employees, including the superintendent and teachers at different schools, to get an idea of what the district needs. He's been having meet-and-greets with the public to answer questions and has an active Facebook and website where people can ask him questions too, he said.
Martin said he and his fiancee talked a lot before he filed to run about the time demands of the position and whether they'd be able to handle and plan around those demands.
"I think time commitment is probably another great thing that before someone files to run, you need to really understand what that time commitment is going to be and if you're willing to give it your 100%."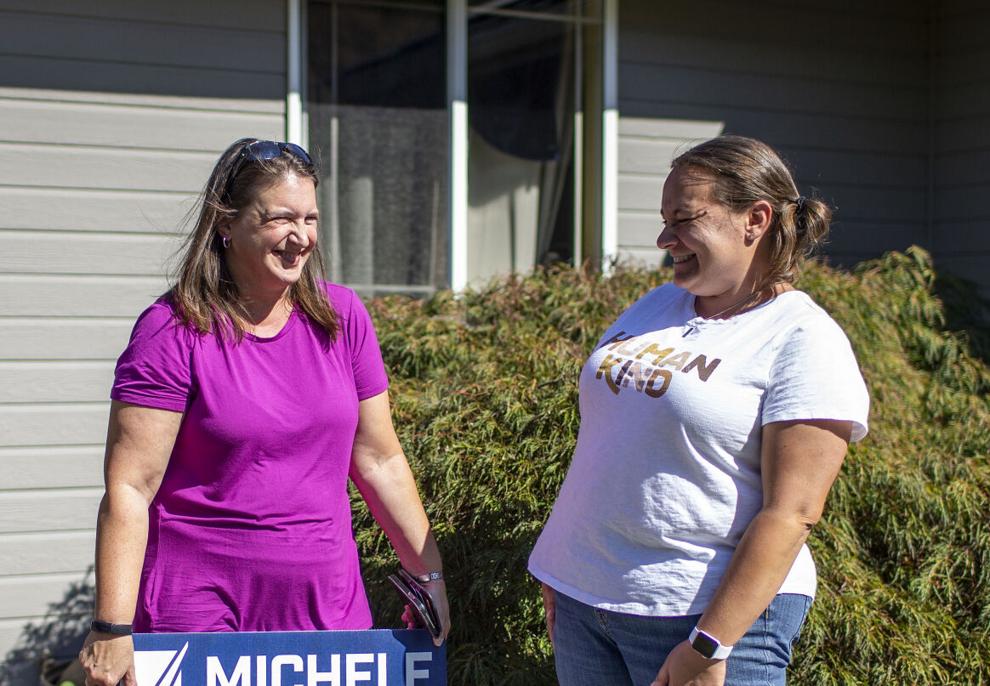 Michele Sandberg
Michele Sandberg, the incumbent candidate, first ran unopposed for Wenatchee School Board Position No. 4 in 2017. She said she was unsure whether she wanted to run again this year because of challenges over the past year, but finalized her decision to run again during filing week in May.
Because she ran unopposed in her first election, she wasn't listed on the primary ballot for that year, so the process for this election is longer and more involved than her first. Sandberg said having a primary means you have to hit the ground running.
"The primary kind of forces you to kind of really get into campaign mode very early on, versus, if you have no primary and you're trying to get things done by November election, it's a more leisurely pace," she said.
Sandberg said she's been reaching out to friends and community groups, displaying signs, doing interviews and running her Facebook and website. She said she'll probably do some phone banking soon, as meeting people in person or talking to them on the phone tends to have the largest impact.
Because she is the incumbent candidate, Sandberg was participating in school board meetings and campaigning at the same time in June, which was a challenge to balance, but being on the board also gives her a perspective her challengers don't have, she said.
Other main challenges have been facing misinformation and campaigning in hot weather during the summer, when many families can't be reached at home.
"Some people who are running in any of the school board races will cite information that's not accurate, or that is perhaps even misinformation, to guide people to believe something that's not true," she said. "So I believe, you know, misinformation is something that's really been evident to some in this race, for all the school board races."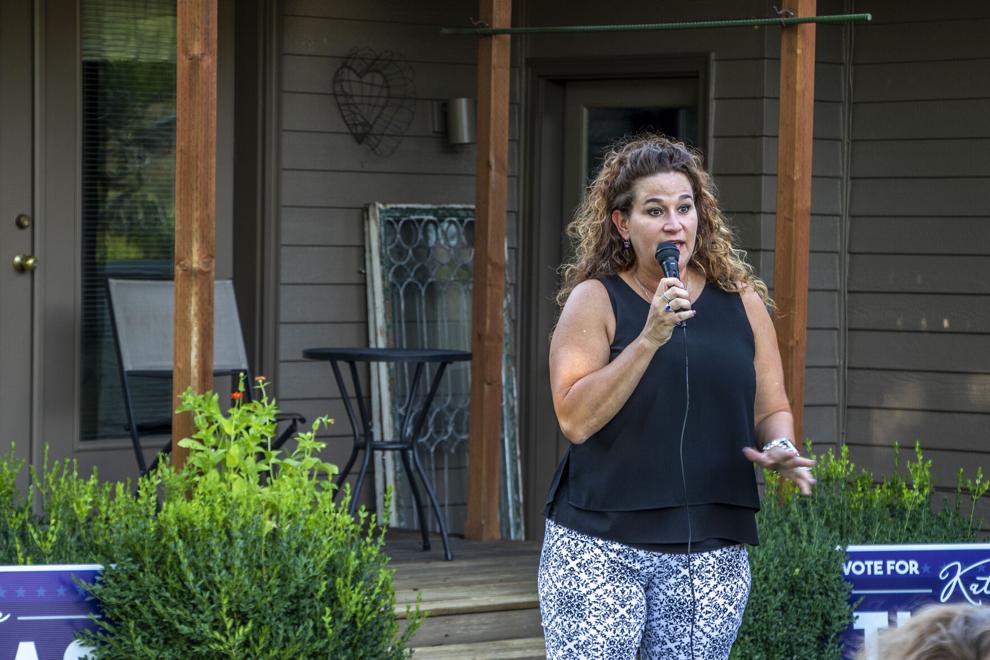 Katherine Thomas
Katherine Thomas decided to run for school board after feeling the board wasn't giving adequate response or support to parents struggling with having their children out of school. When she found there were three seats up for election, she started reaching out to other community members to see who could run. Eventually, it came back to her.
For guidance on how to file to run, she reached out to people she knew who had experience running for local office and to Chelan County Auditor Skip Moore.
"It seems like a very simple process and, naively I would say, I thought that it would be a much simpler process of, 'Hey, yeah I'll throw my name in the hat and see how it goes,' but it has been infinitely more detailed and time consuming and interesting and involved, much more than I thought it would be," Thomas said.
Thomas' campaign efforts include speaking engagements with clubs and groups around town, meet-and-greets with a group of conservative school board candidates, making rack cards and a couple of commercials, and going door to door talking to people. She meets with a group of people who wanted to participate in her campaign to advise her and help out weekly.
"It's kind of overwhelming sometimes to keep it all in your mind, in the calendar," she said.
She said she recommends anyone who is interested in running for local office does so if they have a "deep desire to make a change."
"It's not easy. It's not necessarily fun, and you really put yourself out there and in a lot of ways you put a target on your back. Not everybody's gonna like it," she said. "A lot of people may even hate you, but I feel like this is my watch … I have a vested interest. This is something that I can help to make better."