WENATCHEE — The Tiki Hawaiian Barbeque restaurant on North Wenatchee Avenue will reopen within the next week with new owners and an expanded menu.
"We're pretty unique around here. We have professional bubble tea, ramen and Hawaiian barbecue," new owner Yaojie Zhou said Thursday. "Basically, there's nothing around here that has the same type of menu."
It's the restaurant's second opening this year. Albert Tsang, who also owns the Peking Chinese Restaurant in East Wenatchee, operated it for a couple months this spring, but he didn't have enough time to operate both restaurants, Zhou said.
After it closed, Zhou called Tsang with an offer to take over, Zhou said. He now owns the business outright and leases the building from Tsang.
Zhou and his business partners have spent the last few months getting ready to reopen the location with an expanded menu.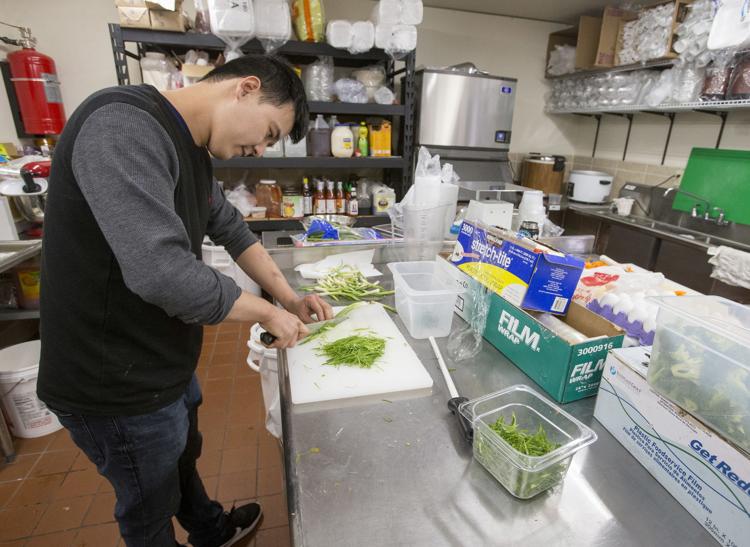 There's now Japanese-inspired pork buns, spring rolls from China, Hawaiian barbecue from the islands and a full slate of ramen and bubble tea.
"My wife used to work in a bubble tea shop and my friend used to work in a ramen shop, so we said 'Why not just combine it together?'" Zhou said.
Their ramen will include roast chicken, seafood, pork, beef and vegetarian options. It'll be a great addition to the Wenatchee Valley, which doesn't have any ramen restaurants, Zhou said.
"They don't have ramen in this area, but people love it so I decided I needed to add ramen," he said.
The same goes for bubble tea — also known as boba or milk tea — which is a mixture of tea, milk and tapioca pearls, Zhou said.
"Around here I haven't been able to find any real Asian bubble tea," he said. "In New York and other big cities, it's really popular."
They've all worked in restaurants before, but never owned their own, Zhou said.
"It's a goal for us and now we've reached that goal," he said. "We've been working in restaurants for seven or eight years and of course you want to own your own business."
The owners are still deciding when they'll open Tiki Hawaiian Barbeque to the public. It could be as soon as Friday or maybe into next week, Zhou said.
They haven't done any advertising to make sure they can focus on quality, rather than quantity of customers.
"In the beginning it's better to slow down and figure out the procedures, so people can get good food," he said.
Once the owners get settled into the operation, Tiki Hawaiian Barbeque will be open Monday through Saturday from 9 a.m. to 11 p.m.