LEAVENWORTH — The Chelan County Flood Zone District has selected one of six alternatives to relieve Ski Hill Basin of flooding issues.
The district expects a price from the contractor this fall.
The district plans on making improvements to Titus and Detillion roads which will reduce the amount of water flow in the south of Ski Hill by redirecting it to the north side of Titus Road.
Some of the other alternatives the district considered were more expensive and the plan announced last week was "middle of the road" in terms of cost, according to Jill FitzSimmons, Chelan County spokesperson.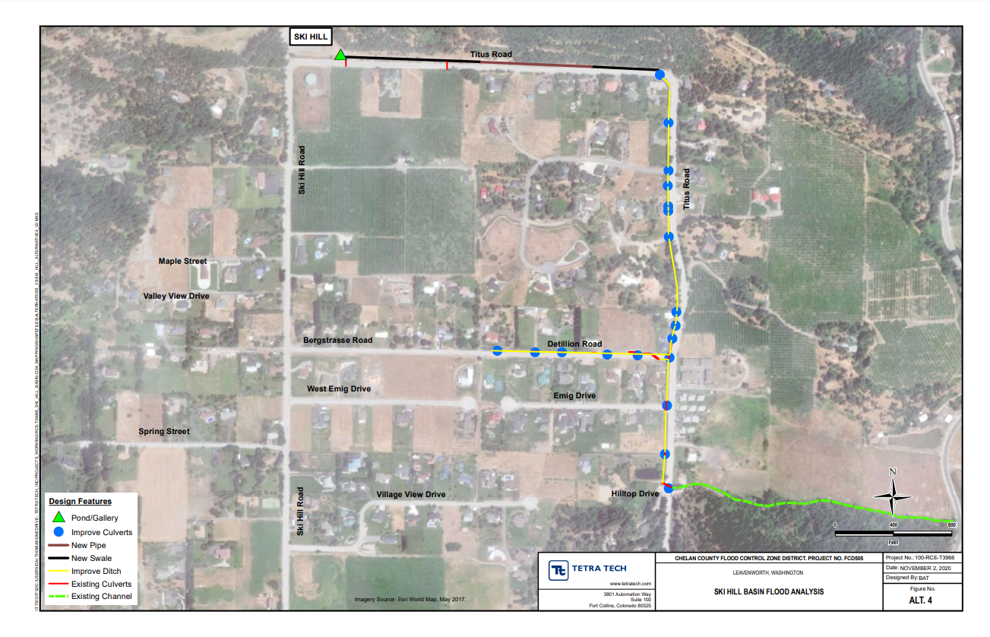 The chosen plan includes:
Increasing the size of existing roadside ditches and culverts along Detillion and Titus roads.
Constructing a pond somewhere near the Ski Hill parking lot.
Constructing a larger channel and installing a pipe to collect and move water along Titus Road from west to east.
Improving roadside ditches and culverts along Titus Road from north to south.
For project information and the alternatives not chosen, go to: wwrld.us/skihill.
The Chelan County Commission established the flood zone district in 2013 to deal with the growing impacts of flooding in the county. The county collects funds for the district through property taxes.
Most recently, the district completed work in the Antoine Creek Basin near Chelan. Culverts along Antoine Creek road would not handle increased levels of flooding and so were upgraded in size.
The project was completed in July 2021, according to the Flood Control Zone District capital projects webpage.