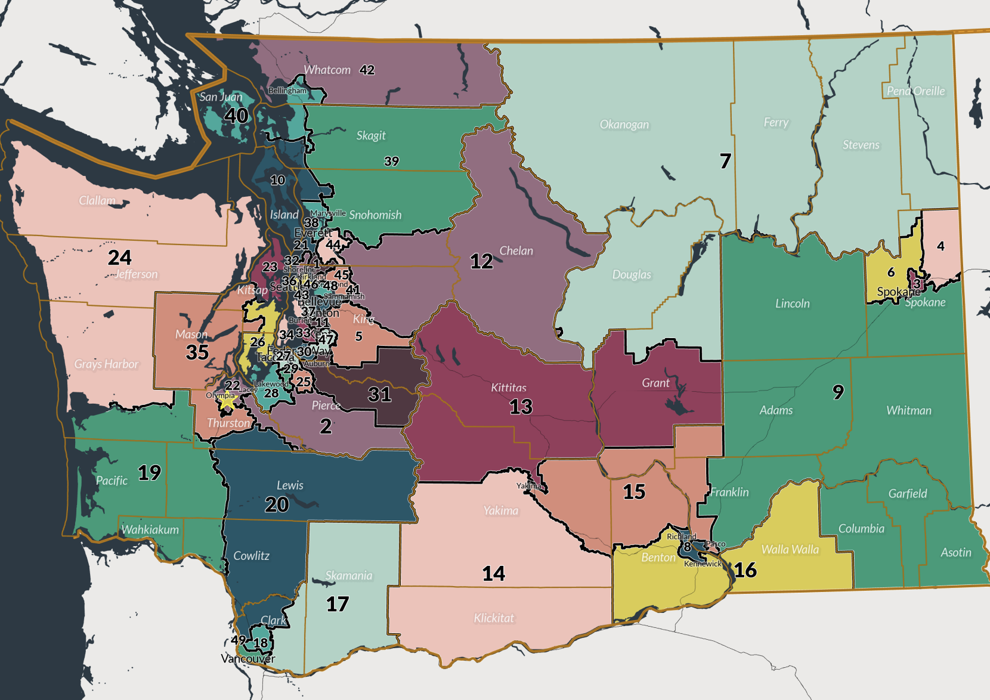 WENATCHEE — The State Redistricting Commission's reworked 12th Legislative District boundaries could reshape NCW politics.
The Commission's final Legislative map reshapes what is a NCW-focused 12th District that covers Chelan and Douglas counties and parts of Grant and Okanogan counties. The reworked district is split across the Cascades to include Chelan County, sections of East Wenatchee and parts of King and Snohomish counties. Douglas County, minus East Wenatchee, would be moved to the 7th District, which would also include north Grant County and Okanogan, Ferry, Stevens and Pend Oreille counties.
"I think it's an unfortunate outcome for the people of the 12th District," said Sen. Brad Hawkins, R-East Wenatchee, who confirmed his home is just within the proposed boundaries. "I am disappointed because it does not seem that the Commission factored in the multitude of public comments that were provided to them…that asked for Chelan and Douglas counties to be included together."
He added that he thinks the current map potentially violates state law, which says district lines should be drawn in line with local political subdivisions and other communities of interest.
The Commission has expressed hope the court will use their maps, but 12th District legislators said they hope the court's decision provides what they said is a better outcome for their district.
"The Supreme Court hopefully will be much more 'letter of the law' whereas the commission had politics to play with and politics to figure into their process," said Rep. Mike Steele, R-Lake Chelan.
Commissioners admitted that splitting up Chelan and Douglas counties, which share everything from a regional port to a health district, is not ideal.
"We knew we had to cross the Cascades somewhere," Democratic Commissioner April Sims said. "And the decision to cross Highway 2 was just ultimately where we landed as a result of a number of other decisions that we had made in the map."
Western Washington's population grew faster than Eastern Washington, meaning that eastern districts need to absorb about 60,000 people to ensure each district has an equal population.
"The split between Chelan and Douglas counties — I think it's a terrible error and clearly splits up a community of interest," Fain said, "But (it) does so in service of the larger need to get a map that is the population as the statute requires."
Shifting politics and focuses
Republican candidates have easily won 12th District seats, at times running without a Democratic challenger. But the Redistricting Commission's changes to the district could have inched the Republican stronghold closer toward a swing district.
"I don't know all the political breakdown, but I believe that the district may be more competitive," said Hawkins, whose term is up in 2025. "But it's certainly a district, politically, that I feel comfortable with."
Alma Chacón, a representative on the state State Democratic Party's Executive Committee, said her party has not yet had a chance to fully digest the possible political ramifications of the Redistricting Commission's proposed maps.
"The biggest part is just knowing how is it going to move forward now that it's going to the Supreme Court," she said. "I think, at least for the Democratic Party, it'll require us to kind of make a decision as to where we want to have our next election because it'll be a change."
Chacón said the final map does not reflect what NCW residents have voiced. Instead, she prefers Walkinshaw's draft map, which puts Chelan, Douglas and parts of Okanogan counties in the 12th District while also creating a minority- majority district in Yakima.
Local GOP party officials did not respond to requests for comment, but the 12th District legislators, all Republicans, agreed that the Commission's map would alter how lawmakers approach representing the district.
"Representing the 12th Legislative District will be extremely, extremely challenging," Steele said. "There's a lot that happens on the west side of the mountains that doesn't happen on the east and vice versa."
Rep. Keith Goehner, R-Dryden, agreed, pointing out that while the counties currently collaborate on regional committees and agencies, there less crossover between Chelan and Snohomish and King.
"What we have right now are counties in areas that are more like-minded and have the same issues," Goehner said. "So I do have concerns about whomever may be representing this district and their ability to really get the issues of the 12th District in the forefront of the legislature because of the wide diversity. The west side issues are totally different — I mean, there's no interaction."
Hawkins said splitting up Chelan and Douglas counties, as well East Wenatchee from the rest of Douglas County, would also make it more difficult for civil servants and regional organizations to know who to take their issues to.
"I do feel it would complicate things, and I hope it wouldn't jeopardize the community's ability nor central Washington's ability to secure funding," Hawkins said. "It's been very convenient for so many years, and so good for so many constituents, to have Chelan and Douglas counties included in the 12th District."