WENATCHEE — After moving her family into their new apartment last weekend, Angelina Sanchez had a meltdown at work Monday.
"But it wasn't because I was sad," she said. "I think I was just happy to finally have my kids in a better place than where we were."
Sanchez, 36, moved to Wenatchee from Chelan four and a half years ago, seeking a "fresh start" and more childcare opportunities after her divorce. She and her four children stayed with her niece and nephew at first, but they spent most of the last several years in a two-bedroom unit in a fourplex.
"It was just so old. You could just smell the oldness," Sanchez said. "It was cold. The winter was horrible because you could feel the air coming through the windows, through the door. We had to cover up with two blankets, big blankets. It had heat, but it only had one wall heater and it was tiny."
She said she qualified for a Section 8 housing voucher couple of years ago but couldn't find anywhere that would accept it. She continued checking with the Housing Authority of Chelan County and the City of Wenatchee to see what was available, and last summer they told her about St. Jude's Landing.
Catholic Charities Housing Services broke ground on the 67-unit permanent supportive housing facility, located at 1545 S. Mission St., in late 2018, and people started moving in Jan. 13. The building is four stories and 71,846 square feet.
Sanchez said she was contacted Jan. 28 about an opening and signed the paperwork Jan. 30. The family moved into their new three-bedroom, two-bathroom apartment last weekend.
"I was ready to move in Thursday night when she gave me the keys," Sanchez said. "I still had a lot of packing to do and everything. It was more like, 'Just grab what you can, throw it in the truck and let's go.' I was just so excited."
Thirty-three units were filled as of this week, including one for the on-site manager, said Holly Anderson, housing development manager for Catholic Charities Housing Services out of Yakima.
Half of the units are reserved for homeless, 22% for people with disabilities and the rest for other low-income tenants.
Homeless applicants and those with disabilities must be referred, the former through Catholic Charities' coordinated entry system and the latter through the state Department of Social and Health Services. General low-income applicants go through the Housing Authority, which is managing the facility.
Anderson said Thursday that 243 people were on the homeless waitlist and over 300 on the general low-income list.
"The need is great," she said. "For these 67 households, I think it makes all the difference in the world, but there's still a lot to do."
People with disabilities should start moving in this month, Anderson said, as paperwork still needs to be done. "Quite a few" people who were homeless moved in the first week, she said.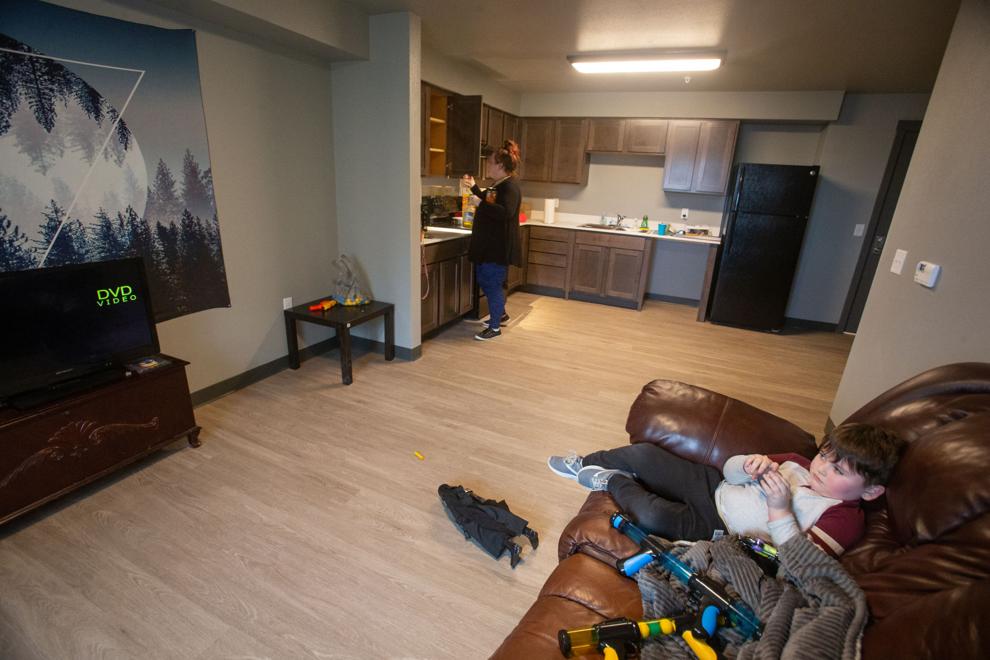 Anderson said applicants undergo background checks, income verification and paperwork, and then a group move-in orientation once several households are approved.
"We're just moving people in as fast as possible," she said. "I definitely would say that if somebody is homeless — and especially if they're unsheltered — we're trying to get them in as soon as possible."
Rents range from $214 to $948, depending on income.
The complex has fewer barriers than some places — for instance, no credit checks — but there are still some restrictions. People convicted of violent or sex-related crimes are not allowed, and tenants must follow facility rules and regulations.
It's more than an apartment complex. A full-time services coordinator connects interested residents with services like substance abuse treatment or mental health case management. People who were homeless are given items like linens, dish racks and toiletries to start out.
Appliances and other features are designed to save energy and water, and units also feature wear-resistant finishes. Laundry rooms are located on each floor, though not in units.
The landscape includes drought-tolerant plants and trees. There's also a playground.
"It's my goal when we are in the concept phase and choosing materials for the long-term that I would want to live there — and I would," said Anderson with Catholic Charities Housing Services said. "... Ideally my goal is to pick products and installation methods where it will look that nice for a very long time."
Sanchez, who now has five children ranging from 15 years to 11 months, said Tuesday that she still had a lot of unpacking to do. Going home to a different place was also an adjustment.
"It just felt really weird not to go back over there, but it felt really nice to be out of there," she said. "I never would have thought that I would be in a place like this."
A few of the kids said that they liked the new apartment.
"I would say it's a lot better," said Giselle, 15. "There's more space for us to roam around and do a lot of things. We're not a lot closer to stores than we were there, but we have East Wenatchee (nearby). I just think it's a lot better environment for all of us and the baby."
Anderson said she's visited the site a few times since move-ins started, and she's glad to see people getting settled.
"I've seen quite a few kids, young children, that were previously homeless that now have a home," she said, adding, "We're very happy to be opening the doors to the folks that need it most. Now's the feel-good time. It took some time longer than I would have hoped, but it's so worth it. I tell people this is the hardest and the best work I've ever done."