Two things I kept telling myself: "watch each step carefully" and "this wouldn't be the worst place to die."
Those were my thoughts as I crawled over steep, crumbly rock nearly 7,000 feet up on a ridgeline below Mt. Daniels, King County's tallest mountain. Clouds could be seen sweeping over nearby peaks.
The scramble was a part of a weeklong through-hike on the Pacific Crest Trail. The route is named Section J and follows a segment of the PCT between Snoqualmie and Stevens passes.
A stir-crazy version of myself planned the route and camp spots last winter during COVID-19 shutdowns.
I finally set out for the trip mid-July with my more experienced outdoorsman partner, Cody Cottier.
The section is over 70 miles. It took us both around 80 miles because, as one hiker put it, we took a lot of side quests. The toughest quest of them all being a scramble up Mt. Daniel.
Cottier is probably the reason I kept going when the climb started to spook me.
The day of scramble, July 21, began with a brisk three miles from Deep Lake to Peggie's Pond. We set up camp, hung our food bag and emptied most items from our packs before heading out.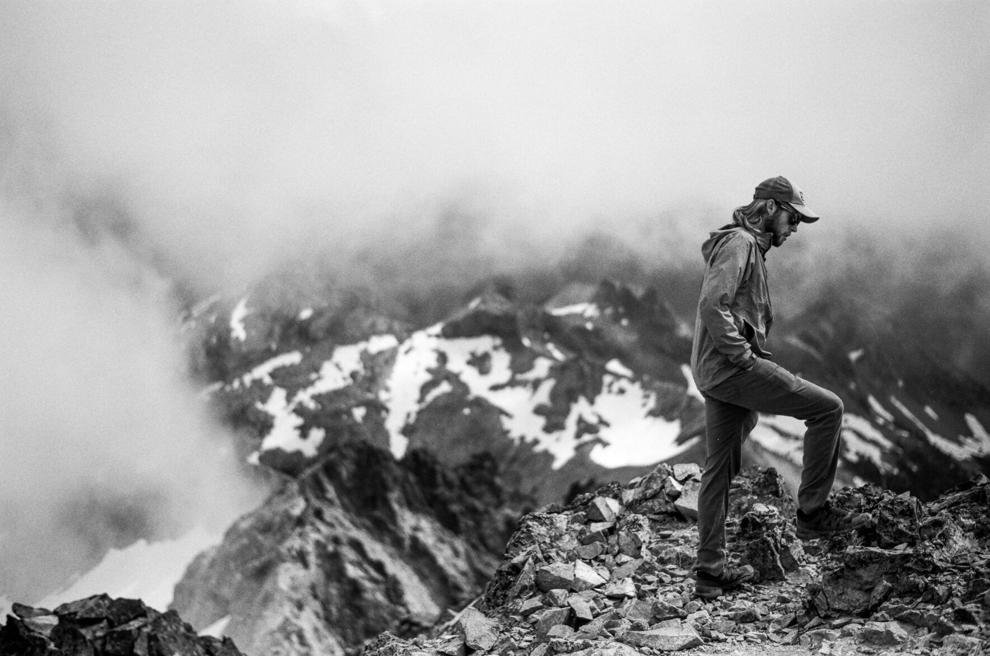 I decided the most important gear to bring included warm clothes, an ice axe, water and a half dozen rolls of black and white film for my Nikon F100. Shooting on film was an artistic choice.
Weather just above the pond stayed windy and felt colder than other stops along the PCT. I put my rain jacket on while looking up at our two-mile climb ahead.
Cottier and I hit a fork in the trail and took the wrong way at the base of the mountain. The turn led to a route with more unstable rock than I prepared for.
Cottier quickly found the main ridgeline trail again after a little crawling around.
Steep drops could be seen on either side of the ridge about a third of the way up. The trail was somewhat level before the steeper scramble up to Mt. Daniel began.
The main concern was weather. Clouds seemed to be moving in, but views still looked clear enough to make it up and down before dangerous weather could set in.
The sketchiest part of the climb, for a scrambler-in-learning like myself, started halfway up. Rock was crumbly and required a lot of thought in each step and hand placement.
I had never climbed on terrain where small errors could lead to such serious injury. I got a bit nervous and I did not at first think I would be able to summit.
Terrifyingly steep views on either side accompanied us through the afternoon. The trail later turned into more of a light dusting among boulders and rock slabs.
It looked easier on the map.
I eventually made it to the east peak of Mountain Daniel after far more thoughtful and slow hiking than I anticipated.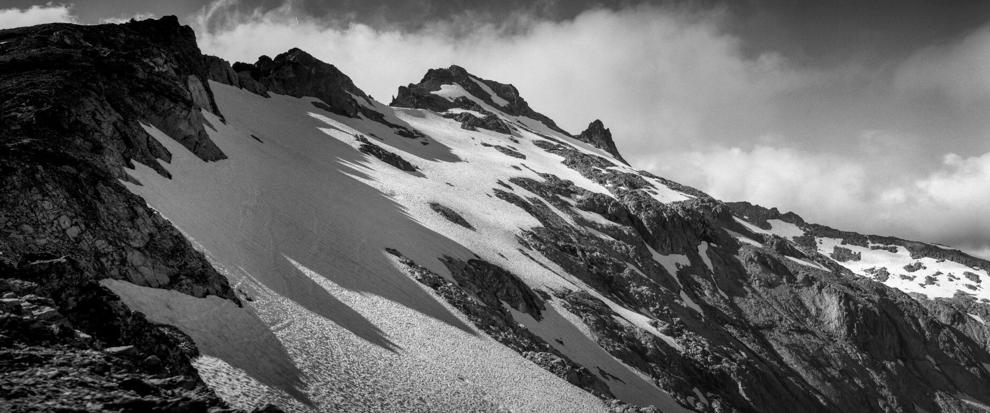 The summit was level with clouds. I could see Cathedral Rock, a barely visible Mt. Stuart and various snowfields scattered across mountains.
Clouds blocked the view to the northwest, not that I'm complaining.
Heading back down is when I started to get comfortable on the mountain. Cottier joked that he loved downclimbing, which I think I subconsciously took to heart.
Taking the correct trail descending Mt. Daniel led to a much simpler and easy walk. We gently passed by a marmot who looked very scared to see us on our way back.
Wind kept up on our way down. The ominous weather never turned for the worst.
In classic fashion, we both took another wrong turn just before making it back to camp. The last wrong turn was a good 10-minute reminder that adventures often unfold in ways we don't expect.