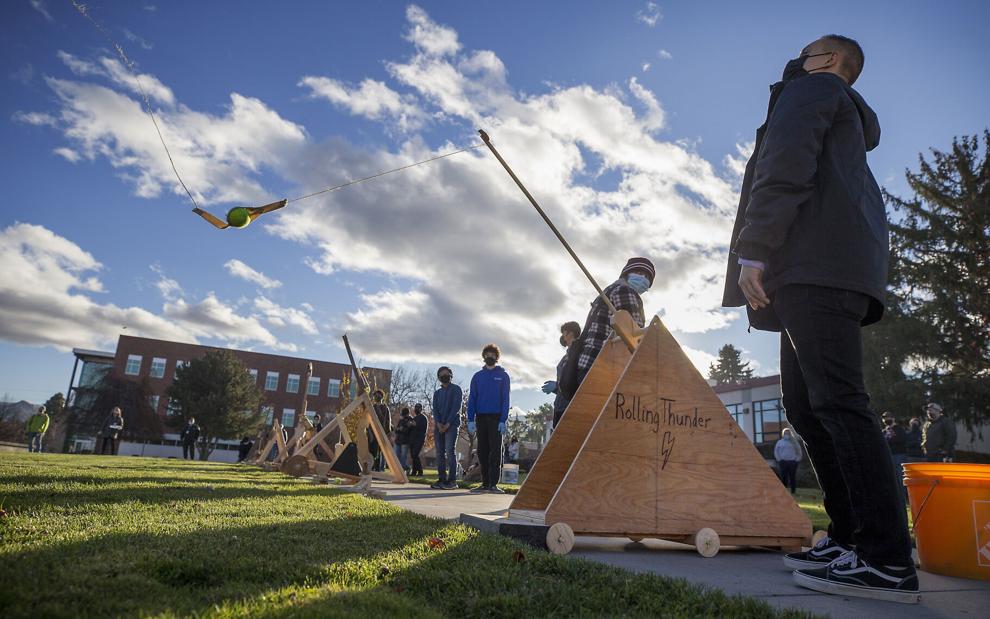 WENATCHEE — Squeaks could be heard from across the Wenatchee Valley College as students wheeled in their battle stations Tuesday afternoon.
"We need some medieval fighting music," said physics professor Bruce Unger, who was overseeing WVC's annual catapult contest.
Physics students at the contest lined up handmade wooden catapults to be tested for accuracy, design and throwing distance.
"I'm going to launch it at you," said student Arlen Brazill while taking aim at Unger with a tennis ball in his catapult. "I can duck," replied Unger who was holding a model Space Needle that was the official target of the student siegemasters.
Brazill, who built a catapult taller than himself, placed in the contest's top three.
The other two winners included the team of Sauviah and Brevik Myrbo, and Jianfan Lin.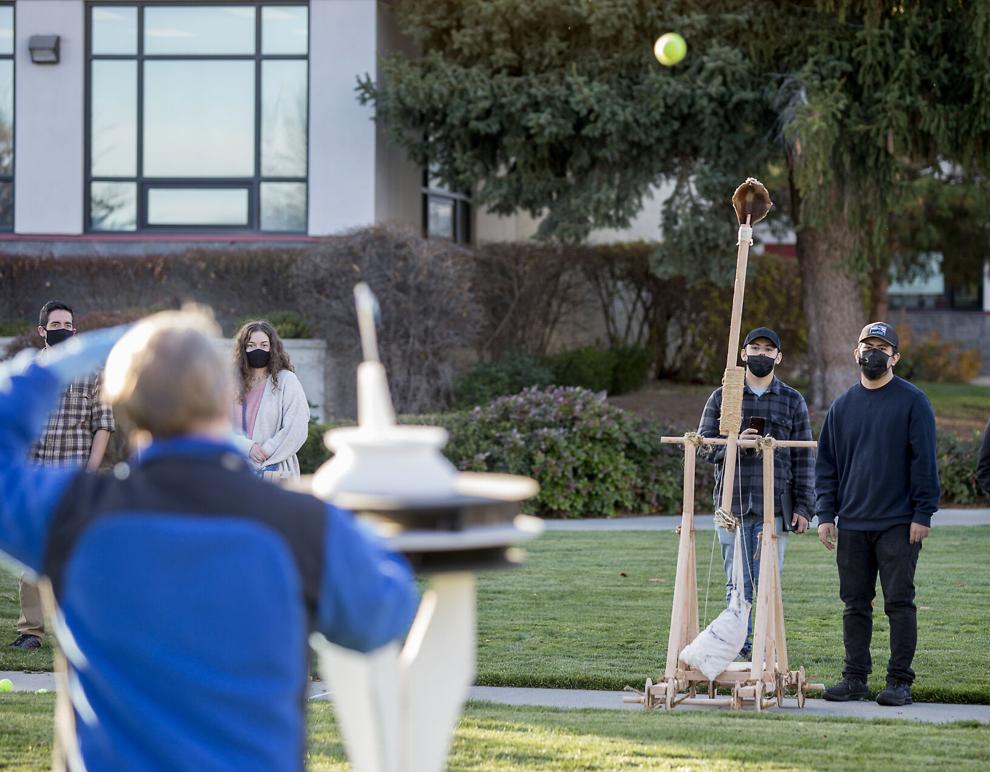 Brazill said his catapult took about 14 hours to build. The first few test shots "did not go well," but he made a lot of improvements along the way, he said.
Class restrictions only allowed students to use all-natural materials like wood and cotton, he said. Metal screws were not allowed.
Making the sling was one of the most difficult parts, Brazill said. Preparing the catapults to throw the tennis balls was a difficult task in and of itself for students.
Judges watching the distance contest shouted numbers after contestants launched tennis balls from their catapults.
"39 ... 17 ... 110," the judges shouted while marking each catapult launch distance in feet.
Student Sauviah Myrbo constructed one of the contest's most powerful launchers, so powerful that it fell apart on the second throw.
After about three weeks of work on the catapult, the wooden dowel just finally gave out, she said.
Myrbo said her catapult's rock counterweight clocked in at about 32 pounds, which sent her launches well past many of the contestants' throws.
Student catapults that did not place in the top three include a mini catapult about a foot tall and another which, despite a two-student team's best efforts, preferred not to launch.