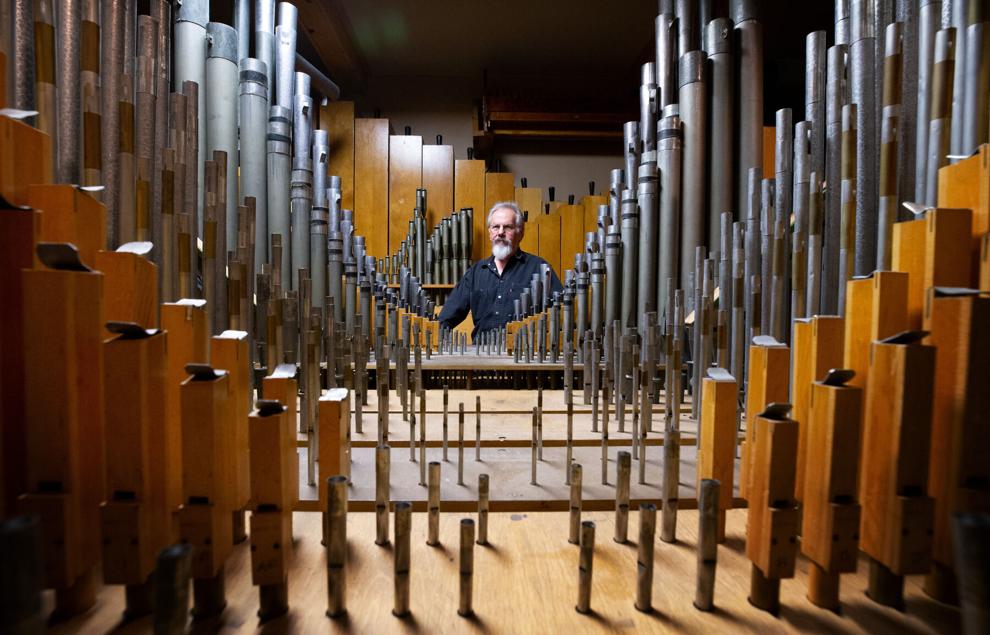 LEAVENWORTH — The only thing that can drown out a freight train passing by Dave Johnston's Leavenworth home is his 1925 Kimball pipe organ.
Surrounded by orchards and set away from any close neighbors, Johnston's full-size organ is loud enough to shake the floors and walls of his man cave built onto the home's garage specifically for the instrument.
The sounds from the pipes are so loud, they are separated from the rest of the room by thick, insulated walls. With a 1925, nine-horsepower blower supplying the air, the volume gets to 115 decibels — about the sound of a rock concert — inside the pipe room. There is no volume control on the pipes. Only by opening and closing louvers or "swell shades" to the pipe room can an organist adjust the volume at the organ console.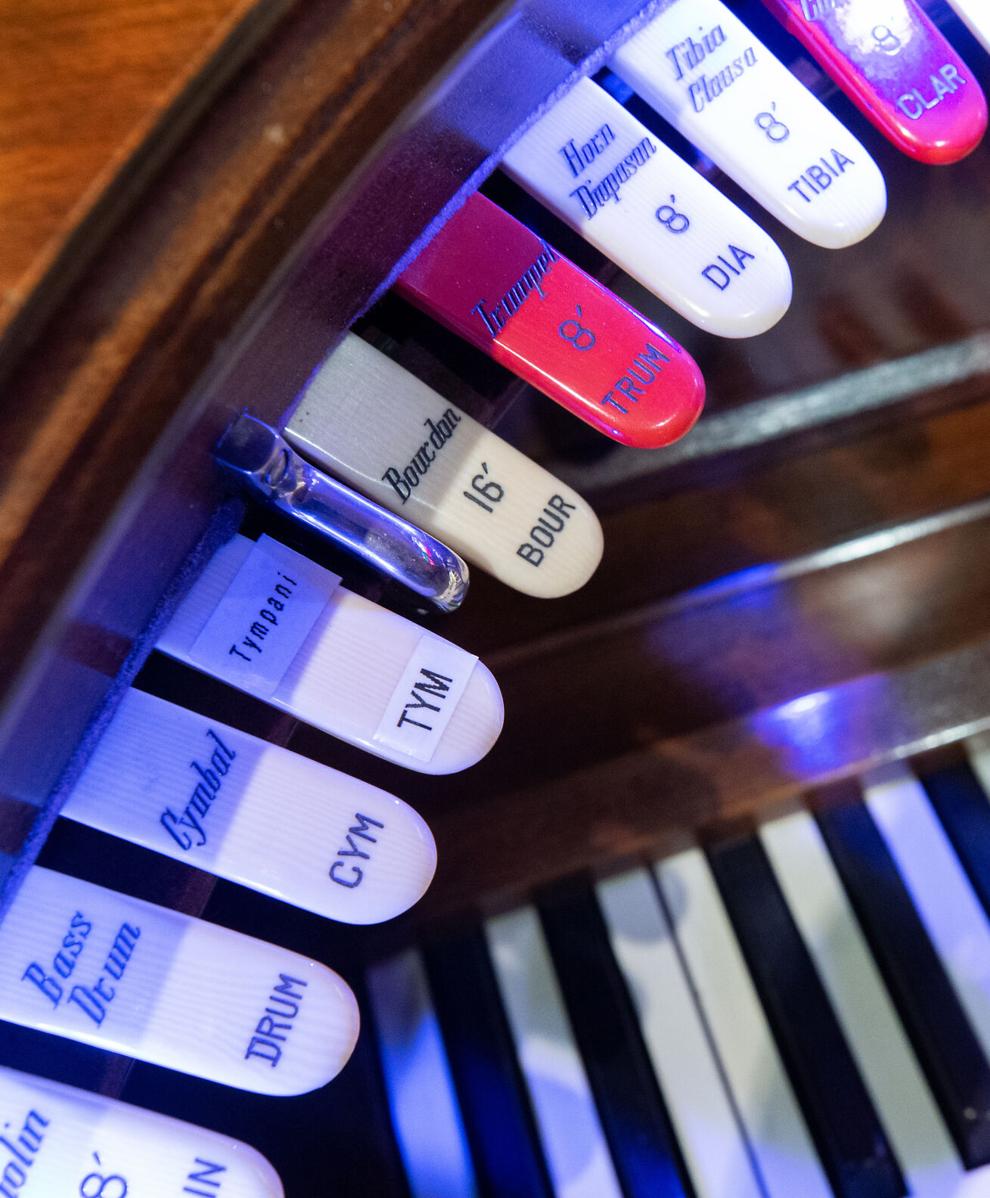 "The sound," Johnston explains." These things weren't meant to be in a 20-by-30 room. They're meant to be in a theater."
Theater organs like Johnston's have car horns, sirens, gongs and various percussion instruments to mimic sound effects from silent movies. They also have something called tremulant vibration that makes the sound tremble like a singer's vibrato.
Along the walls of his man cave are posters and photographs of organs and trains — another one of Johnston's passions. That's why he lives next to the BNSF Railway line running between Seattle and Spokane.
During the silent movie era, theaters began hiring entire orchestras to play during the films. The expense was too much so to cut costs owners bought organs. An organist could play all the instruments themselves. With the advent of talkies, theaters began selling off their organs to churches and whoever had an interest in them.
Johnston's curiosity in organs started as a young boy attending the Kirkland Congregational Church in the 1950s. His father would show him the workings of their church's pipe organ, the large air blower in the basement and the climb up small stairs to the noise-making pipes.
He remembers his mother buying an electronic organ for their house and taking lessons in 1959. She belonged to an organ club that would meet monthly.
But his interest waned, like any first love, and it wasn't until he found a recording of noted organist Phil Kelsall in a Seattle music store in 1987 that he became hooked again.
Twenty years later, working for the Chelan County PUD as a wastewater treatment plant operator in Peshastin, he saw an advertisement for a pipe organ in Bend, Oregon, on the internet. A new music director at a church didn't like its sound and wanted to get rid of it. Johnston bought it and moved it into a shed on his property. He had a place to store it but nowhere to install it.
After two years he added a 660-square-foot addition to his garage — agreed to by his wife Jennifer when she got a basement room of her own on the floor below. He built in heavy floor joists for the weight and extra height to make room for the tall pipes. Even at that, some are mitered at 90-degree angles to get the length needed for their specific tone.
After six months of work, his first organ, one almost identical to the organ he explored as a child, was ready to play.
But wait a minute — one small problem.
Dave Johnston doesn't know how to play the organ — actually he can't play any musical instrument.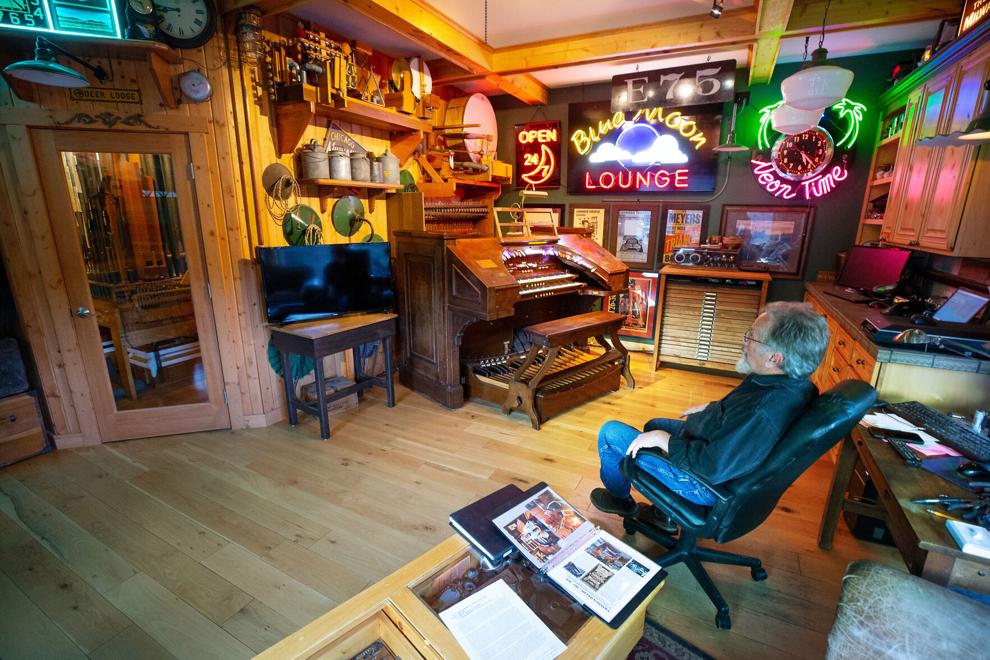 The next year, Johnston sold his organ to a buyer in Alaska.
Johnston, now with an empty man cave, bought three more organs — one at an estate auction for $500 and two given to him, you could say, by an organ donator. Of the three stored in his shed, he decided the Kimball was in the best condition and began assembling it in his room in 2012.
This organ was built in 1925 for the Embassy Theatre in downtown Seattle. In 1932 it was sold to the Woodland Park Presbyterian Church. In 1963, it was purchased by Harold Shawver and installed in his Edmonds home. Eventually taken over by members of the Puget Sound Theater Organ Society after his death, it was put into storage. Storage fees became unrealistic and the organ was offered to Johnston.
The Kimball has two keyboards, foot pedals, and 10 sets of pipes. Each set plays the tone of a different type of orchestra instrument. Johnston says he has the ear to tune the pipes. "It's a real art and I'm still learning," he says. "I know enough to get it close."
But he still wasn't able to play his pride and joy.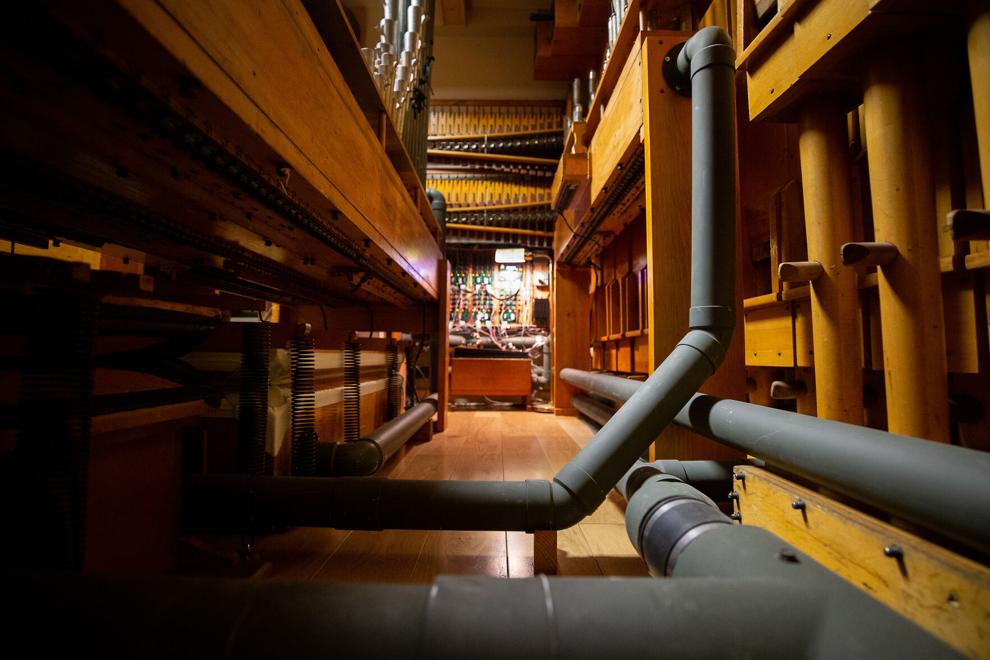 Johnston planned for and hooked up a $7,000 computer system that records the movements of an organist as they play the instrument. "It makes it into an oversized jukebox," he said. "Everything they do is captured by a computer program and can be played back," he said. "Organists are very hard to find — at least anyone good." Without the program he says the organ would be worthless.
So far he has recorded the movements of 25 different songs with visiting organists like John Atwell from Australia, Greg Smith from Bellevue Pizza and Pipes, former Seattle Mariners organist Sharon Stearnes and JoAnn Evans with the Puget Sound Theater Organ Society.
Now nearing 100 years old, the Kimball needs continual care and that's something Johnston loves to do. "This is my winter-time work." He said. "I like to keep busy. I'm still working on re-leathering some of the pneumatics." He's recently added an oboe section, a diaphone (like a tuba), and sleigh bells. "I might change the direction of the shades," he said. "It's an ongoing project."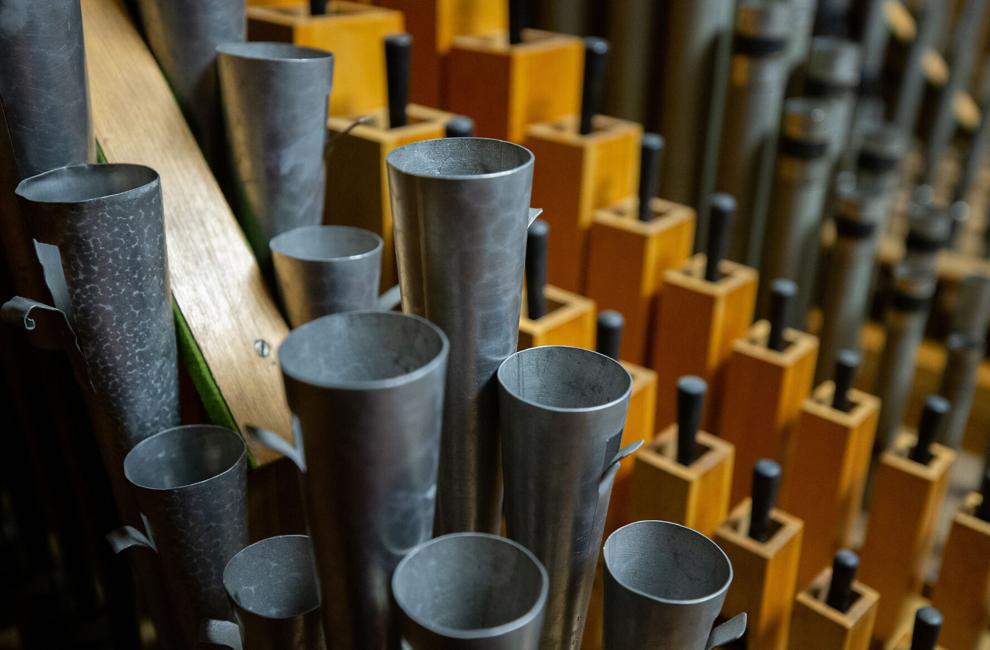 Johnston is also one of the maintenance volunteers of the Liberty Theater Pipe Organ at the Wenatchee Valley Museum & Cultural Center. He says the 1919 Wurlitzer pipe organ is the same size as his but it has better sound.
His two grown sons, Aaron and Matthew, live nearby but haven't shown an interest in pipe organs other than helping move them from place to place. Matthew also helped him install the computer system. He has two grandsons but at 4 and 6 years old he isn't sure if they'd have any interest. "They like to come and make some noise," he said. "But it's just noise."
His Kimball is one of only about 15 personally owned organs in the state, according to the organ society's website. He says that number will probably get smaller. "It's circling the drain," he said. "I hate to say that. Young people aren't interested in this stuff — it's just an oddity. It's just the way it is."