WENATCHEE — We're not as bad as you think. Not everyone who lives on the street is a criminal, said Ty, homeless for three years.
"I mean, we do have honest people that are homeless, it's just the rest of the crowd kind of gets mixed in and we get, not necessarily discriminated (against), but judged," said Ty. "You know, everybody's put aside. They see you walking down the street with a big ol' backpack and they just hold everything to themselves.
"We're not like that. I'm not just going to jump out and take your purse."
On Thursday, Ty and his wife Shy spent part of the afternoon sitting beneath the Pipeline Pedestrian Bridge in East Wenatchee, hidden in plain sight from a busy intersection 40 yards away. That's where they were contacted by homeless outreach coordinators helping with the annual homeless Point-in-Time Count.
The annual count is a part of a nationwide effort led by the U.S. Department of Housing and Urban Development and is used to determine how much funding cities and counties are allocated for homelessness. In 2019, there were 412 counted in Chelan and Douglas counties, down from 474 in 2018. The city of Wenatchee leads the count effort locally.
Outreach workers Victor Estrada and Travis Aasen, with the Women's Resource Center, drove about the Wenatchee Valley speaking with homeless people, like Ty and Shy. Estrada and Aasen were one of three outreach teams contacting people living on the streets. They started work about 8 a.m. Thursday and counted a dozen people by noon.
"A lot of them are struggling with mental health issues," Estrada said of the homeless people he's spoken with. He added that for others it's drug addiction and for some it's job skills.
He knows drug addiction and homelessness firsthand. Now he gives back.
"When I was out there in active addiction, I didn't care about anybody. I started getting spiritual principles back in my life — one of them was compassion. I helped destroy the town with drugs and it was like being able to give back. It's made a big difference in my recovery."
He's been sober "four years, nine months and twenty-something days."
Aasen has a similar story.
He was homeless from August 2018 to January 2019. While living in Spokane he witnessed someone get killed "over something petty," as he described it. That was the turning point.
He moved back to the Wenatchee Valley and worked toward sobriety. It took a few months to get into treatment, but it's working, he said: Thursday marked one-year drug-free.
Before finding Ty and Shy under the bridge, Estrada, Aasen and a handful of volunteers searched below the Apple Capital Recreation Loop Trail for about 20 minutes. They found footprints, bike tracks, snow-covered tents and sleeping bags, but no people. That's normal for midday.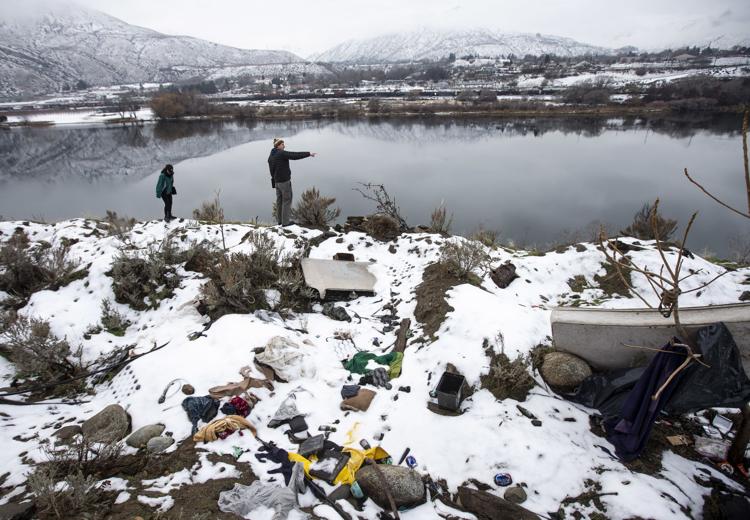 "I hardly ever come out here because I know during the day that people are in town," Estrada said.
"A few bad choices" led Ty and Shy to homelessness. They each said that homeless services are improving.
"The community actually does quite a bit versus some of the other communities, I've heard," Ty said, explaining there's a place to go during the day, a place for meals and a shelter at night.
"I mean, yeah, there's not very many of them, but what they do have, I think it's helping a lot," Ty said.
There are a few improvements they'd like to see.
"Set up a place where we can just camp, you know," Shy said, homeless off and on for 10 years.
"Let us get a place to camp and have people regulate it," Ty said.
They'd also like to see a tweak to the newly formed severe weather shelters in Wenatchee and East Wenatchee where they sleep during the winter. Because the two shelters are separated by gender — men at Holy Apostles Catholic Church and women at First United Methodist Church — they spend their nights apart and reconnect the next day.
Ty would like the shelters to let them stay together.
"We're only separated for the night but, still, that kind of winds things down at the end of the night is being able to hold my wife and say good night," Ty said. "We talk on the phone, and stuff like that, but I'd still rather be able to hold her."
The shelters made the count easier for Estrada.
"It seems like there's a lot more people out there this year and a lot more willing to talk about their situation," Estrada said. His theory is some homeless are more open with social workers following stays at the severe weather shelters. He said shelter staff there doesn't make its tenants feel judged, which has helped them speak about their situation.
The count plays a role in determining how much funding the area receives to fight homelessness. The hope is to get everyone into housing, said Oliver Crain, the city of Wenatchee's housing coordinator.
"How can we do that? We need data — hence the count," Crain said.
Crain spent his time Thursday at the Wenatchee Community Center at 504 S. Chelan Ave. where volunteers from local providers gave out supplies and referred homeless to services.
"The goal of the count is to give people some respite," Crain said, along with the supplies, a better understanding of the magnitude of homelessness in the area for officials.
The center was "flooded" with donations from local residents, he said.
"The community is amazing in what they're willing to give," Crain said. He added, "We're going to continue to work with the community to assist people who live outside."