NCW — As the 2021 wildfire season closes, experts have identified areas within new burn scars that could be prone to debris slides.
Burned Area Emergency Response teams, charged with assessing damage sustained by the landscape from fires, in recent months examined soils torched by the Red Apple Fire in Wenatchee, the Twentyfive Mile Fire north of Chelan and the Cedar Creek and Cub Creek 2 fires in Winthrop.
One facet of BAER assessments is to measure post-fire conditions and determine the potential for increased flooding, debris flows and rock slides. Fires can damage and weaken soils and lead to increased potential for debris flow, in part because of a loss of vegetation.
Twentyfive Mile Fire, Chelan
The Twentyfive Mile Fire burned more than 22,000 acres near Fields Point Landing and destroyed two homes and 12 outbuildings. About 6.2 miles of trails sustained high or moderate burn severity. Fire crews dug 15 miles of dozer line and seven miles of handline outside and inside the fire perimeter, the BAER report said.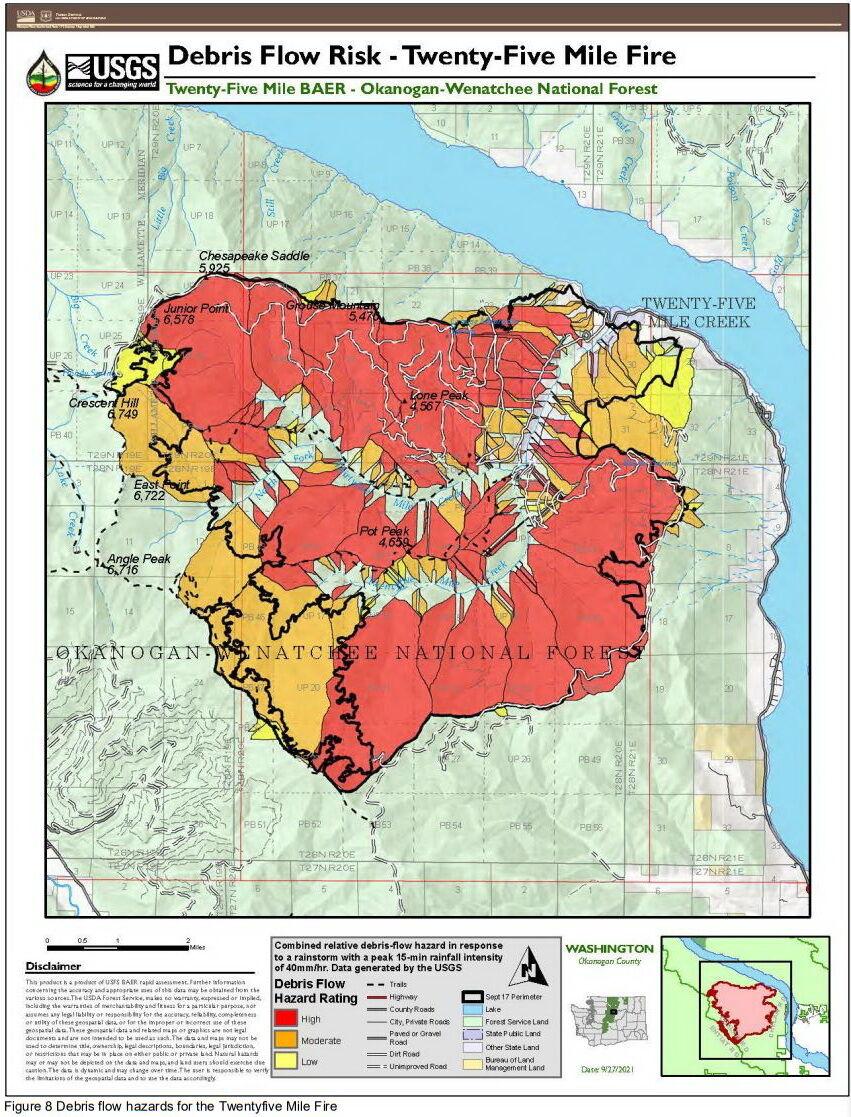 The fire was first reported Aug. 15 and the cause remains under investigation.
The report noted that within the fire perimeter, 21% of the area sustained high soil burn severity, 32% sustained moderate soil burn severity, 39% sustained low soil burn severity and 6% was unburned.
Almost 80% of the fire burned within the Twenty-Five Mile Creek Watershed, which drains into Lake Chelan. The report estimates a moderate to high level of debris-flow hazard for most of the area burned by the fire.
The response team recommended treatments to nine Forest Service roads and noted two bridges, the Ramona Bridge and the North Fork Twentyfive Mile Creek Culvert, are at an increased risk of damage from flooding or debris flow.
Red Apple Fire, Wenatchee
The Red Apple Fire burned more than 12,000 acres and damaged five outbuildings in July between Monitor and Sunnyslope.
About 65% of the area affected by the fire was either unburned or had low soil burn severity," according to the Red Apple BAER report.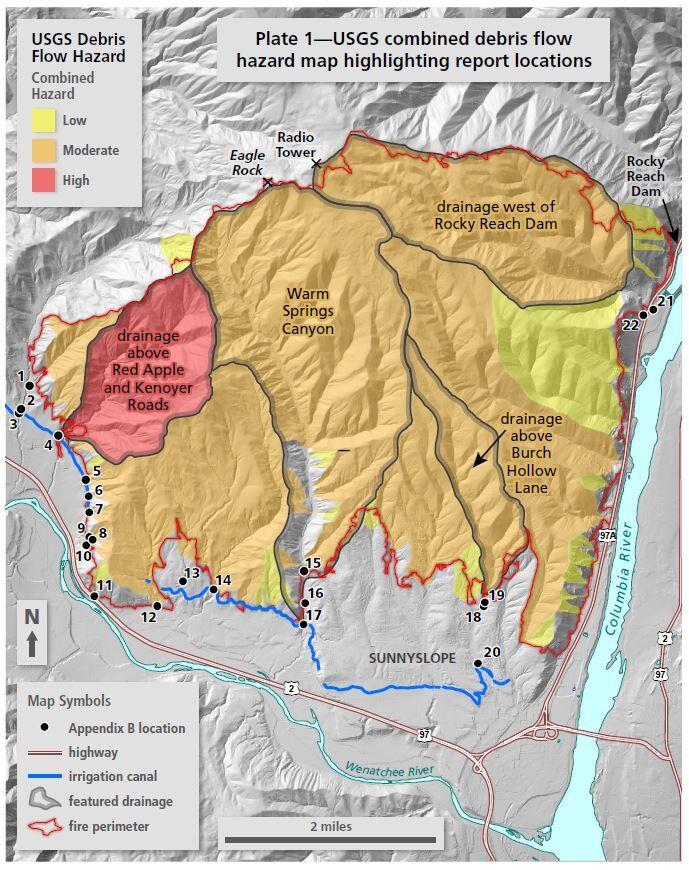 Warm Springs Canyon saw 45.8% of its basin burned with moderate and high soil burn severity, and much of the canyon was rated to have moderate hazard for debris flows.
Warm Springs Canyon and an unnamed drainage along the northeastern portion of the fire that drains to Highway 97A and Rocky Reach Dam experienced high soil burn severity on steeper slopes, the report said. Erosion is expected in the steeper portions of these drainages.
Cedar Creek and Cub Creek 2 fires, Winthrop
Combined, the Cedar Creek and Cub Creek 2 fires burned 125,758 acres — or more than 195 square miles — of Winthrop-area forests, along with one home and four outbuildings.
Crews dug 43 miles of dozer lines and eight miles of hand lines in the Cedar Creek Fire and 38 miles of dozer line and 12 miles of hand line on the Cub Creek 2 Fire.
The Cedar Creek Fire west of Winthrop burned 55,572 acres — 48% of which showed high or moderate burn severity, according to a BAER report.
A storm bringing 0.3 inches of rain in 15 minutes was predicted to have greater than 80% probability of debris flows in several drainages, in many Wolf Creek tributaries, including the Methow River, several tributaries to Early Winters Creek, and two tributaries to Little Bridge Creek in the Twisp River drainage, the report said.
"This creates a future concern for roads, culverts (Figure 3), bridges, and channels along the drainage paths of the burned watersheds in that they may be plugged, overtopped, or washed away more frequently than experienced under pre-fire conditions," the report said.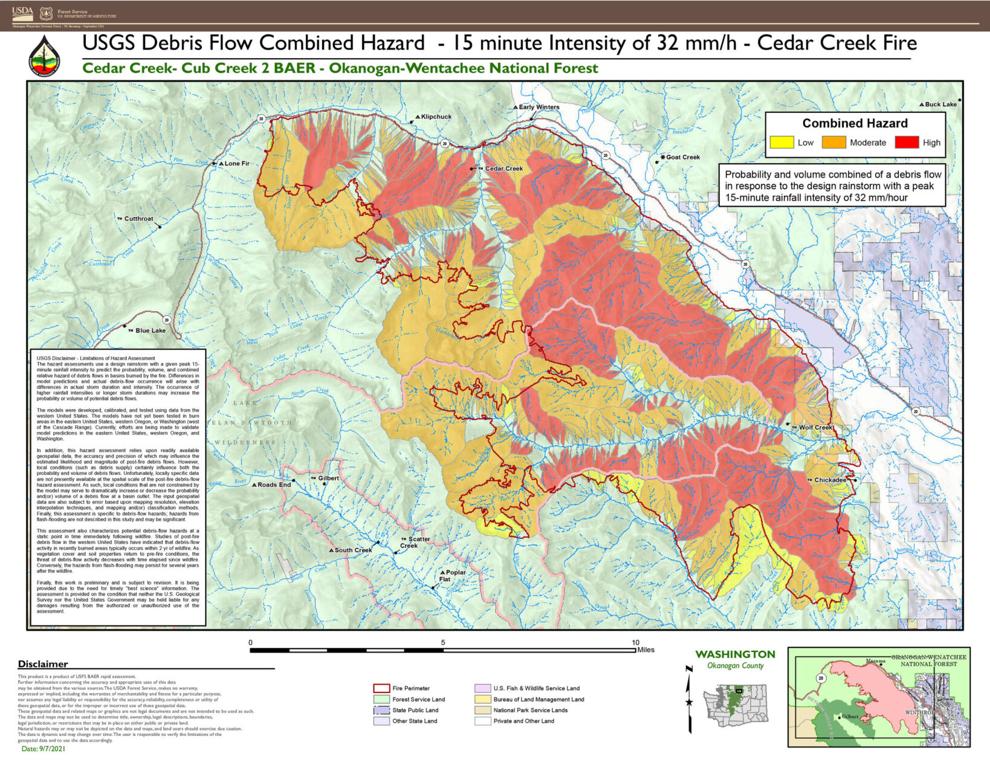 The Cub Creek 2 Fire north of Winthrop burned 70,186 acres and 41% of the area showed high or moderate burn severity, according to a BAER report.
Many of the basins and streams near the center of the burn area have a high to very high likelihood of debris flows, the report said. These areas are mostly located in drainages above Doe Creek, Falls Creek, Eight Mile Creek, and the Chewuch River.
Some infrastructure is at risk to flooding and debris flows, including the Falls Creek Bridge, Falls Creek Utilities Bridge, and Eightmile Creek No. 1 Bridge. The Falls Creek, Chewuch, Camp 4, Buck Lake, and Nice campgrounds are at high risk due to the threat of increased flooding and debris flow, the report said.