WENATCHEE — Victor Estrada, the Women's Resource Center's outreach coordinator, keeps an arsenal of supplies in his car.
"At all times, I always have something — a sleeping bag, Mylar blankets, gloves, beanies," he said Monday.
Estrada estimates he drives 200 miles a week handing out the supplies to people experiencing homelessness. This week he picked up a new tool: Sleeping mats made from recycled grocery bags.
The mats were made by a team of volunteers from Grace Lutheran Church as a Make A Difference Day project in October. First the grocery bags are cut into strips, then the strips are tied into ropes and then the ropes are crocheted together into rectangular sleeping mats.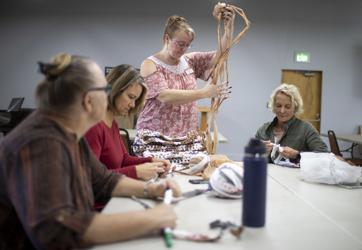 It takes around 500 grocery bags to make one mat, church member Della Du Lac said in October.
The mats are great insulators and can be easily washed off if they get dirty, she said. So far they've delivered three to Estrada and are working to make more.
With lows in the 20s and snow in the forecast this week, they went quick, Estrada said. The first two were handed out to people Tuesday near the Lighthouse Christian Ministries building on the corner of South Columbia and Thurston streets.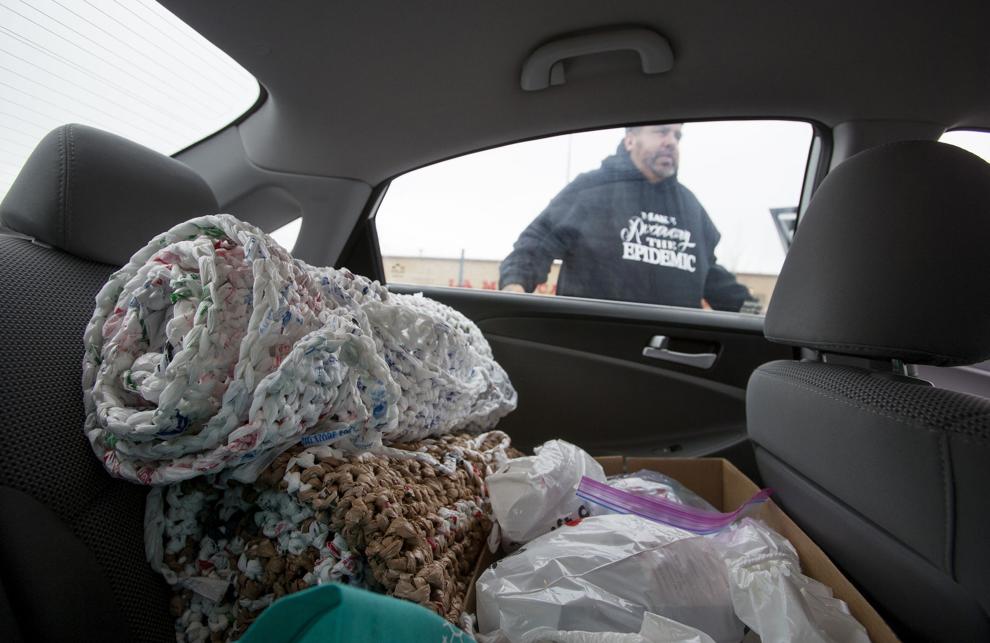 Estrada handed out the final mat to Bill Bailey on Wednesday across from the Salvation Army Building. Bailey said he's been experiencing homelessness for the past 10 months.
This time of year, resources like socks, sleeping bags and blankets make all the difference, he said.
"As long as you get a bunch of sleeping bags and you'll stay warm," Bailey said.
There are now several housing projects underway designed to help people like Bailey, who spends most nights sleeping on the streets.
Catholic Charities is building an apartment complex in South Wenatchee that has around 30 units reserved for the homeless. Estrada said many of the people he regularly contacts have applied for a unit.
"There's a lot of people that are dependent — they're hoping that they're getting in," he said.
A severe-weather shelter funded by the Chelan-Douglas Local Homeless Housing Task Force opened in the Holy Apostles Catholic Church in East Wenatchee last week.
The Women's Resource Center is partnering with the First United Methodist Church in Wenatchee to open another this month. The task force is also pursuing the idea of a permanent low-barrier shelter.
Estrada believes the projects will help a large portion of the population, but there are some people who won't be able to or will choose not to seek services, he said.
That means there will always be a need for resources like sleeping mats and socks, he said.
"There's definitely people who want to get off the streets but a lot of them just don't know how. Then when you offer them help, they don't always trust the system," he said. "Then with mental health issues, being on the streets is sometimes just comfortable to them."