BADGER MOUNTAIN — Looking out over Badger Mountain's rolling hills, Lorianna Breiler sees her home, the snow-capped North Cascades and miles of shrub-steppe.
But she fears that view may change forever, overtaken by fields of solar panels.
Residents on Badger Mountain say a solar energy company has its sights set on land near their homes. It is one of three solar farm projects whose backers are scouting spots in Douglas County. The other two are looking at 5,000 acres with a view of the Wenatchee Valley along Badger Mountain Road and a 2,500-acre site near Trinidad.
Construction time frames are not clear for the three projects, which apparently are very early on in their planning and which come after passage of a state law in 2019 law that strongly encourages the development of alternative energy.
Breiler said she first heard of the solar project near her home when the company, EDP Renewables North America, approached her about leasing her property. She said no.
The size of the project near her land is not publicly known, an EDP spokesperson declined to provide details, and plans for the EDP development have yet to be submitted to Douglas County. Breiler believes the project could be surround her property.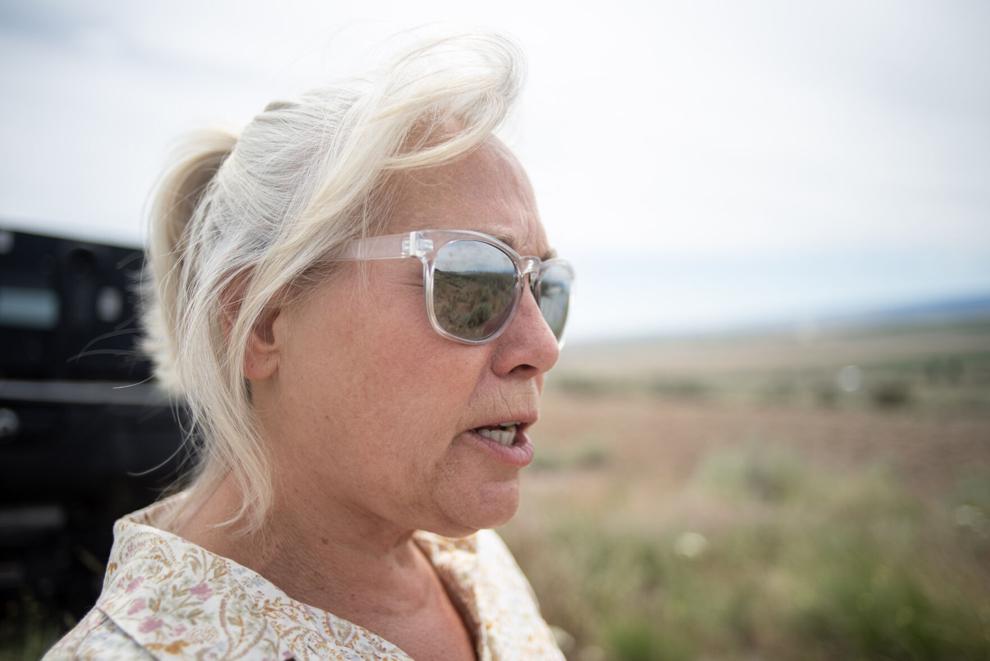 More is known about another Badger Mountain project that is closer to the Wenatchee Valley, but it's still not much. Energy company Avangrid Renewables is exploring construction of a solar farm producing 200 megawatts of energy on about 5,000 acres. The site is about five miles up from East Wenatchee and south of Badger Mountain Road, according to a 2019 proposal filed with Douglas County and could include 686,000 solar modules in long rows fenced off on about about 2,000 acres.
Avangrid hopes to use another 3,000 acres for a substation and three miles of transmission line, according to the proposal. The project would include a 5,000 square foot battery energy storage space next to the substation. Avangrid did not respond to requests to talk about its project.
A changed landscape
For Breiler, the EDP Renewables North America project presents a simple choice: Thousands of acres of rolling hills, wildlife and creeks or a giant solar farm. And she's set out to stop it from happening.
Workers with EDP have called, mailed and driven out to residents in the hopes of signing leases for their solar farms, she said. They are "very aggressive, and they're very hush-hush," she said.
Breiler started going door-to-door in early June asking residents on Badger Mountain if they knew what may be happening in their backyard. Those who signed contracts with EDP did not know the full extent of the development, she said.
The company has not been disclosing what they plan to do with the land and habitat, she said.
"It's going to ruin the way of life that we know today, because we're going to be surrounded by solar panels," she said. The acreage surrounding Breiler has been a part of her family for four generations.
"I wake up, I see the sun rise, I see the dawn," she said. "It's my home, it's right here. It runs deep in my heart ... It means everything to me."
Breiler has created signs and a Facebook page, Save Badger Mountain — No to Solar Panel Farms, as part of her campaign.
"I just can't rest at night knowing that my home is going to be taken away from me, stolen," she said. "I'm standing my ground and I'm standing up for myself."
Jon Stein, a resident and owner of over eight acres in Badger Mountain, agrees with Breiler. A large development on the hills of Badger Mountain, for Stein, would be more than just an eye sore.
"I'm pretty concerned," said Stein, who moved to Badger Mountain from North Dakota to retire. Up here was the only place with affordable land, he said.
Stein said his house and views from home face south, where the solar panel farms may be developed. "I can dang near see to Oregon … but this project's going to be right across my view."
"If I have to chain [myself] to a dozer I will," he said. "We're not happy at all."
County plans for big developments
Douglas County officials started working to update the county's code after renewable energy companies reached out to them. The county imposed a moratorium on renewable energy development to buy time to decide what renewable energy projects should look like before accepting permits.
The county used the time to study wind and solar farms around the state, said Mark Botello, Douglas County land services director.
Douglas County commissioners on July 20 lifted the moratorium and approved new rules for the planning and permitting of large alternative energy projects.
The approved rules include requirements that solar facilities be located at least 7 miles from cities and Pangborn Memorial Airport and from habitat associated with sensitive, threatened, or endangered plants or wildlife which are identified at a state and federal level. Find the new county regulations here: wwrld.us/ordinance.
As far as when ground may be broken, "It's really up in the air," Botello said. It could be months or years.
Powering up
Douglas County PUD General Manager Gary Ivory said residents in the county have been reaching out to him with concerns about the developments, but that the PUD has not been in contact with these companies.
These groups are looking at interconnecting with other transmission providers, he said. The PUD does not have a policy that would allow for large-scale solar or wind farm connections.
When asked for details on its Badger Mountain development plans, Blair Matocha, a spokeswoman with EDP, said in an email that the company has energy projects throughout the continent.
EDP is "actively prospecting development opportunities for renewable energy projects in Washington," Matocha wrote.