CRESCENT BAR — Clear skies and 82 degrees; perfect conditions for a miniature solar car race. High school participants of the Foundation for Water and Energy Education (FWEE) Hydropower and Stem Career Academy built, tested and competed in a time trial at the Grant County PUD Crescent Bar Recreation Area.
Wednesday's race was one activity in a week-long camp provided by FWEE and Chelan County PUD, with funding from Microsoft. The program teaches students about renewable energy and the jobs that use it, like mechanical and electrical engineers, plant mechanics and operators, drivers and powerline workers.
"From our perspective, there's multiple benefits," said Chelan PUD outreach education specialist Bob Bauer. "You're introducing talented kids to hydro careers and then also the pathways to those careers, which helps the kids and it also helps us."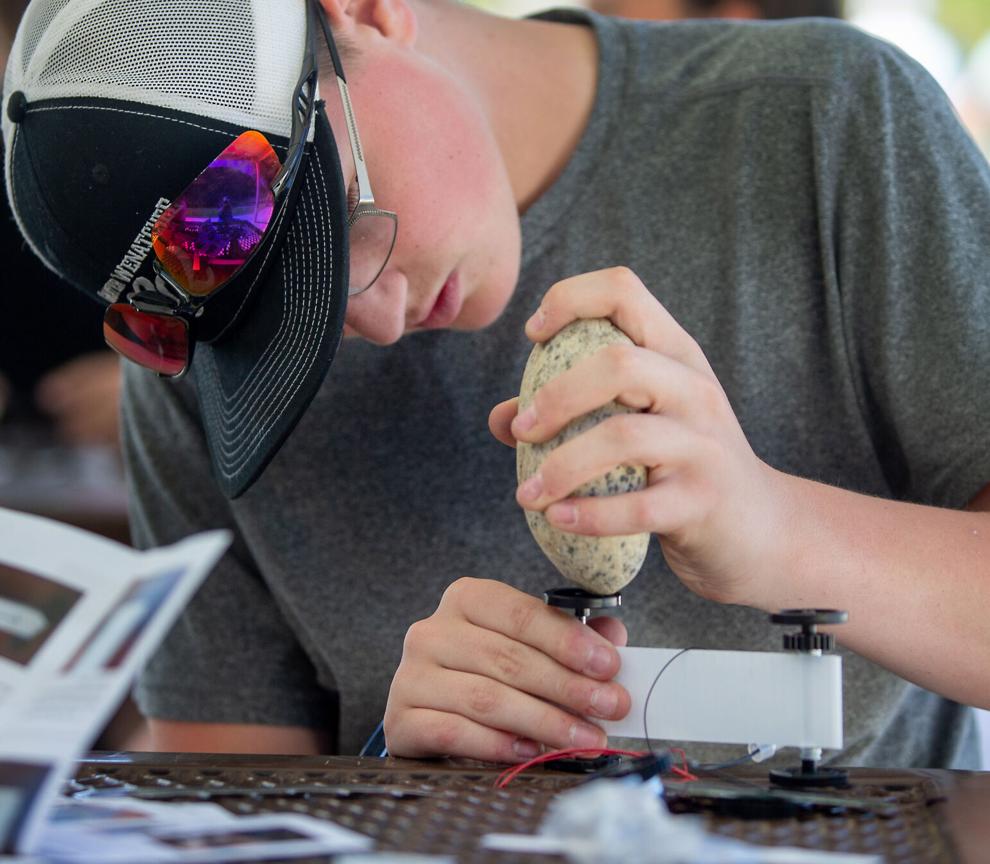 Bauer said a past student who is currently interning at the PUD in pursuit of an engineering degree, came to speak to current students Tuesday. He told them he became interested through the STEM academy.
"Hydro power, wind, solar, these are all things that our region is looking at doing in the next decade and moving forward," said Chuck Allen, a Grant County PUD spokesman. "We want to make sure that they have opportunities to help the next generation."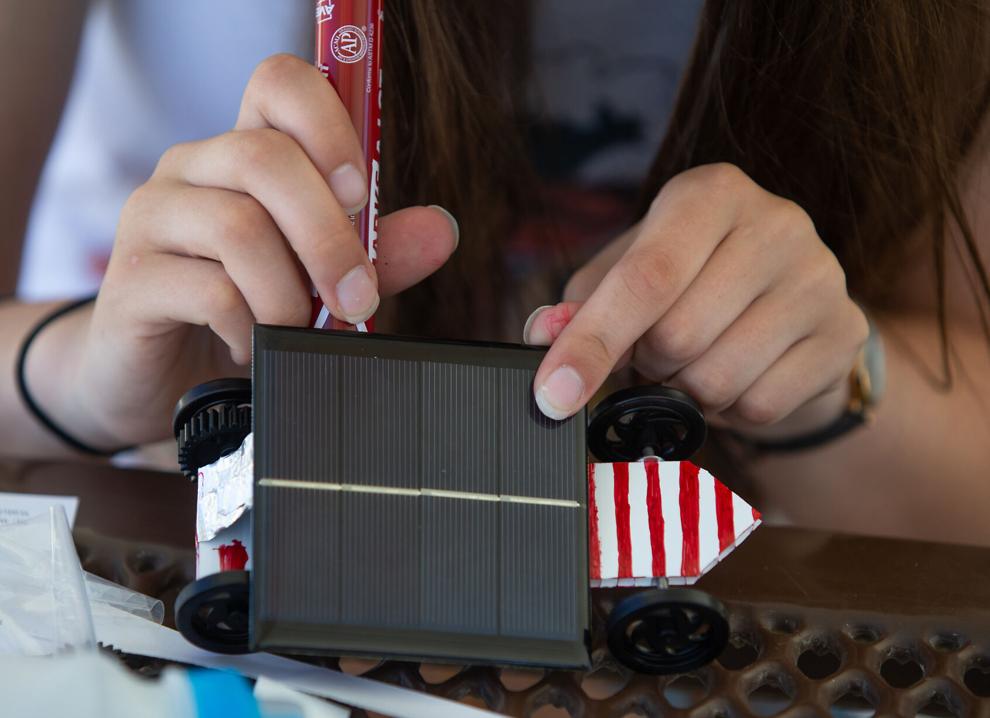 Incoming Eastmont High School junior Austyn Sotherland worked on removing an extra solar panel weighing down her car.
"More power is not always better," she said.
Sotherlund said she heard about the program when Bauer came to speak in her Spanish class.
"I wanted to become a lineman, and I heard that they were going to showcase stuff like that," she said.
Sotherlund and the other students donned spiked shoes Monday and climbed 50-foot poles during a powerline worker session.
Students took a trip to Lake Chelan Powerhouse and built model dams Tuesday after learning about hydro power.
Wednesday focused on solar power in partnership with Grant PUD.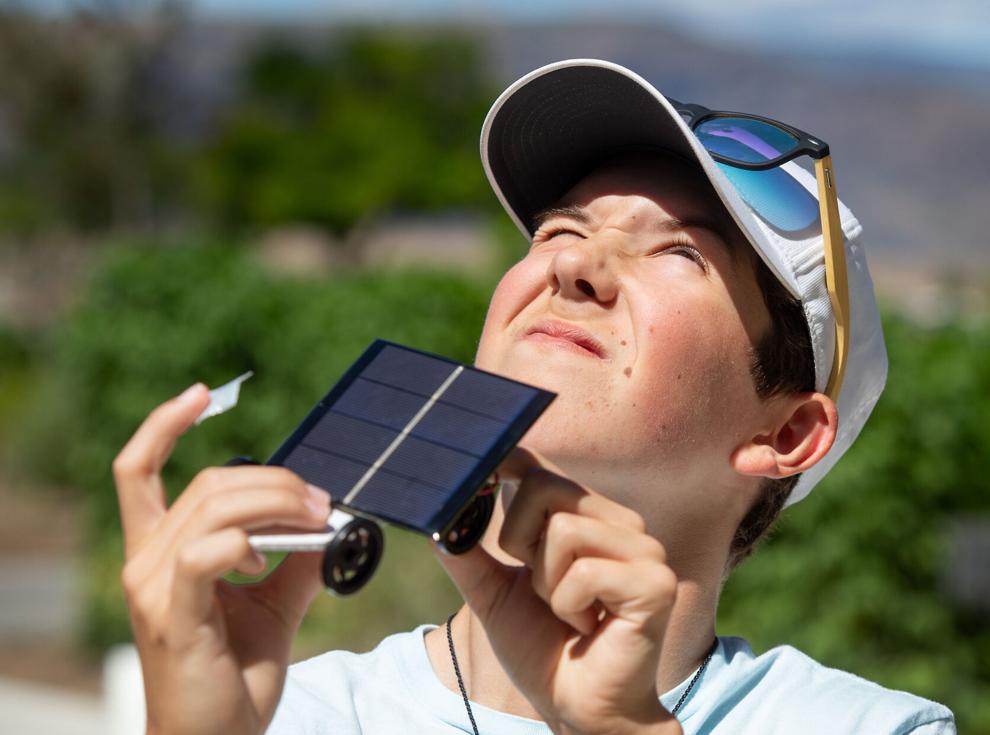 At another table, incoming Wenatchee High School student Kai Mueller's car fell apart in his hands.
"I hate washers!" he exclaimed. "If only we had some graphite, or maybe some lead."
While the car kits didn't include graphite or lead, they came ready-to-go with solar panels and a motor, wheels, gears, axels, washers, straws, a plank and foil tape. Students used a hot glue gun to keep everything together.
"Keep working on it, man, you can't give up on it," Bauer said to a student. "Never surrender!"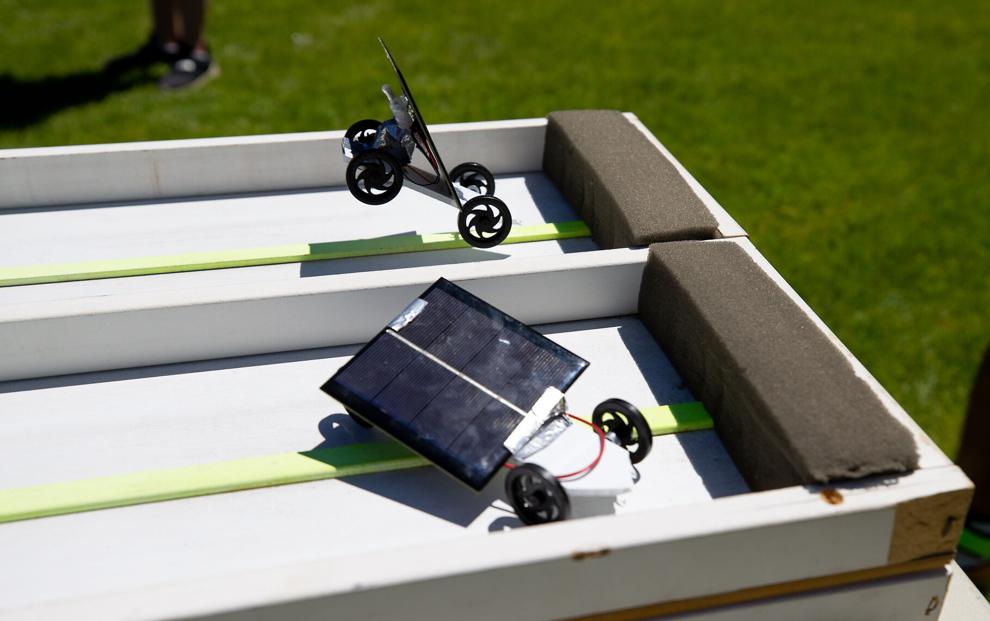 After some tweaking and a successful test run, Mueller returned to the table.
"I got it to go faster," he said. "Now that I'm in the lead, I can get some snacks."
Incoming sophomore Kate Jacobson from Cashmere drew red racing stripes on her finished car, and pointed out the placement of her solar panel.
"I kind of wanted it at a small angle so the sun would hit it right," Jacobson said.
After more adjustments and practice runs, it was time for the race to begin.
"If your car goes in reverse, you're not getting college credit!" Bauer joked.
Students ran their cars twice down a 24-foot plank to receive an average time.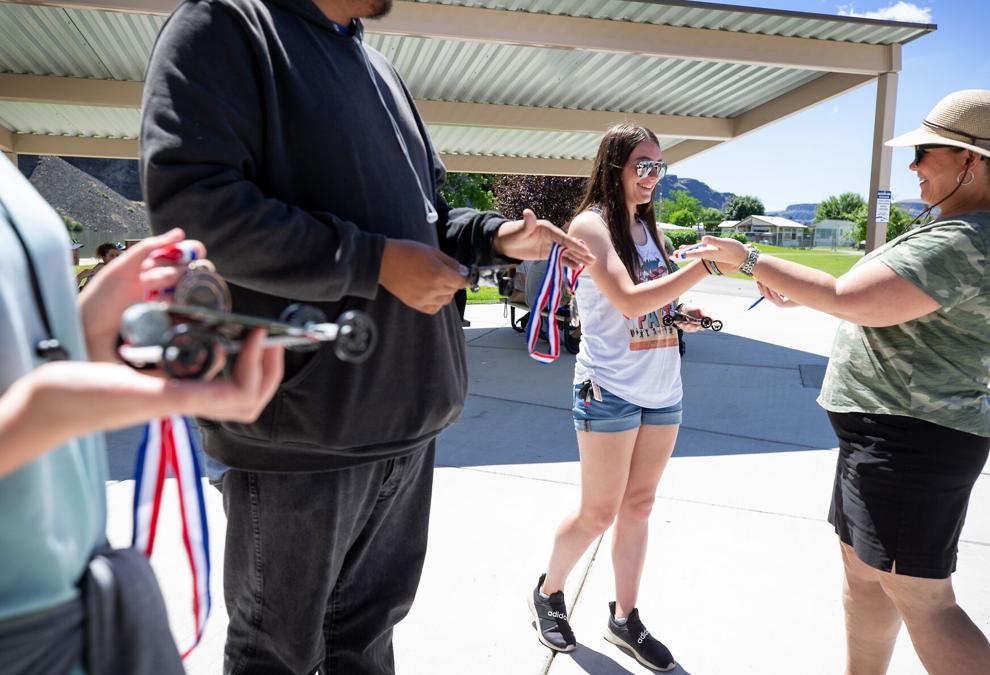 Whether it was the low-angle solar panel or the red racing stripes, Jacobson's car came out on top with an average run-time of 2.97 seconds.
She and the runners-up were awarded medals for their efforts, but everyone enjoyed a sandwich lunch and some free time at the recreation area.
The rest of the week includes a STEM project management module, a visit to East Bank Fish Hatchery near Lincoln Rock State Park in East Wenatchee, learning how to fly a drone and how the industry uses them, and more.
This story has been updated to clarify that the campers did not climb power lines, but 50 foot poles to simulate power lines.