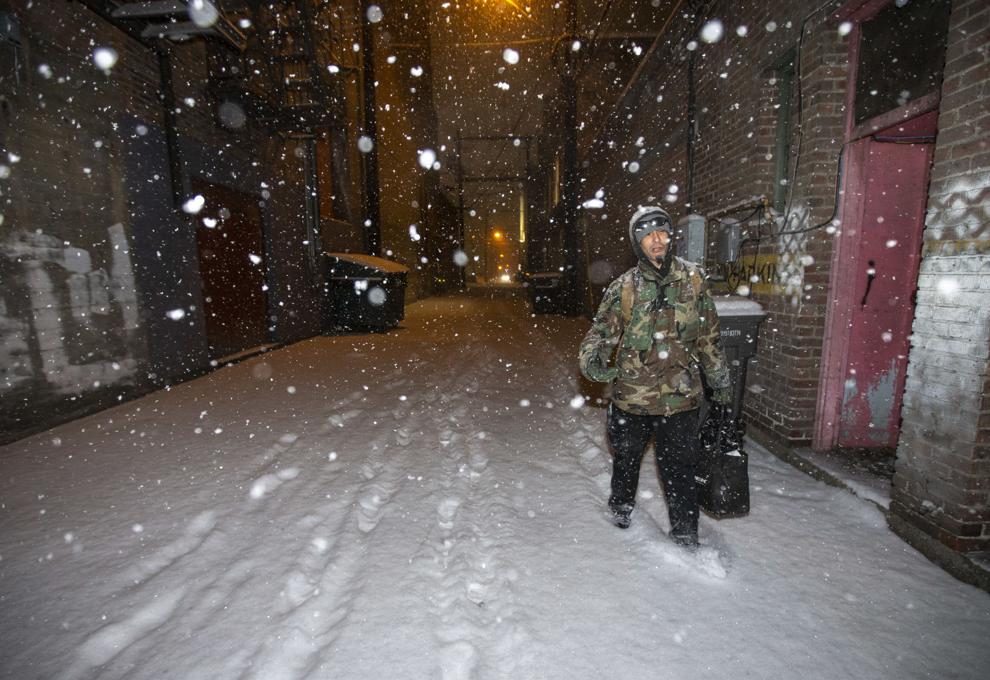 EAST WENATCHEE — Keith Stearns wagged his finger at the little brown dog barking for more fried chicken.
"Inside voice," he said before giving her another piece of a KFC wing from his plate.
The 1-year-old Chihuahua and terrier mix has been a loyal companion to Stearns, who's been homeless in the Wenatchee area since May after losing his job and getting evicted.
"Homeless people, they kind of look after each other to a point," said Stearns, 54. "But there are some out there that don't care. It's a little different with a dog. At night, if anybody walks toward me, she lets me know, if they make a threatening move toward me. She's really protective."
He and the dog, Breyanna, have spent most nights at Holy Apostles Catholic Church in East Wenatchee since it opened a severe-weather shelter Dec. 1. First United Methodist Church in Wenatchee opened a severe-weather shelter for women Dec. 19.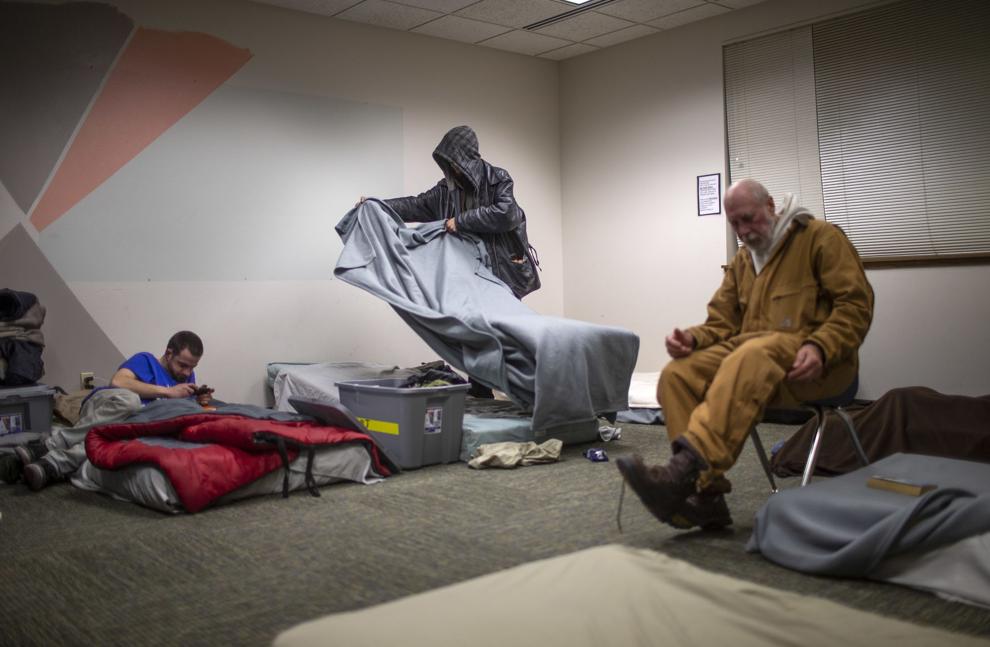 If it weren't for the shelter, Stearns said, he'd probably be sleeping outside — in parks, along the river, anywhere he could. It's hard.
"Never know if you're going to have your stuff the next morning or not," he said.
He said he used to do maintenance at a trailer park and lived on site, but he was fired and evicted last year.
"I was helping a couple people that were homeless," he said. "I let them stay with me. I had people stay that the landlord and owner didn't like."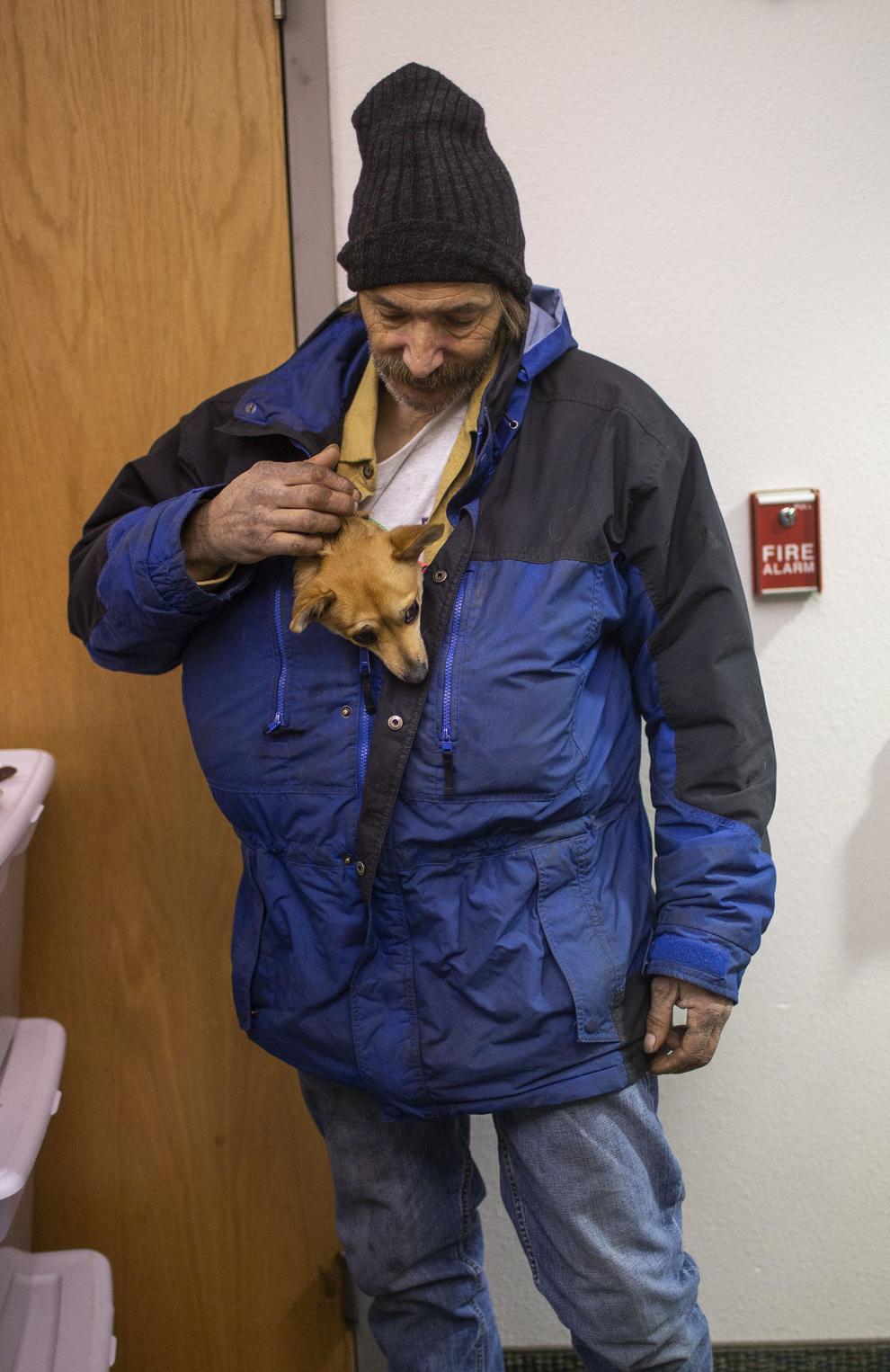 Now, Stearns said he relies on food stamps and odd jobs. Back problems that began when he was a teenager and have worsened after years of working in construction have made it hard for him to find work.
He said he lost his driver's license after being unable to pay a fine and is trying to get it back so he can start working again.
This past Sunday, Stearns was arrested on a Douglas County warrant for failure to appear in court on a drug paraphernalia charge. He spent the night in the Okanogan County Jail and said he hitchhiked back to Wenatchee.
With temperatures dipping into the teens this week, Stearns was especially grateful to have a warm place to sleep. He picked up Breyanna and the dog snuggled into his jacket.
"She's my little girl," he murmured.
'Put myself in their shoes'
Stearns was one of 16 men staying at Holy Apostles Tuesday night. The shelter is run by Gary and Susan Steele of the People's Foundation.
Gary Steele said they try to limit it to 10 people, but there's some wiggle room when it's particularly cold. They work with the coordinated entry systems of Catholic Charities and the Women's Resource Center, and local day shelters have also spread the word.
Women are picked up between 7:15 and 7:30 p.m. at Columbia Station downtown and taken by van to First United Methodist, where the WRC runs another severe-weather shelter. Men are picked up between 8:15 and 8:30 p.m. at the station and arrive at Holy Apostles by about 8:45 p.m.
Men are out the door by about 6:40 a.m. and taken to Lighthouse Christian Ministries, whose day shelter in Wenatchee opens at 7 a.m. Sometimes people ask to go to Powerhouse Ministries' day shelter in East Wenatchee.
"We're finding out the majority of the homeless, probably 90%, are single men," Gary Steele said. "... There was one woman who didn't make the women's shelter one night, so we had her just stay here. We will take them in emergencies. ... We have about 45 (men) that kind of come and go. Out of that there's probably a core group of about six or seven or so."
They've also sponsored the $10 per night cost for people to stay at Lighthouse's Gospel House emergency shelter when there's no room at the church.
The Steeles helped start homeless shelters when they lived in Olympia. Being Catholic, they figured they'd ask Holy Apostles' Rev. Argemiro Orozco for help opening a local temporary shelter.
A back section of the church, including the library and gym, is used for the shelter. People can take a shower and get a bite to eat.
Church members and other volunteers have donated winter coats, socks and food. A grant from the city of Wenatchee helped with buying mattresses, which are stored in a shed.
Susan Steele said the foundation has also hired people, several of whom were once homeless, to help run the shelter.
"We've had some medical issues in the middle of the night, so some of our hosts that are spending the night have taken the men," she said. "We had one gentleman with really bad frostbite. He was in such pain, they took him to the hospital in the middle of the night."
Identification and sobriety aren't required for the shelter, but it doesn't allow higher-level sex offenders. There are occasional arguments between guests, Susan Steele said, but for the most part, people get along.
Wenatchee resident Missy Raymond and her family, including 9-year-old daughter Lexy, bring in food like pizza and cookies — or, this week, KFC — Tuesday nights. She pays for it herself.
"I always put myself in their shoes and I'm like, 'Oh my gosh, it's cold outside. What can I do to help out?'" Raymond said. "Also with my daughter, bringing her in so she can learn to give to others. That's my passion: helping others."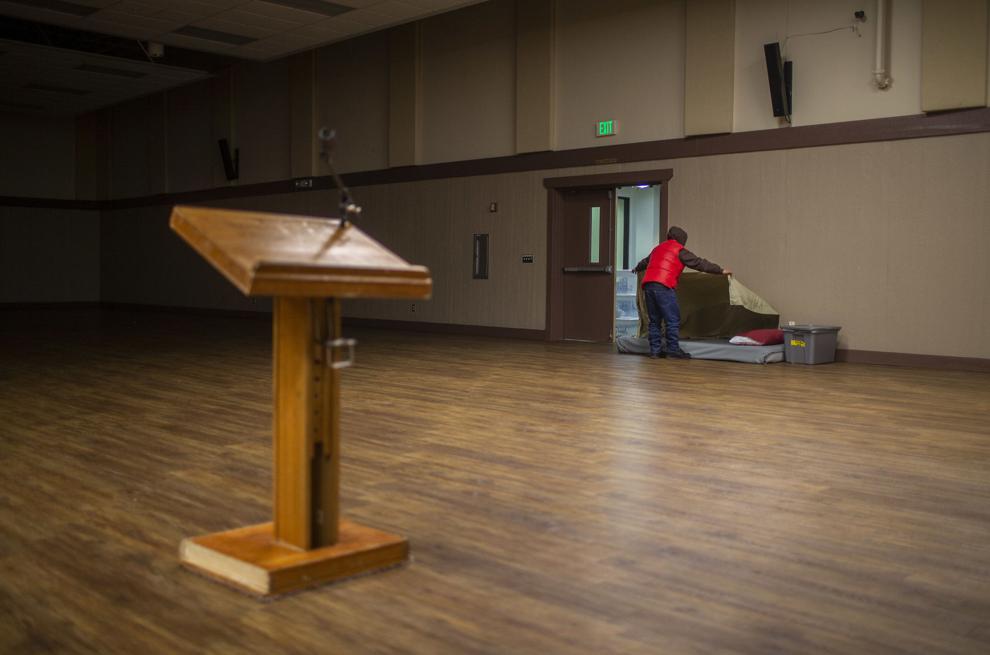 'Called to do that' | Church operates women's shelter
For the Rev. Sheila Marie, associate pastor of First United Methodist Church in Wenatchee, the answer to the question of opening a severe-weather homeless shelter was 'Why not?'
"The consistent comment was, 'I don't see how we can't do that,'" she said. "There's a need that's clear, and we're in a good spot for that. We had a perfect setup here with a room large enough to accommodate 10 or more and restrooms and so forth."
Although some members initially had reservations, church leadership ultimately voted to approve the shelter, which opened Dec. 19. It's geared toward women and children, as a men's shelter had already opened at Holy Apostles Catholic Church in East Wenatchee.
The Women's Resource Center runs the shelter at First United Methodist. Other local churches couldn't open as shelters because they didn't have fire sprinklers.
After being picked up at Columbia Station by a van operated by the People's Foundation, women arrive at the church by about 8 p.m. They leave by about 7 a.m. and are taken to Lighthouse Christian Ministries' day shelter in Wenatchee or, sometimes, Powerhouse Ministries' day shelter in East Wenatchee.
"It's been running smoothly, there's just not that many people coming," said Kyle Folden, shelter coordinator for the WRC. "We kind of had more people coming for a while. The biggest night was five, but I'd say the average is between two and three."
Two women were at the shelter Wednesday night, but declined to be interviewed.
"These two have been coming for the last few nights, and they hadn't come before," Folden said. "They're the new regulars."
He said there have been a couple of arguments between guests, but nothing major.
Along with a warm place to sleep, the shelter offers light foods, such as chips, granola bars, yogurt, oatmeal or ramen.
Older male children are allowed, unlike at some shelters, as are pets. Sobriety is not required, though people can't engage in alcohol or drug use while in the shelter.
Tracy Faulkner, program director and outreach coordinator for First United Methodist, said the shelter has helped a total of 14 people. Three women have gotten housing since their stays, she said.
Staff members from the church and WRC keep the shelter going, along with volunteers.
Grace Lutheran Church in Wenatchee has provided many volunteers, including Milt Herman.
"It's hard to sit in church and listen to the Gospel and not respond in some way," Herman said. "It's really basic in what we're supposed to be doing. … It's not necessary that I know them very well. We're just called to do that sort of thing."
"Rotary, their worldwide model is 'service above self,'" he said. "That's very Gospel."