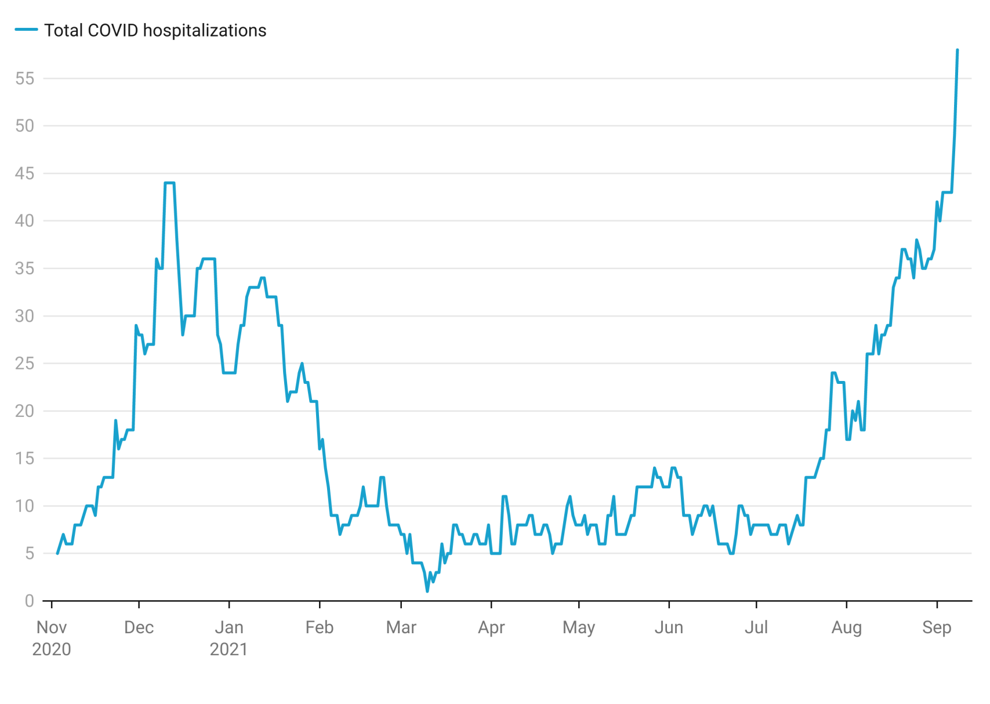 WENATCHEE — Central Washington Hospital continues being pushed to its limits as COVID-19 admissions reach higher counts. Tuesday saw 12 new COVID-19 admissions within 24 hours, the highest single-day increase since the pandemic began.
As of Thursday morning, 58 patients were hospitalized at Central Washington Hospital due to COVID-19, according to Confluence Health spokesperson Andrew Canning.
The total COVID-19 hospitalization count dropped to 56 Wednesday evening but has since jumped back up to 58 as of Thursday.
Twelve people are in the intensive care unit, a two-person increase from Tuesday. Among the 58 people hospitalized, 10 are fully vaccinated, Canning said.
The total hospital census sits at 159 beds. Excluding 17 beds filled by people in the mother-baby unit, 142 beds are available, he said in an email. As of midnight Tuesday, about 41% of the hospital's available patient beds were occupied by COVID-19 patients, Canning said.
"Hospital capacity continues to be managed by delaying non-emergent procedures requiring a stay in a hospital bed and by discharging patients as soon as we are able to do safely, Canning said in an email. "To date, we have not had to turn away any patient requiring emergent care but we are becoming stretched too thin."
Since Aug. 27, Canning said that 11 hospitalized COVID-19 patients have died — eight of them residents of Chelan and Douglas counties.
The deaths have since been reported to the Chelan-Douglas Health District but will not be published by the health district until the cause of death is reported on the death certificate, Canning said.
"We are frustrated," Dr. Peter Rutherford, Confluence Health CEO, said in an email. "Hospitalizations across Washington state are escalating at a pace we have not observed since the highest COVID-19 peak. When our hospitals, emergency department and ICU becomes full, that means a staffed hospital bed may not be available when you and your family need urgent or intensive care, whether for COVID-19, or a car crash, or a heart attack or stroke. Vaccines are safe. They are effective, and they can prevent an increased number of deaths from COVID-19. There is still time. People can still get vaccinated."
About 65% of eligible residents in Chelan County are fully vaccinated, according to state Department of Health data. In Douglas County, the percentage is at 58%. Grant County has the lowest percentage among counties in North Central Washington with 52% of the population fully vaccinated.
Local COVID-19 case rates do show early signs of being on the decline, according to Chelan-Douglas Health District data.
As of Sept. 6, the Chelan-Douglas area saw 1,000.7 COVID-19 cases per 100,000 population in the last 14 days, according to health district data. On Aug. 30, the 14-day rate was 1,074.5 per 100,000.