WENATCHEE — It'd been a while for the Navy vet.
Maybe a decade or so since his last visit to the dentist, said Herman Weber of East Wenatchee. Now, with a blue bib tied around his neck and black sunglasses over his eyes, he was in the care of a fellow sailor.
Dr. Erich Jurges, owner of Sagebrush Dental, on Nov. 15 provided free dental services for veterans in need of a tune up. Weber got a filling.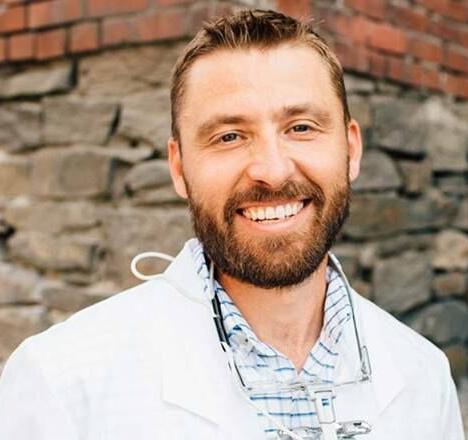 "It was good," Weber said of the visit. "This was something I've been putting off for a while."
Weber served in the U.S. Navy from 1987 to 1991 stationed aboard the USS Dixon, a ship that provided supplies and support to submarines. He left the Navy as a petty officer second class.
His job title, damage controlman, was as its name suggests: fires, dewatering, decontamination. More succinctly: "I got to go out there and make sure it didn't sink," Weber said.
Fortunately, there weren't too many close calls, though water, as you might expect, could pose a problem from time to time.
He described an instance in which a senior enlisted sailor was showing a new sailor how to use a rodmeter, or pit sword, a device that extends into the water from the bottom of the ship to measure speed.
Well, they missed a step and "major flooding" followed, Weber said.
Jurges served in the Navy from 2001 to 2010 as a naval special operations officer, specializing in explosive ordnance disposal. In 2006, he deployed to Iraq and dismantled 198 improvised explosive devices.
Jurges was approached by veterans advocate Ron Bruno to perform dental services at the annual North Central Washington All Veteran Stand Down in September. Preferring to work out of his office, Jurges left a signup sheet at the Stand Down for anyone interested.
He considered hosting the clinic on Veterans Day but concluded that "No one's coming for a filling on Veterans Day."
Instead, he landed the following Monday. About 10 people signed up for treatment, mostly extractions, fillings and cleanings.
"This was the first time I've done it," Jurges said of the clinic. "I just decided, 'Let's see how it goes.' I think it's something I can do annually."