WENATCHEE — Six traffic circles and two bike lanes are among the changes the city will be making to First Street this summer in an effort to improve bicyclist safety.
Traffic circles will be installed at the intersections of Garfield, Franklin, Emerson, Delaware, Cleveland and Buchanan.
Two 5-foot bike lanes will be added between Chelan and Wenatchee avenues, along with two 3.5-foot buffers to separate bicyclists from other traffic. Currently there are two driving lanes and two parking lanes, but one of those parking lanes will be removed.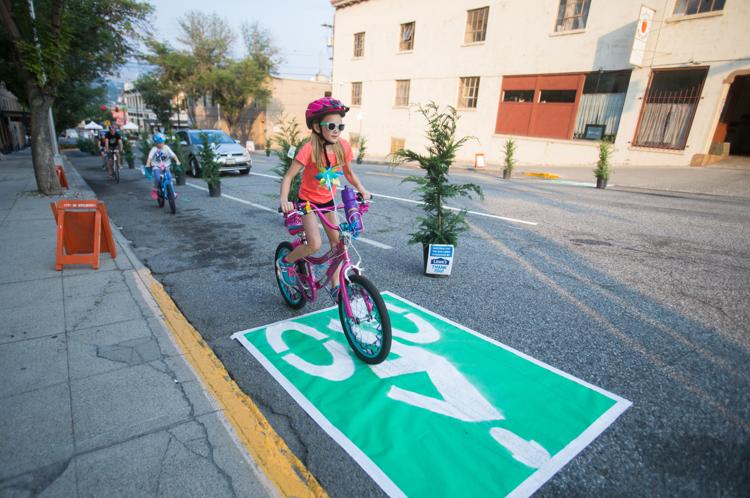 A contraflow bike lane will run against vehicle traffic from the RiverWalk Crossing pedestrian bridge to Wenatchee Avenue.
The city will also add street marking in a few spots to indicate where people should cycle. At Miller Street and Wenatchee Avenue will be bike boxes, which are painted spaces before an intersection to allow bicyclists to cross ahead of other traffic.
An open house for the project is set for 4:30 to 6:30 p.m. Wednesday in the foyer of the Numerica Performing Arts Center, 123 N. Wenatchee Ave.
"The point of the project is to establish a bike corridor for the entire way and slow down cars and hopefully make First Street more a bike- and (pedestrian)-friendly avenue," Project Engineer Emma Honeycutt said. "If vehicles want to use an arterial to get downtown, we're hoping they won't just cut down First Street anymore. … If they're just looking for a through route, there's a lot of other arterials that are more conducive to that. The reasoning for putting the traffic circles at every intersection is just to maintain the route continuity and traffic calming throughout the corridor."
Traffic circles are similar to roundabouts, she said, but they're smaller and people can't drive on them. Larger vehicles like buses, garbage and fire trucks can get around them, and motorists can also turn ahead of a traffic circle instead of going around it.
"We did a popup almost three years ago now where they simulated the condition that it's going to be, and it received a lot of positive feedback, which is why the city went in that direction," Honeycutt said. "I know there's always concerns with parking and there's some concerns with roundabouts in general. I think these are going to be a really good thing for the neighborhood in that location. I also think we're all getting better at driving roundabouts every day, so this will be another opportunity to get people (accustomed) to them."