WENATCHEE — When I came out to Washington by myself in July, I had no intent of finding love. I was a career girl — I only had time for work, not for romance. Yet, there were nights I found myself lonely and scrolling through different websites before picking up the phone and scheduling a date. When we met that rainy Monday morning, it was love at first sight.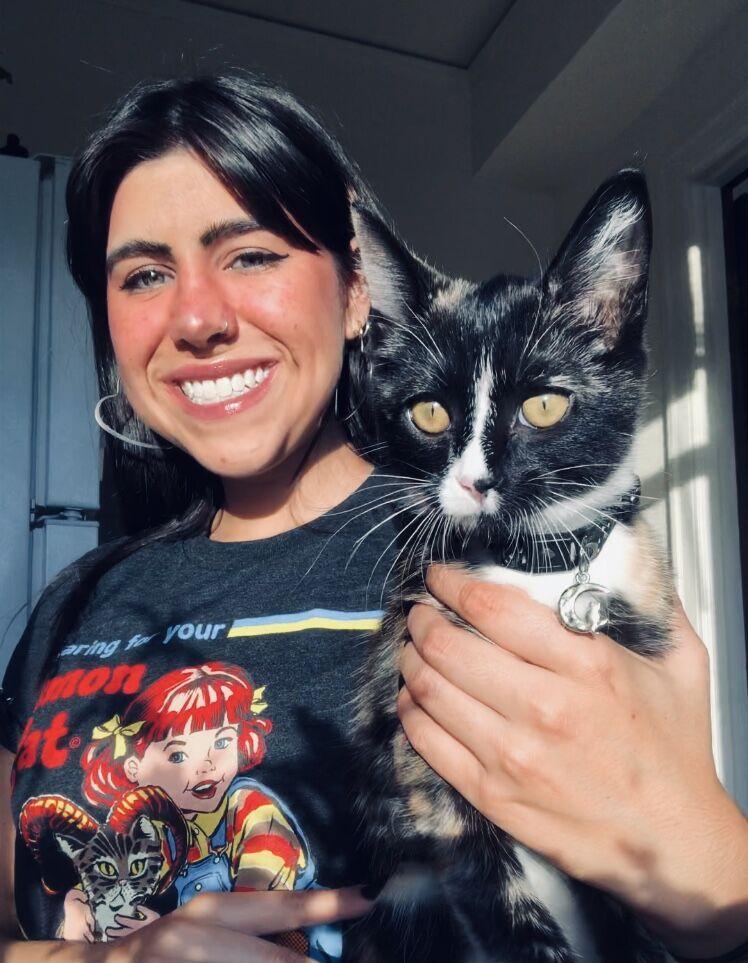 Her name is Mystic. She has beautiful green eyes, white mittens and a speckled nose. She waits for me when I get home, she sleeps with me, she cuddles and she purrs. She's my adopted six-month-old kitten from the Wenatchee Valley Humane Society, and she's stolen my heart.
Mystic is just one of the many pet adoptions from the Wenatchee Valley Humane Society in 2020. While some Washingtonians were surrendering their pets due to financial reasons at the start of the pandemic, the trend has since shifted. From Jan. 1 to Nov. 20 of this year, there have been 2,143 adoptions at the Wenatchee Valley Humane Society, which is 123 more than the same period last year, according to Executive Director Dawn Davies.
"It's a wonderful uptick," said Davies.
Adoptions include 1,183 cats, 745 dogs, 46 livestock animals, 35 rabbits, 13 rodents and 2 reptiles. At the Humane Society, most surrendered animals were returned to their original owners, and most pets fostered at the beginning of the pandemic resulted in "foster failures," meaning fosters turned into longtime pets, according to Davies.
In a time of increased isolation, pets can provide a positive influence. Americans are at an increased risk for mental health challenges such as anxiety, depression and loneliness due to COVID-19, according to the CDC. Pets can provide increased opportunities for outdoor activities, socialization, companionship and sense of responsibility and help decrease blood pressure and cholesterol levels, according to the CDC.
Mystic is registered as my emotional support animal, and has been a positive influence on both my mental and physical health, especially when quarantining. Being responsible for a pet's wellbeing also reminds me of my own, because if Mystic needs food, water, sleep and playtime, I probably do, too.
"What we're really finding is that because people are home more, they are with their animals more," said Davies. "Having a new cat, or a dog, or a rabbit, is a great shelter buddy, so to speak."
The Wenatchee Valley Humane Society initially closed under Gov. Jay Inslee's shelter-in-place order in March. Most animals were moved to temporary foster homes during the order. When essential businesses could reopen, Davies and other staff members decided to reopen an essential part of public safety and animal safety.
The Humane Society also runs the Wenatchee Valley Animal Care and Control for Chelan and Douglas counties, with the bulk of the sheltered animals coming from animal-care-and-control-related activity.
Spay and neuter clinics also closed under Inslee's shelter in place order during the spring, which is peak time for litter season. The lack of surgeries contributed to a rise in adoptable animals later in the summer.
"I really think that affected the number of kittens born this year," Davies said.
The Humane Society has reopened for appointment-based adoption. To view a pet or make an adoption, interested owners go to the Wenatchee Valley Humane Society website — wenatchee humane.org — and browse pets up for adoption. If they are interested in a specific animal, they can call to schedule a half-hour appointment to meet and play. All adoptions are first come, first serve.
While pet adoptions are currently on the rise, Davies worries about the years to come as the pandemic continues. Depending on the length of the pandemic, families that may have been able to financially care for a pet may find themselves unable to do so in the new year.
Surrendering a pet to the Humane Society is usually the last option for owners, said Davies.
"Pets are becoming part of the family," said Davies. "They are going to love you no matter what."
For me, Mystic is magical, and I can't wait to spend the rest of her nine lives together.