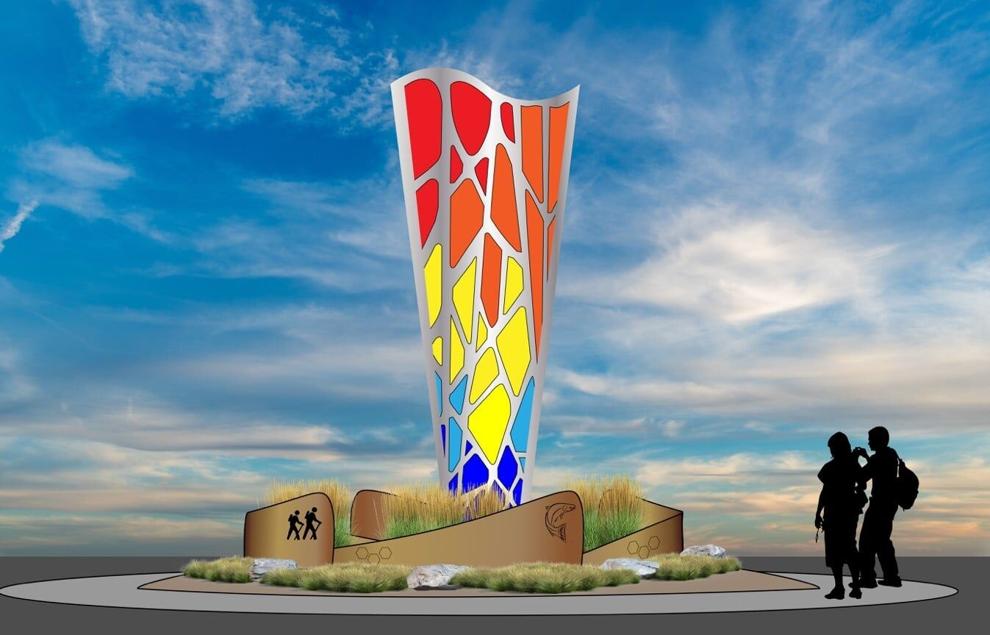 WENATCHEE — Drivers near the planned roundabout at Highway 2/97 and Easy Street will see some new artwork when the intersection is installed in 2023.
The Wenatchee Parks, Recreation and Cultural Services Department has selected five concepts for public review and comment on the department's social media page and at its office on McKittrick Street until March 15.
The process began in late 2021, said David Erickson, department director, when his department was assigned by the Wenatchee mayor's office to "create an iconic focal point in the roundabout." A call to artists was sent to more than 200 artists from the "small works roster" in November 2021.
"There are on average 40-50,000 vehicles that pass through the intersection each day and they (mayor's office) wanted something that was more interesting than just pavement or gravel in the center of the roundabout," he wrote in an email.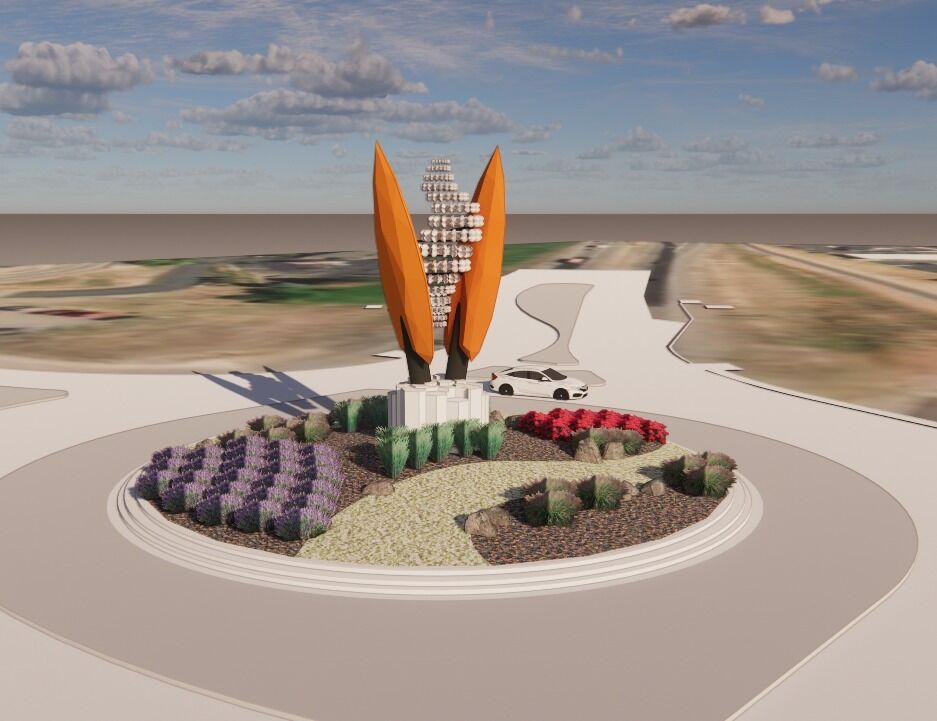 Four artists submitted ideas by the Jan. 3 deadline, and an evaluation committee narrowed the field to three by Jan. 11. Those three prepared five concepts total by Friday's deadline. The concepts were also were sent to the Washington State Department of Transportation and Chelan County PUD.
The artists will answer questions from another evaluation committee at 4 p.m. March 15. It will be broadcast on the city's YouTube channel.
One concept by Thad Brewer and Gregg Schlanger is called "Strength." It consists of five pieces measuring 20-by-6-feet and 6 inches deep. Each would have three glass panels of women in Wenatchee's past, present and future.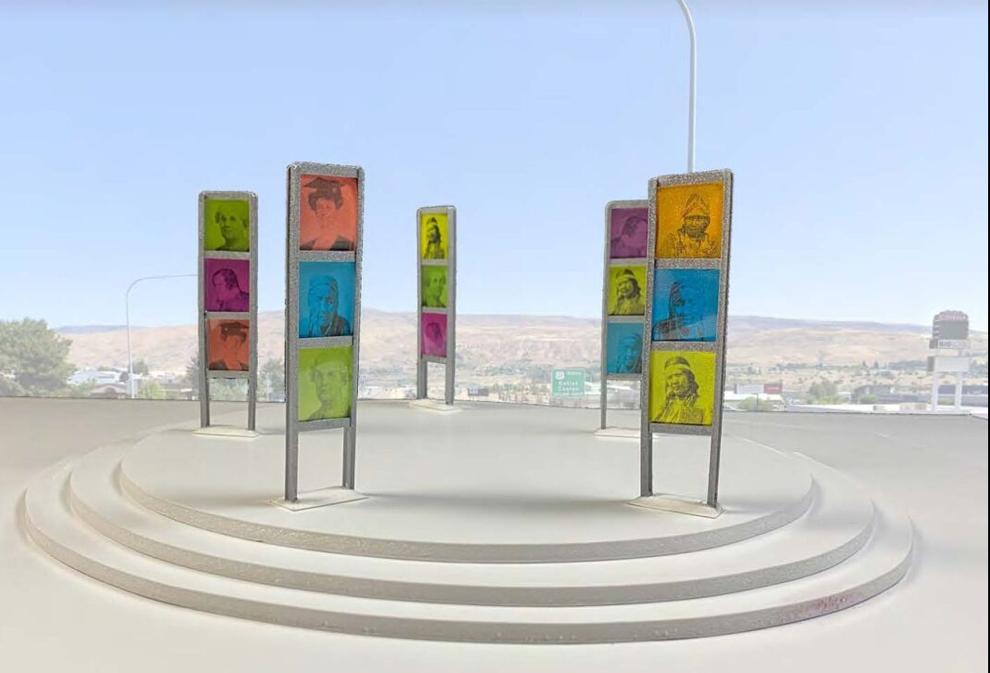 According to Brewer and Schlanger, the women so far include Christine Quintasket, the first Native American woman to be a published writer in 1933; Minnie Simmons, Wenatchee's first woman doctor; Belle Reeves, who was elected to the state Legislature in 1922, and became the first woman in 1938 to serve as the state's Secretary of State; and Elsie Parrish, who was a chambermaid at the Cascadian Hotel (now Cascadian Apartments) in downtown Wenatchee and sued the hotel for back wages in the U.S. Supreme Court in 1936, which upheld her claim.
"As artists influenced by our mothers, wives, and daughters, we recognize the critical impact women have on our lives and our society," the artists wrote in a presentation. "Women are the trailblazers that are instrumental in defining who we are as a community and culture. This piece will honor the women of Wenatchee that have paved the way for so many to follow."
A concept by Miles Pepper, called "Rainmaker," "represents the complex mechanized system of water distribution benefiting everyone in the region," he wrote in an email. It was inspired by "a thesis submitted by Amanda L. Van Lanen in 2004 (that) outlined the history of irrigation and the significance it played for Wenatchee," he wrote.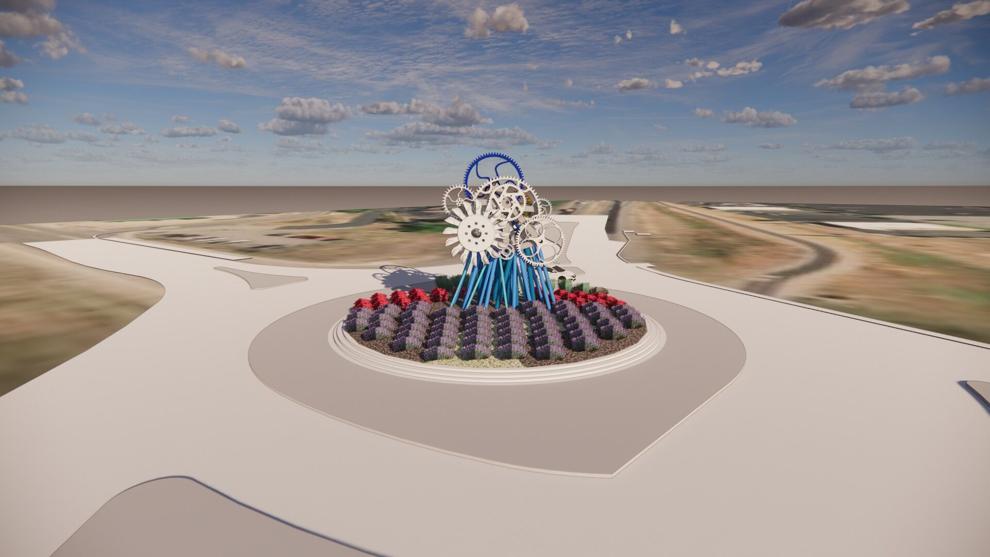 Pepper's "Rainmaker" would be 35-40 feet tall and include aluminum sprockets and gears or stainless steel shafts and hubs and powder-coated or epoxy-painted aluminum. Find out about more concepts at bit.ly/3KqHHyC.
From the artists' presentations next week, comments and "scores based on the evaluation criteria (budget, maintenance, theme, quality, materials, permanence, site appropriateness, schedule)," the committee will submit a recommendation to the Wenatchee City Council, Erickson said. The council would then prepare a contract to include design refinement, materials, detailed budget, installation methods, landscape plans, final engineering, fabrication, construction documents and installation, he said.
The roundabout is a WSDOT project, which is in its "pre-construction" phase, according to the WSDOT website. Erickson said construction of the artwork will coincide with WSDOT's construction in 2023.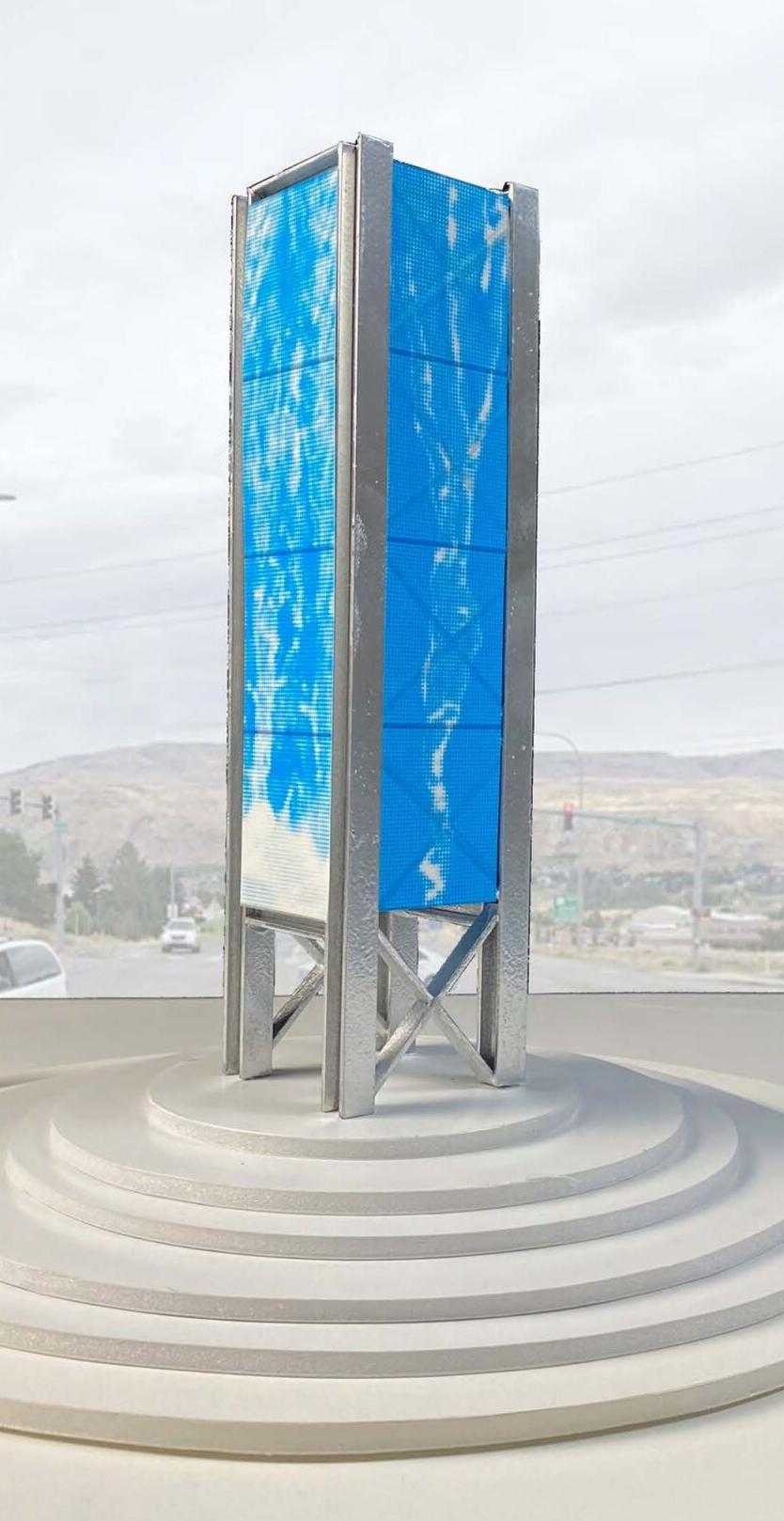 WSDOT's $5 million project is scheduled to go out for bid this winter and is scheduled for completion in summer 2023. It was delayed from this summer, according to Nicole Brockwell, a WSDOT engineer involved with the project, partly because spring traffic is lower. It was not delayed because of supply chain issues, she said, although oil prices could hinder construction in the future. She added WSDOT was "evaluating it (project) as it goes." She also said WSDOT would update its website if/when there were any price increases.
"By being able to build it next year, spring traffic volumes will be a lot lower and hopefully the overall impact on traffic will be lower as well," she said.
The main reason for building this particular roundabout was to help increase mobility when traffic is congested, she said. But it also was to help decrease collisions, she added, which are more common in intersections.