NCW — Wind gusts Monday in the North Central Washington reached triple digits at Mission Ridge Ski & Board Resort and nearly 50 mph at Pangborn Memorial Airport.
The National Weather Service reported at 4:55 p.m. sustained winds of 32 mph and a gust of 48 mph at Pangborn.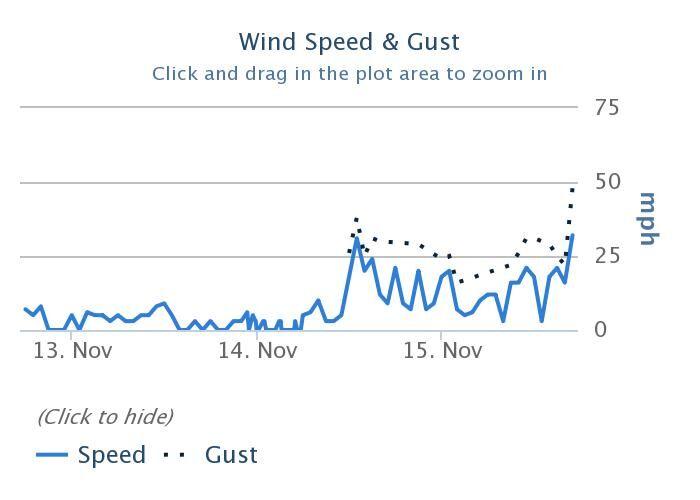 Wind gusts at Mission Ridge reached 100 mph at least three times between noon and 5 p.m. Monday with a high of 101 at noon, according to the Northwest Avalanche Center. Sustained winds stayed above 50 mph throughout the afternoon and into the evening.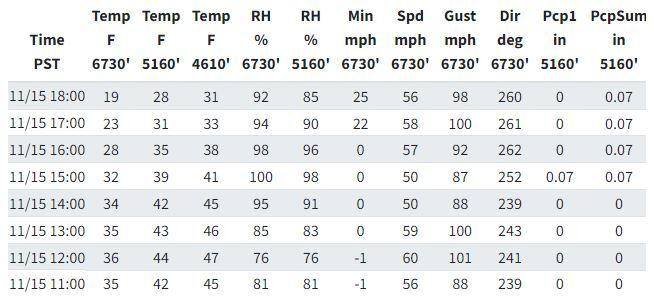 Chelan County PUD on Monday afternoon reported outages in the area of South Shore Lake Wenatchee and in the area of Boyd Loop Road in Manson.
The winds carried over from a blustery Sunday when the city of East Wenatchee's freshly cut Christmas tree was blown over. The 30-foot tree had been up for about a week, replacing a tree that broke in two as it was being loaded on a truck.
Winds speeds weren't the only thing that went up: waterflow in the Wenatchee River surged over the weekend. Friday morning, the river was flowing at just above 2,000 cubic feet per second in Monitor; by 5:30 p.m. Monday the river reached 17,500 CFS, according to the U.S. Geological Survey. That's on par with peak spring runoff levels.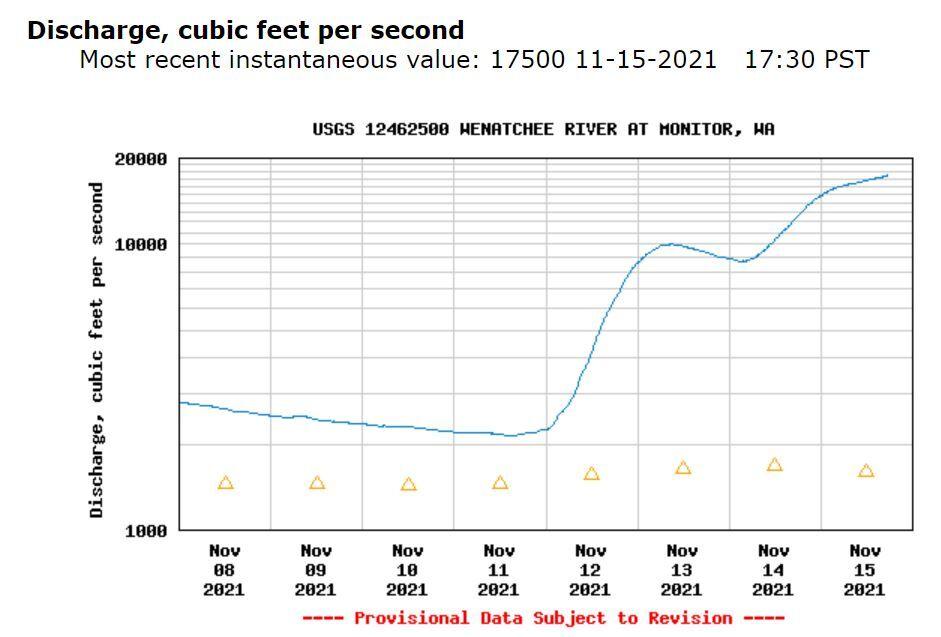 Chelan County spokeswoman Jill FitzSimmons said some trees went down on county roads between 5:30 and 6:30 p.m. Monday night.
"The crews removed the trees last night. There were two trees in the Leavenworth road district, two went down in the Chelan district, and one in Cashmere," FitzSimmons said. "The Leavenworth one, it was up on White River Road. The area is pretty saturated. There was some water on White River Road but it has receded."
There were no other real water issues reported, she said, and no trees damaged any property.
"When I was talking to the road supervisor, he was saying we made out well considering the high winds," FitzSimmons said.