WENATCHEE — Confusion, terror and pain reigned on Aug. 6, 1974, when a railcar holding volatile material exploded in a switching yard in South Wenatchee.
Most people didn't know what had happened, many were frightened for loved ones near the blast zone, and more than 70 people were cut by flying glass as windows broke throughout the Wenatchee and East Wenatchee area.
Two men were killed, one a railroad worker and the other a transient. It would take weeks to sort out the damage, which included 100 destroyed railcars, houses knocked off their foundations, a semitrailer torn apart, and a roof damaged by railroad shrapnel that flew across the Columbia River.
The blast also ripped off the front of the old Apple Yard hotel, destroyed the Terminal Hotel, and shattered one side of the Burlington Northern roundhouse.
Flying shrapnel started grass fires on local hillsides. The blast blew a hole 30-feet deep in the ground.
Forty years later, people who were in the Wenatchee Valley that day share their memories.
One of the first people on the scene was Clyde Ballard, then owner of Ballard Ambulance. "It was just chaos," he said. "Dark. Smoke. Shattered buildings."
His first patient was Chris Hartelius, the driver of the semi trailer that had been northbound near the center of the explosion.
"When I looked at the guy in the truck, I thought he was dead," Ballard said. "The truck was blown all to pieces and he was all bloodied up and he wasn't moving."
The top of the cab was peeled off, and rescuers pulled Hartelious through the open top. He survived, but suffered a punctured cerebral artery, broken jaw and numerous facial and chest lacerations.
In East Wenatchee — clear on the other side of the Columbia River — Emy and Dave Opel were in shock. Their house, she said, "took a direct hit with a 43-pound piece of the tank car. ... Thankfully, we had just stepped outside the house prior to this piece coming through the ceiling of our kitchen right over the table."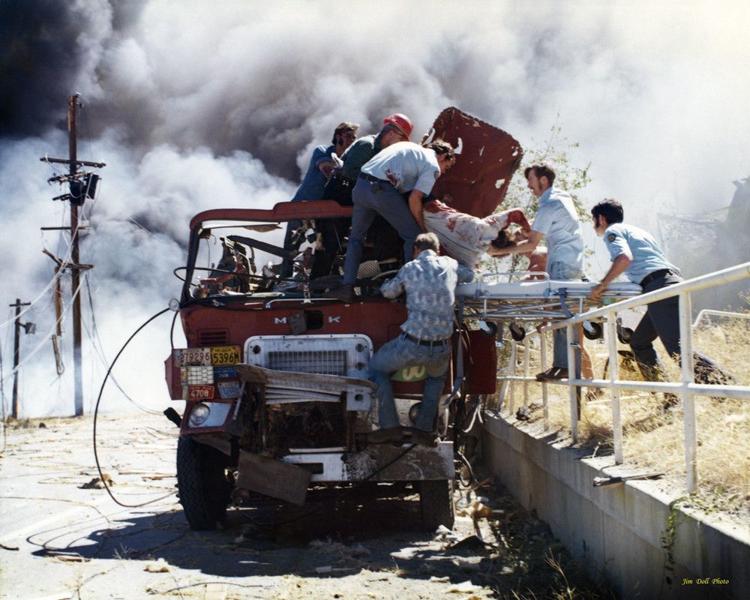 Also in East Wenatchee, James Carlson, an appliance technician for Sears, was worried about fires. He was driving south in the 500 block of Old Rock Island Road when he saw several small ones in a vacant lot.
"I parked in the ditch and grabbed my small shovel," he said. "There were probably six or seven chunks of smoking, red-hot metal firing the cheat grass. ... I recognized one of them as a section of railcar coupling, probably weighing 20 or more pounds."
In South Wenatchee, two blocks south of the blast zone, 4-year-old Carl Murphy couldn't believe his eyes.
"My mother had been standing in front of the kitchen window and the blast blew a huge chuck of glass into her left shoulder," he said. "Everything was in slow motion. I walked out the front door and there is this humongous black plume in front of me."
Murphy recalls his family getting a settlement of about $20,000 for their injuries and demolished house. He says he still bears emotional scars from the incident and "there should have been a multimillion lawsuit here."
Also near the blast zone, 11-year-old Lori Kilgore, now Lori Bookwalter, was unloading the dishwasher in her house when the explosion hit. "It knocked me out," she said. "My brother dug me out of the rubble." Their house, too, was destroyed.
"We lost everything," she said. "I remember walking down the driveway; I think I was barefoot. We had an above-ground swimming pool and it was completely flattened, and water was washing down the road, and I was, like, in a daze. Our camper was flattened and both cars were ruined."
Pam McNulty of Cashmere wasn't at her family's home in South Wenatchee when the blast happened but she learned that both of her parents were injured and she raced to local hospitals. She found her father, Lloyd Carlson, with a badly cut arm at Deaconess Hospital; Her mother, Ruth Carlson, was at St. Anthony's Hospital, in surgery for a torn jugular vein.
"When they wheeled her out of the operating room, I did not recognize her and I fell to pieces and fainted," McNulty said. "She had 500 stitches from the top of her chest to the top of her head."
Both parents, who have since died, survived their injuries but her mother was always startled by loud noises after that, McNulty said.
The family home was knocked off its foundation and shattered, she said. Her parents rebuilt at the same location, which is now called Carlson Loop. The family got a settlement that paid for the new home and for their medical bills.
"It was a pretty traumatic time for the family," McNulty said.