WENATCHEE — Central Washington Hospital reported a 64% increase in non-fatal suicide attempt emergency room visits for patients age 18 and under in 2020 compared to the previous year, according to data received from Confluence Health.
The numbers include visits for self-harm, suicide attempts and suicidal ideation — recurring and contemplative thoughts about suicide. The rise in emergency room visits mirrors statewide and national increase in behavioral health emergencies during the COVID-19 pandemic.
The hospital reported 193 emergency room visits for non-fatal suicide attempts in 2020 compared to 123 visits in 2019. There was one reported youth fatal self-injury under the age of 18 in 2020, according to Chelan and Douglas county coroner reports.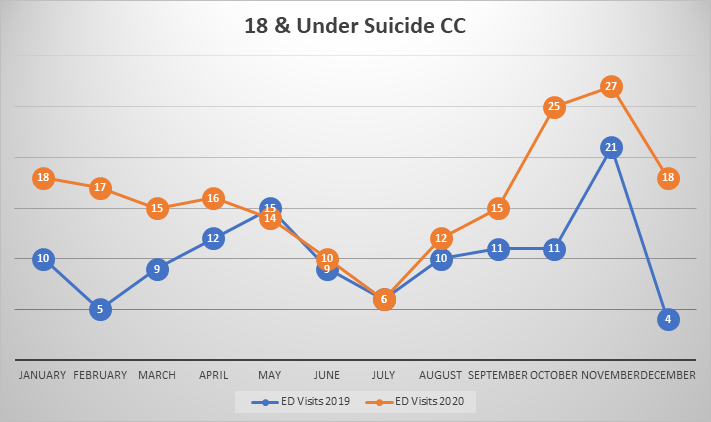 "It does show the same ups and downs in the 2020 numbers as the 2019 numbers," said Tessa Timmons, the behavioral health service line director at Confluence Health. "I think you can see the numbers go lower in the summer, and then once school is supposed to go back in session, but now we're virtual, we get an uptick."
When a youth patient visits a Confluence Health emergency room for a non-fatal suicide attempt, a designated crisis responder with Catholic Charities, which provides the region's crisis management team, is called to perform an evaluation. The designated crisis responder is given a two-hour window to arrive at the hospital, evaluate the youth and decided best next steps, according to Timmons.
If the patient is not receiving behavioral health services, they will be referred to those in the area. Confluence Health does not provide inpatient hospitalization services for youth under suicide watch, so the designated crisis responder would look for placement in hospitals that could perform proper care. Most of these locations are outside of North Central Washington in Seattle, Spokane or Yakima.
The Washington State Department of Health released a provider alert in December 2020 for primary care providers to screen for suicide risk in youth patients. One in four youth ages 18 and under reported suicidal thoughts since the beginning of the pandemic, according to the National Center for Disease Control and Prevention. In the report, youth ages 18 to 24 reported a 26% increase in suicide ideation.
Suicide is the second leading cause of death for Washingtonians age 10 to 24, according to the Washington State Department of Health mortality dashboard. Proper intervention after a first emergency visit can decrease the chance of reattempt, said Dr. Julie Rickard of the Suicide Prevention Coalition of North Central Washington. Rickard said some at-risk youth never receive inpatient care or proper mental health care to learn suicide prevention strategies due to a lack of proper care after an emergency room visit related to self-inflicted injury.
Across all ages, the Washington State COVID-19 Behavioral Health Impact Situation Report reports an increase in the number of suicidal ideation, or seriously considering suicide, emergency visits and an increase in the number of suspected suicide attempt-related visits per 10,000 emergency room visits in 2021 compared to the previous two years.
If you or someone you know is in a mental heath crisis, call the NCW Behavioral Health Chelan-Douglas Crisis Hotline at (509)662-7105 or (800)852-2923.