OKANOGAN — Pam Johnson took the stage and thanked the hundreds of people who gathered to remember her late husband, Christian Johnson. Then she reflected — How could he be summed up in just a few words? What did he mean to this community?
"A man that loves to fish. Compassionate, selfless, kind, generous, caring, humble," she said. "Always ready to help someone. Believes in giving back to his community and volunteering. Family and friends are important to him. And did I say he loves to fish?"
Johnson, 55, gave back to his country for 22 years as a serviceman in the Army and then in the National Guard. He spent the last 20 years as a firefighter in the Okanogan Fire Department, serving as assistant chief and secretary of the firefighters association.
He was an active member in several community groups, including the American Legion, firefighting organizations and wildlife groups.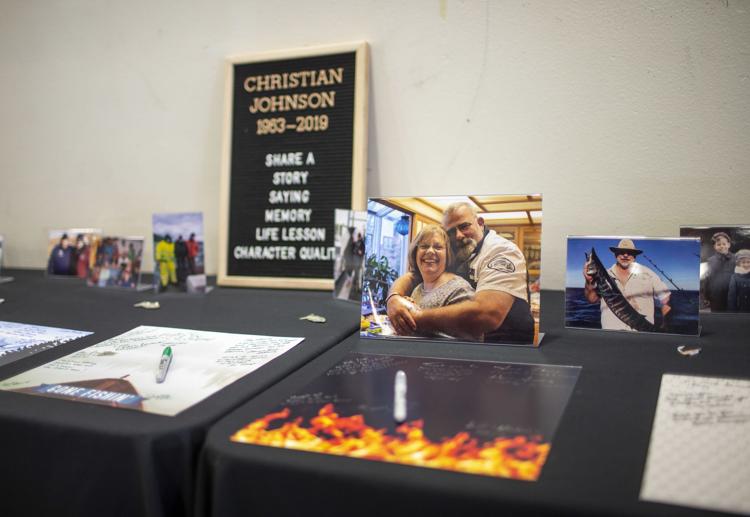 Johnson was injured Sept. 1 while fighting the Spring Coulee Fire south of Okanogan. He died from his injuries on Oct. 3.
Firefighters from across the state and hundreds of community members came together Thursday to memorialize him during a service at the Okanogan County Fairgrounds.
The service began with an invocation from Chris Warren, a chaplain with the Okanogan Fire Department.
"Christian was the kind of guy that was selfless and gave himself to his family, to his friends and to his community," Warren said. "He also just had a lot of fun. Chris lived life to the fullest and had a lot of hobbies, and each of them he was passionate about. When we say he was a fanatic about fishing, that is an understatement."
Johnson's nephew, TJ Johnson; daughter, Sheena Zacherle; and wife, Pam, also took the stage offer their gratitude.
"I would like to thank everyone from the bottom of our hearts for the prayers, positive thoughts and support we have received and are continuing to receive," Pam Johnson said during the service. "This outcry of support from the community is overwhelming and humbling, and exactly why Christian and I love this town."
At the direction of Governor Jay Inslee, Washington and United States flags were lowered Thursday to half-staff at state facilities in memory of Johnson.
Rep. Dan Newhouse (R-WA), whose district includes Okanogan, also paid tribute to Johnson on the floor of the U.S. House of Representatives on Wednesday.
"My deepest condolences go out to Pam and the Johnson family," he said during the speech. "The people of Central Washington are eternally grateful for his selfless service to protect our communities. Chief Johnson, may you rest in peace."