115 years ago — 1906
Articles of incorporation were filed Saturday with Chelan County Auditor Gellatly for the Monitor Orchard Company, with W.T. Clarke, Marvin Chase and Walter M. Olive
. The company is capitalized at $50,000, divided into 500 shares with a par value of $100 each. The purpose of the company, as stated in the articles, will be to deal in real estate, maintain and operate farms and orchards, construct irrigation ditches and flumes and maintain and operate nurseries. The three incorporators will become the trustees and the main office will be in Wenatchee.
, proprietor of the Chelan Meat Market, is a visitor in Wenatchee today.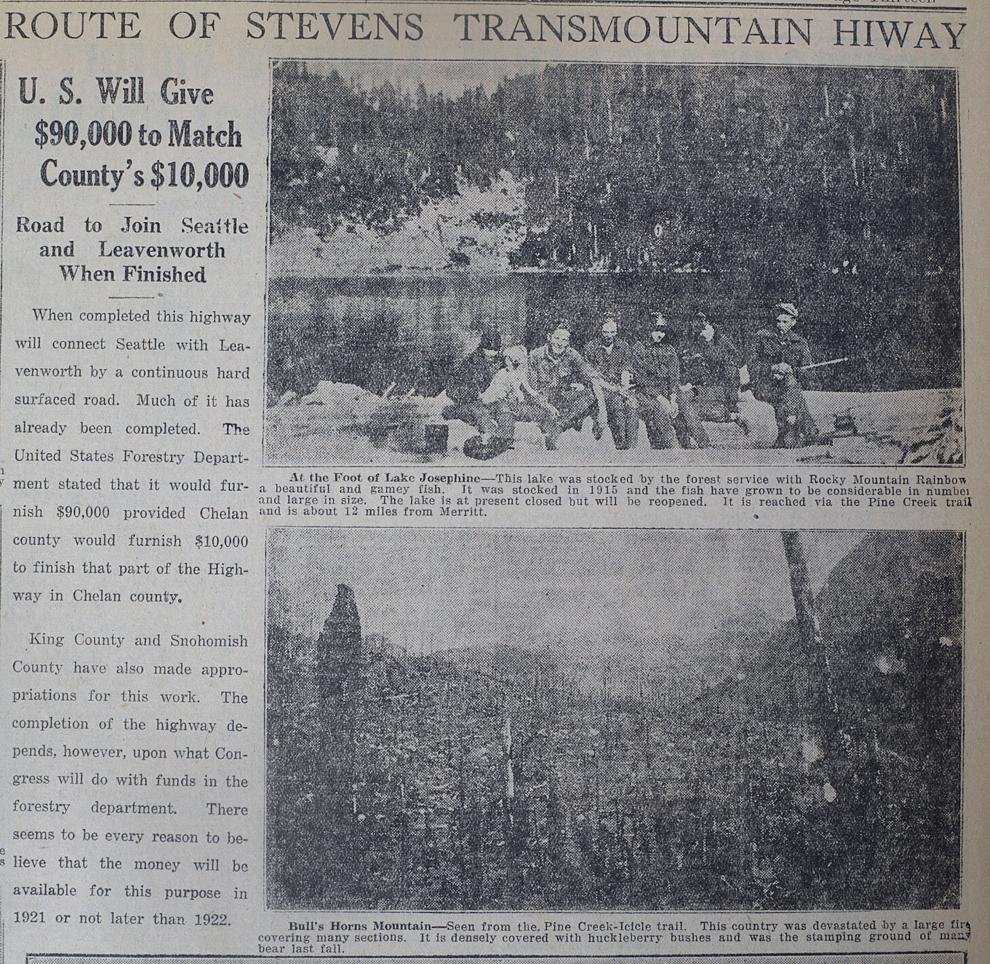 Members of the C.C. Club were entertained Thursday evening at the home of Mr. and Mrs. C.E. Buttles. Among those present were Mr. and Mrs. Frank Reeves, Mr. and Mrs. Carl Christensen, Mr. and Mrs. John Culp, Mr. and Mrs. John A. Gellatly, Mr. and Mrs. A.A. Bousquet, Mr. and Mrs. Frank Ferryman, Mr. and Mrs. U.G. Pogue, Mr. and Mrs. F.D. Case, Mr. and Mrs. W.T. Rarey, Dr. Frank Culp, Catherine Miller, W.O. Parr, Jacob Miller and Nellie Culp.
, who has been spending Christmas at the home of her parents, will return tomorrow to Bellingham Normal School to continue her studies.
a clothing salesman at the Wenatchee Department Store for the last six months, resigned his position Saturday.
, proprietor of the Palace Cafe, made a business trip to Cashmere today.
returned yesterday to Wenatchee after visiting friends and relatives in Warren, Idaho, and Spokane during the holidays.
65 years ago — 1956
lected president of the Chelan County Chapter of the American Academy of General Practice.
, Alcoa industrial engineer, was elected president of the Alcoa Club at its annual dinner recently.
of Winthrop was re-elected chairman of the Okanogan County Agricultural Conservation and Stabilization Committee for the ninth consecutive term.
of Squilchuck-Wenatchee Heights was re-elected chairman of the Chelan County Agricultural Stabilization and Conservation Committee.
Wenatchee High School Thespians will officially open and dedicate their studio theater Jan. 7. In honor of the event, the group will present the comedy production, "Buy Jupiter."
Washington State Highway Department projects in the North Central Washington District accounted for expenditures of approximately $5.7 million during 1955.
Wenatchee's first baby of the New Year arrived Sunday morning, three hours and 38 minutes after 1956 began. He's Leland John Wilson, son of Mr. and Mrs. C. Albert Wilson
, formerly of the Wenatchee Police Department, has joined with the Douglas County Sheriff's Office as a deputy in the East Wenatchee area.
General admission price for Northwest League baseball games at Recreation Park during the 1956 season will be raised from 50 cents to $1.
40 years ago — 1981
Sylvia and David DeLeon are the parents of the first 1981 New Year's baby born in North Central Washington, a daughter arriving at 12:13 a.m. at Columbia Basin Hospital in Ephrata. The next New Year's baby arrived at 3 a.m. at Central Washington Hospital in Wenatchee, a daughter to Linda and Raymond Goodman
Aviators Clyde Pangborn and Hugh Herndon II
took their place in a postal hall of fame Friday morning as ceremonies here dedicated a U.S. postcard commemorating their historic non-stop flight across the Pacific Ocean. About 200 local residents, some of whom worked years for recognition of the flight, jammed the North Central Washington Museum to celebrate the event.
, 75, retired last week after 51 years of law practice in Cashmere.
Rose Grantham will succeed Larry Tobiska
as president of the Twisp Chamber of Commerce.
Douglas County PUD commissioners reorganized Monday, electing Mike Doneen as president and seating new board member William E. Bechtol.
Okanogan County commissioners re-elected Mel Kuhlmann as chairman of the group Monday. It was also the first day in office for commissioners Arlie Clinkenbeard and Archie Eiffert.